Last Updated on August 21, 2023 by Diana
Instagram is the most popular marketplace worldwide which has over 1 billion active users. That's why influencers, brands, or marketers rely on this platform for their potential audience and reach. Also, its mobile-friendly app is also popular for online shopping among young generations.
Contents
But how do you fulfill your online business goal? Instagram data is the most powerful thing that helps users to identify their target audience, content type, competitors, and so on. Curious to explore more about Instagram data?
In this article, we will highlight all necessary strategies related to IG data like –
Case studies of businesses or individuals who use IG data to achieve business success,
The power of IG data,
Third-party tools for collecting and analyzing IG data, and many others.
So, let's get started!
Understanding Instagram Data
Want to grow your sales and understand how well your content performs on Instagram? With the help of Instagram data, you can leverage your brand or business goals. But the question is: what does Instagram data entail?
From posts views to likes, comments, and followers all information you get from Instagram data. In short,
Instagram data stores information given by you when you use the app, such as – profile information, search history, DMs, etc.
Instagram uses these data to provide a better experience such as – which posts people like most, hashtags popularity, and so on,
Types of Instagram data: likes, comments, shares, saves, followers, etc.
Let's check out different types of Instagram data or Instagram engagement analytics, such as –
Likes: It is the fastest way to determine your users' appreciation and approval of your posts. From online business owners to influencers consider Likes as a vanity metric – tracking trends, patterns, and spikes within your product content.
Comments: How many users leave a comment on your posts or Reels? Comments show off users' willingness and interest in your business or brand. Also, it counts as a positive and successful sign. At the same time, comments encourage users to experience your services.
Saves: When your content resonated enough with users and finds it interesting, they will save your posts. That means this data is used to measure your target audience's interest and which posts are most valuable to them.
Shares: Instagram tracks your post-sharing time and helps you to determine which content earns more visibility.
Followers: Instagram tracks how many people follow your account. Some of the key metrics to track your new and existing followers' analytics are: 1. Net follower growth: Followers number in a selected time period. 2. Followers gained: New followers received in your IG business profile at your selective time frame.
The Power of Instagram Data
From businesses to marketers or individuals, IG data help to improve their content strategy, measure business campaign success, and many others.
Explanation of how Instagram data can provide valuable insights about your audience.
When it comes to strengthening your Instagram networks, boosting more sales, and finding out competitors, Instagram's insights are a must thing. Let's check out audience-based IG insights below:
Demographics: Instagram insights are useful enough when it comes to audience insights – age, gender, location, and interests of your followers. You can use this data to attract your target audiences.
Engagement: Insights are helpful to understand how your followers are engaging with your content, whether will they find it interesting, and many others. You can count your followers' likes, comments, saves, and shares to identify content types.
Posting times: By using the Instagram data you can analyze your audience's most active time on Instagram and can schedule your posts for more reach. Also, your content earns more interaction and the highest number of followers at a time.
Hashtag performance: Instagram insights help you to acknowledge which hashtag earns more engagement to your posts. With this data, you can update your hashtag strategy and attract more audiences in your marketing niche.
Click-through-rate (CTR): The IG data help you to identify who clicks your bio links or captions. This information helps you to measure the effectiveness of your CTAs and earn more potential traffic.
Content type: Does your audience like Reels more compared to Stories or IGTV? Or, do they love videos, images, a combination of these formats, or others? All these answers you get from the IG insights help you to select the best one.
Case studies or examples of businesses that have successfully utilized Instagram data.
Let's check out some famous and popular brands or businesses that have successfully utilized Instagram data.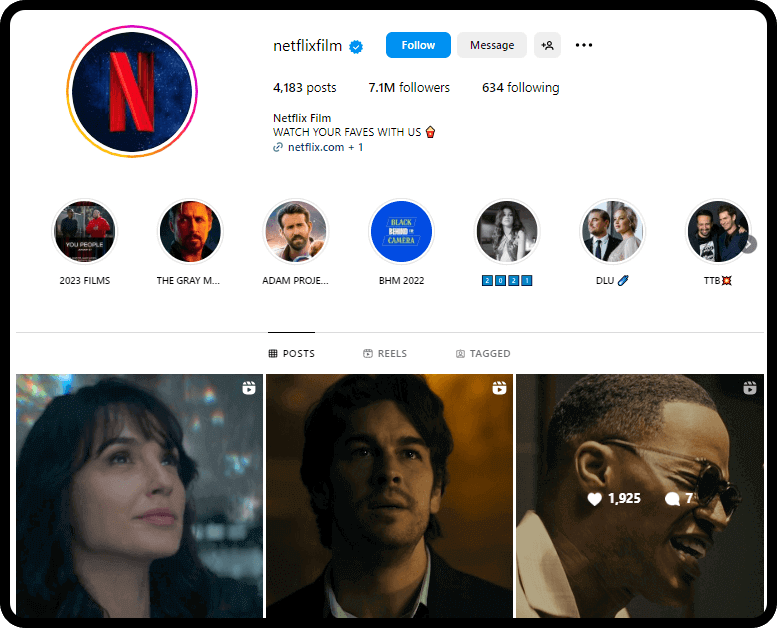 Netflix is the most popular streaming service with a wide variety of award-winning TV shows, movies, anime, documentaries, and many others. It uses Instagram data for understanding its audience's viewing habits and targets its advertising.
After that, they noticed that audiences love to watch TV shows and movies that were tagged with certain hashtags. That's why Netflix started to tag content with relevant hashtags.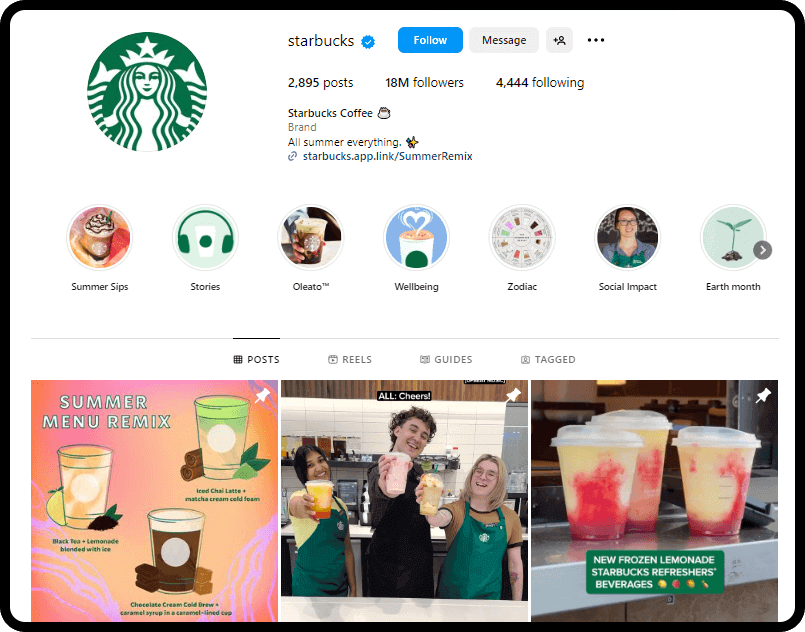 Starbucks is a famous coffee brand that uses IG data to track its reach and engagement. They found out that their targeted audiences love posts that featured coffee drinks and that's why they create content of that type.
However, their audience is also interested in coffee in the morning. For this reason, they select the best post-time in the morning (people's active hours).
H&M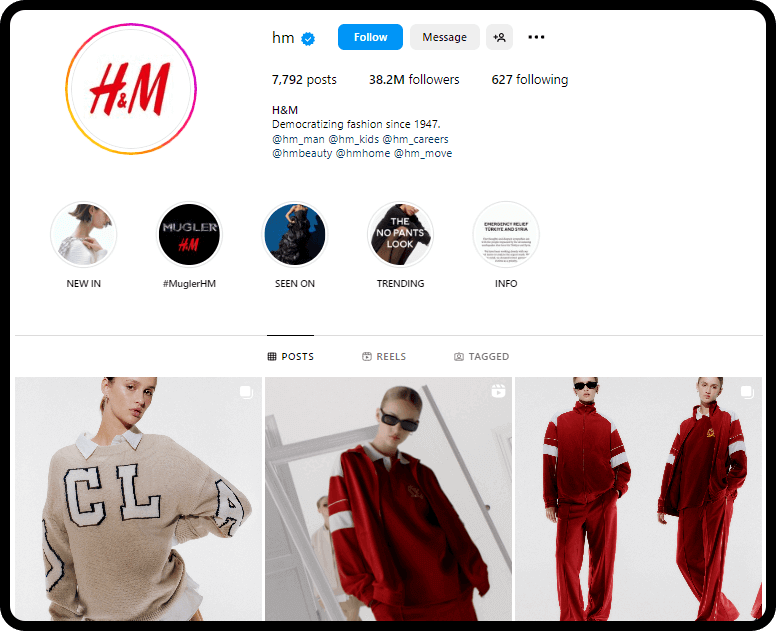 H&M is a famous online shopping platform with fashion, home decor, beauty, kid's clothes, and more. The company uses IG data to track its tagged hashtag performance and its influencer marketing campaigns.
In their opinion, their audiences prefer to click those posts that use the hashtag #HMLove. Also, they tracked that the influencers who had large fan followers on their Instagram profiles were the most successful.
How to Access Instagram Data
Step-by-step guide on how to access Instagram Insights
Do you want to review or download your Instagram data? Follow these steps to get access at any time!
Step 1
First, log in to your Instagram profile and tap three horizontal lines in the top right.
Step 2
After that, click the " Your activity" option shown in the picture below.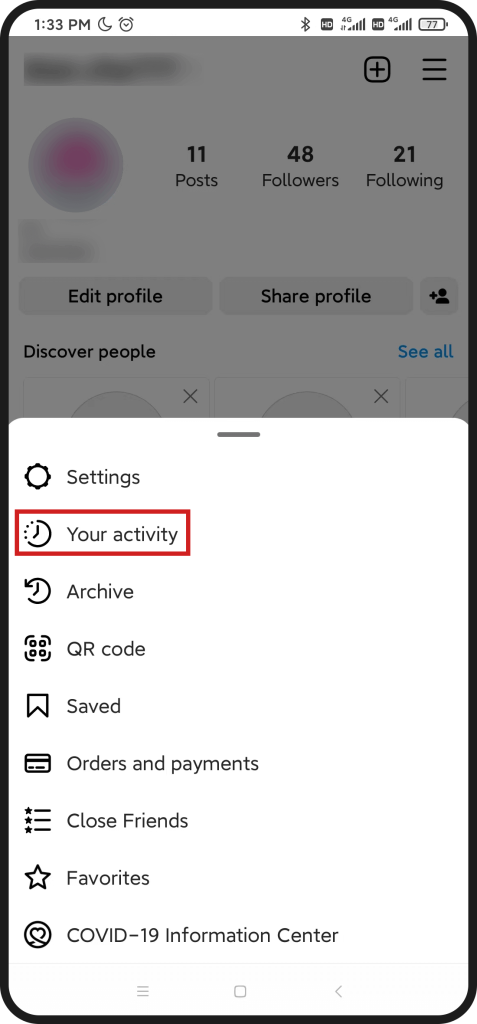 Step 3
Select the "Account history" option to view changes to your account if you made anything. If not, you can add or change any information.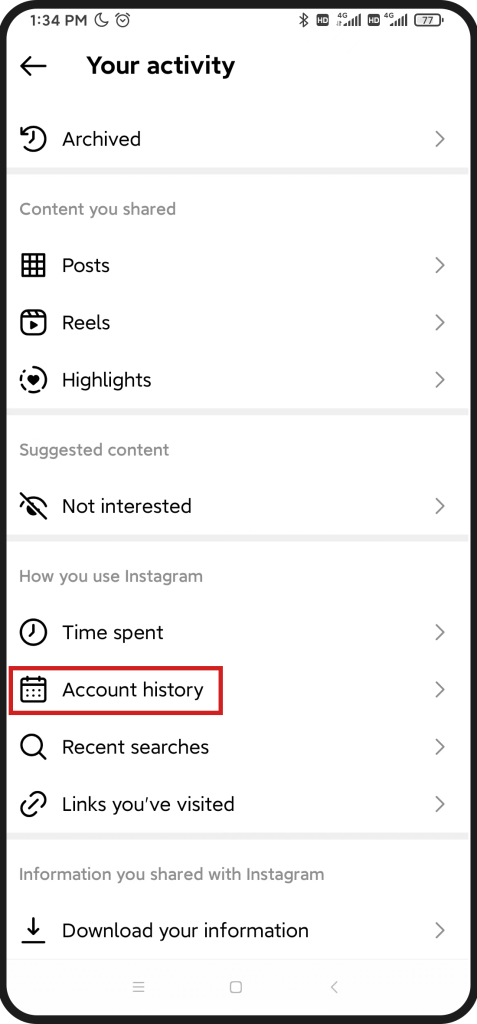 Step 4
Here you get access to all your Instagram profile data (username, name, messages, etc.) and can change as per your wish.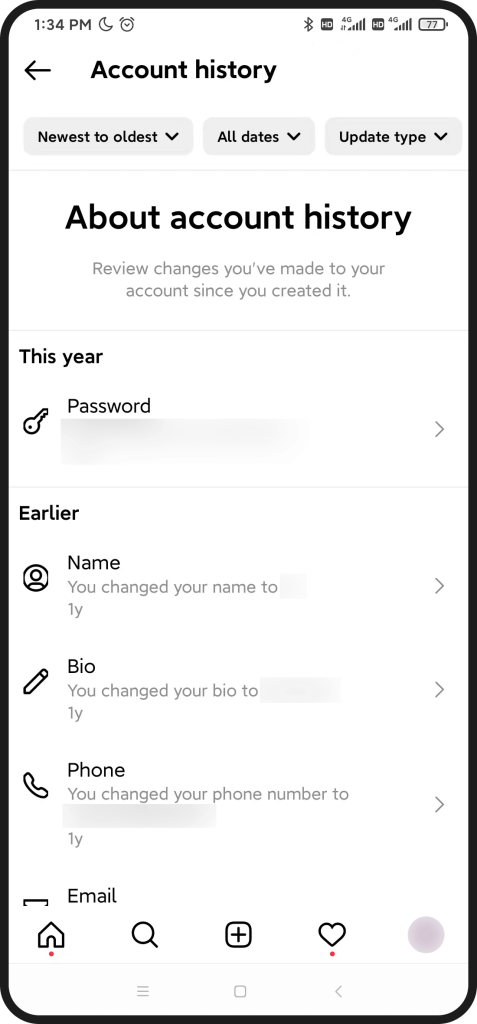 Pro Tip: If you want to download a copy of your Instagram data, you can do it by following Instagram rules.
Are you searching for risk-free third-party tools to analyze your Instagram data? Go through the next section and explore popular IG data analyzer tools.
Third-party tools that can help gather and analyze Instagram data
Here we've listed the top 5 Instagram analyzer tools that help you to gather Instagram data in a more effective way.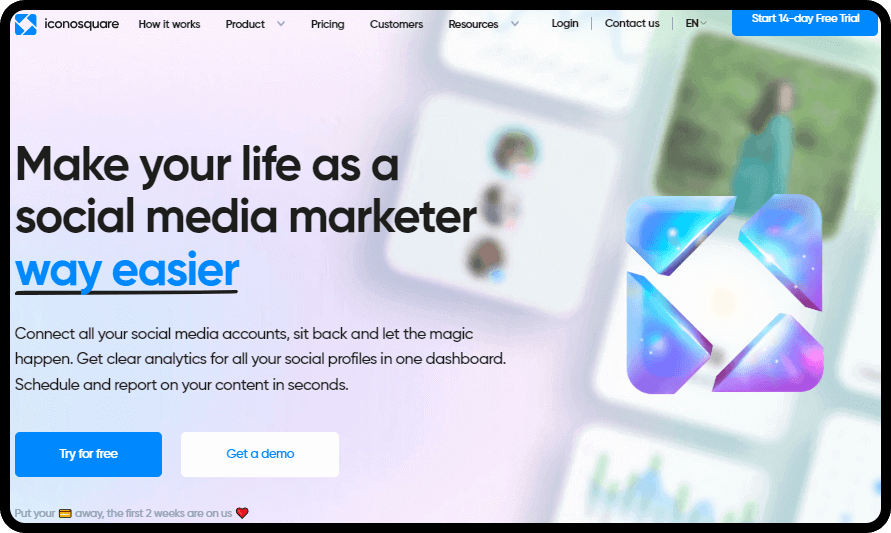 Do you want to monitor your target audiences' interests in your brand and track your IG analytics? Iconosquare allows you to get advanced insights to optimize your social media strategy. From agencies to brands, the tool is ideal for any size of business.
Features:
IG stories analytics
Engagement metrics
Hashtag trends
Competitor tracking
Audience demographics
Multi-account management
Schedule new posts, and so on.
Price:
It offers a 14-day free trial. If you choose a monthly plan the pricing starts at $59/month. But for yearly, you need to pay $49/month.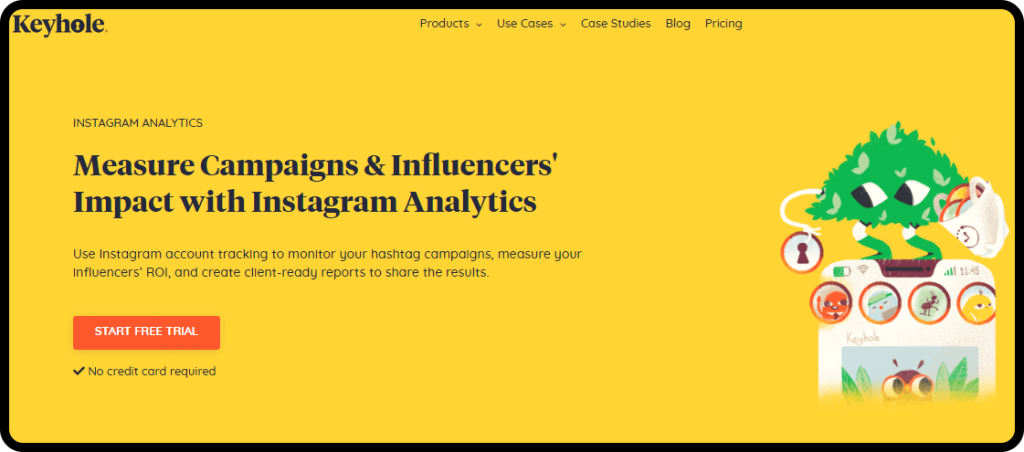 Another social media best analytics app is Keyhole which helps you in viewing the real-time and historical performance of your Instagram business profile. With this tool, you can also track your competitors' Instagram profile activity, growth, and engagement. After that, you can use this information to boost your KPIs.
Features:
Hashtags tracking (trendy and content performance)
Mentions, keywords, and URLs (previous and existing posts) tracking
Influencer's metrics
Campaigns analytics
Story and Reels analytics
Publishing and scheduling
Keyword tracking, and so on.
Price:
A free trial is available and the pricing plan is slotted by different business categories like SMB & freelancers pay $79/mo, corporate $239/mo, and more.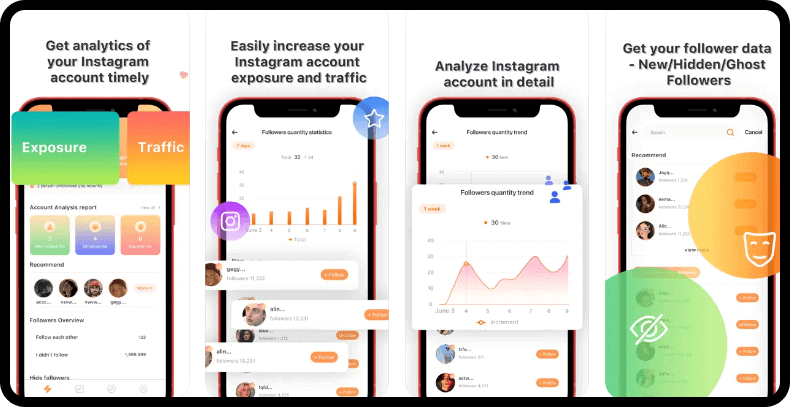 The most demanding Instagram analyzing tool among iPhone users is InsTrack Analyzer. It provides the best solution to manage your Instagram account and gives you in-depth IG insights. From small to industry all businesses get benefits from this tool.
Features:
Followers growth tracking
Post/story analytics
Hashtag tracking, and so on.
Price:
It's free to use. But for in-app purchases/subscriptions, you need to pay $4.99/week, $12.99/month, and so on.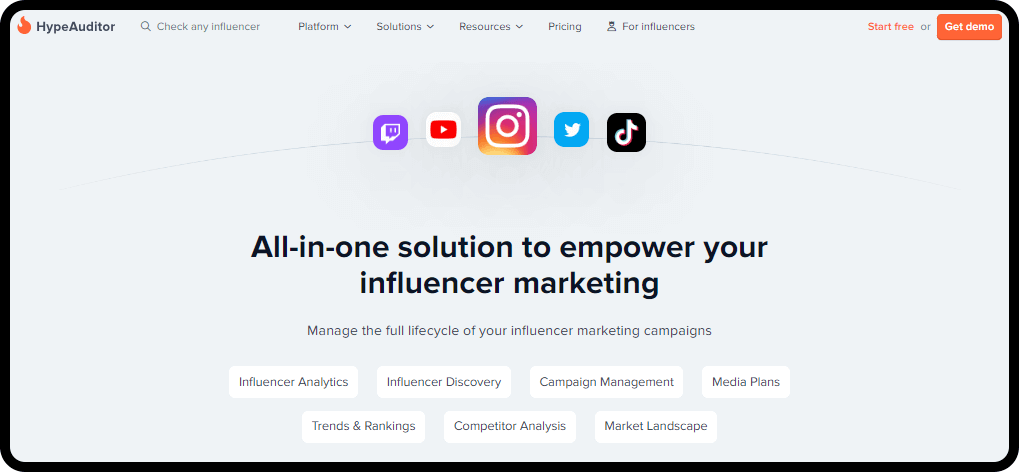 One of the most popular and vast database powder by artificial intelligence is the HypeAuditor appx. 3 million Instagram profiles. With this tool, you can get in-depth influencer analysis to find out fake or ghost followers' stats. You can also analyze influencers' profile comments (real or fake).
Features:
28 different metrics and scores
Provide audience quality score
Campaign reporting
Audience analysis
Fake/fraud detection, and so on.
Price:
Influencers can use it for free.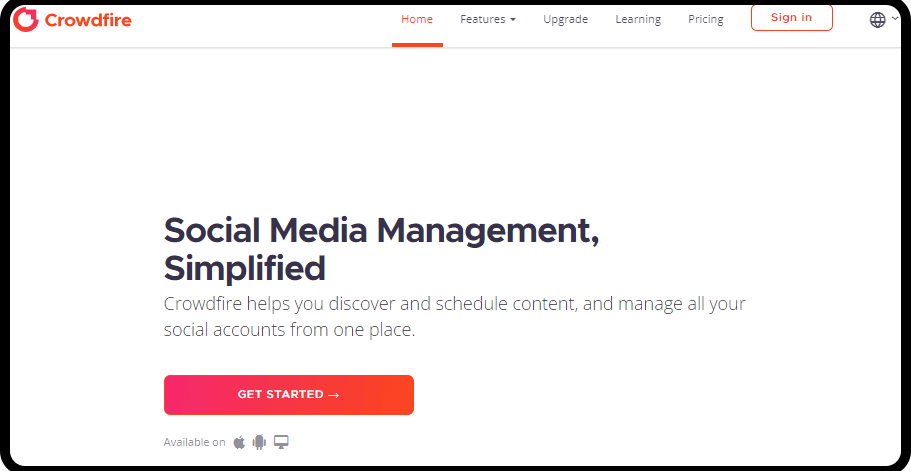 Last but not least, Crowdfire helps you to get your Instagram business account performance details within a specific time frame (1 day, 7 days, 30 days, or 90 days,). From followers' growth to comments, shares, and others, you can get all insights instantly.
Features:
Competitor insights
Post scheduling
Reporting
Audience growth
Posts details, etc.
Pricing:
You can start with a free plan. But for more advanced features, you need to pay $9.99/mon.
Leveraging Instagram Data for Growth
Who doesn't want to increase followers for more sales and brand recognition? With Instagram data, you can easily fulfill your desired ecommerce business goal.
Strategies on how to use Instagram data to improve content strategy.
Here we've highlighted some hacks for improving your content strategy by using Instagram data.
Identify target audience: First, understand your target audience demographics – age, gender, location, pain points, and interests. From Instagram data, you can get all those information.
Analyze engagement scheme: what post types do they prefer (images, videos, carousels, Stories, etc)? Identify content themes or formats and focus on determining captions, hashtags, and others.
Post time schedules: When does your audience active on Instagram? Schedule posts during those time frames to increase visibility and interaction.
Hashtag strategy: Experiment with your niche-specific and trendy hashtags for more engagement and reach.
Content types: Do you include behind-the-scenes, tutorials, or user-generated to enrich your growth? Use your IG data to determine the content types and keep your audience engaged.
A/B testing: Will you try different variations of captions or visuals? Take advantage of Instagram insights to get the best results.
Monitor trends and insights: Use historical data to find out the brand trends and earn more profits.
Tips on how to use Instagram data to increase engagement and followers.
Instagram data is a game-changer that helps you in every step including engagement and followers growth. Let's take a closer look at some tricks on how you can use IG data below:
Host content or giveaways to understand your audience's interests by suggesting tagging a friend or using specific hashtags.
Reply to comments or DMs to build a strong community.
Repost UGC to build trust.
Take advance of polls, quizzes, and QAs features.
Embrace trending topics or challenges.
Share relatable memes.
Maintain post consistency and collaborate with influencers.
Suggestions on how to use Instagram data to optimize posting times and content types.
Posting time optimization:
Identify the days and times of your target audiences like when they are most active and engaged.
Plan to schedule counting those strategies and posting schedules.
Monitor and track by posting on those time frames and maximize visibility.
Experiment by posting at different times and notice the visibility.
Content types optimization:
Analyze engagement metrics to find out the top posts and which content users like most.
Identify the audience-preferred content formats, visuals, and captions.
Experiment by posting behind-the-scenes, UGC, tutorials, or others.
Try to create a content mix with images, videos, Stories, Reels, and IGTV.
Develop content by going through story insights, feedback, and other IG data.
The Future of Instagram Data
Instagram data helps you to build your own personalized Instagram business plan by adopting users' preferences and interests.
Potential future developments in Instagram data analysis
Advanced AI: AI is everywhere to increase applications' potentiality in today's digital economy. Instagram data analysis will benefit different algorithms like image recognition, user behavior understanding, preferences, trends, and so on.
Advanced analytical tools: Businesses and marketers collect IG analytics to boost their business. That's why these tools will need to be advanced to provide insights more actionable.
Video and stories analytics: Instagram stories and video content are the most popular thing to grab more followers' attention at a time. For future developments, IG might focus on different metrics like retention rates, viewer reactions, etc.
Privacy: Instagram collects all user's data, here privacy concerns require more attention. Businesses and marketers need to be transparent when they collect and use those data.
Influencer analytics: Influencer marketing campaigns require more advanced analytics like engagement, brand sentiment, and conversion metrics.
Real-time analytics: This type of data requires more robustness and allows users and marketers to monitor trends, product launches, and so on.
How these developments might influence online presence and marketing strategies.
Here's how the mentioned Instagram developments influence online presence and marketing strategies.
AI helps users to create content more engaging and relevant pots.
Real-time analytics help boost your online presence, adjust campaigns, and content delivery with the best post.
From leading to a stronger online presence to predicting audience behavior, Instagram data is a must thing.
Marketers to influencers can deliver engaged content to specific audiences, increase the relevance, and effectiveness of their campaigns.
You can enhance hashtag strategy through Instagram analytics.
Conclusion
After going through the article, we hope you understand the power of Instagram data. It is useful for understanding, engaging, and thriving your marketing strategy. So, dive into Instagram insights, explore your marketing strategies, and build a stronger online presence.
FAQs
1. How can Instagram data help improve my online presence?
Instagram data help you to improve your online presence in several ways, such as –
● Help to understand your audience. (who is your target audience, what posts or products they are interested in, and how they are intersecting with your content, etc.)
● Help in tracking your progress.
● For better results help you to optimize your content like popular hashtags, posting best time, which types of content get more engagement, and so on.
● Help in measuring your social media marketing campaign results.
2. Can I use Instagram data to increase my followers?
Yes, of course. You can use Instagram data to increase your followers, boost your brand, and earn more revenue.
3. What are some third-party tools I can use to analyze Instagram data?
There are different third-party tools you can use to analyze your Instagram data, like Instagram Insights, InsTrack Analyzer, Iconosquare, HypeAuditor, etc.
4. Is Instagram data accurate?
Yes, every data or insight of Instagram is accurate.
5. How often should I check my Instagram data?
You have the flexibility to check and download your Instagram data. Also, Instagram data access depends on your business or brand goals and objectives.
6. Can I use Instagram data to understand my audience better?
Yes, you can use Instagram data to understand your audience better and boost your brand.
7. What kind of Instagram data is most important for improving my content strategy?
For improving your content strategy Instagram provides different important data lists, like –
● Engagement: Measures your audience's likings, comments, and shares per post.
● Reach: This metric indicates how many people have seen your posts.
● Impressions: This measures how many times your content has been seen by your targeted audience.
● Top posts: Which business or brand posts performed the best? This metric help to get
● Audience: This data shows your followers' demographics, activity, and interests on Instagram.
8. Can Instagram data help me determine the best time to post?
Yes, Instagram data or insights help you to determine the best time to post, like when your followers are most active and engaged.
9. Is Instagram data available for all types of accounts?
Yes, Instagram data is available for all types of accounts, like –
● Personal (basic data, i.e., posts, comments, and messages.),
● Business (Insights about your followers, engagement, and reach), and
● Creator accounts (Insights about your content performance and audience demographics).
10. Can Instagram data help me understand my competitors?
Yes, Instagram data help you to understand your niche-market competitors.
11. How can Instagram data help me with targeted advertising?
Instagram data helps you with targeted advertising in several ways, including:
● Demographics: Instagram has a clear idea about your targeted audiences, such as – age, gender, location, and interests. If you want to target your ads to specific demographics, you can use this information.
● Interests: What do your audiences like most and find interests? Instagram provides data who are interested in the same services or products in your business.
● Behavior: Instagram knows how your users behave on the platform like posts, pages, and comments.
● Re-engagement: Instagram allows you to re-target people who have already interacted with your business by providing different data, like –
➢ Who visited your website,
➢ Liked or commented on your product posts, etc.
12. How to delete all your data from Instagram?
If you want to delete your IG data, you need to log in to your account. After that, you need to –
● Select the "Security" option from the "Settings" page.
● Access data to review your IG profile data and delete the details listed in the "Account Activity" section.
However, before deleting you can download information for further use.
13. How to request and download your Instagram data?
For requesting and downloading your Instagram data, you need to –
● Click the three horizontal line top right after logging in to your Instagram profile.
● After that, click the "Your Activity" and "Download your information" option.
● Here, you need to enter the email address where you want to receive the data link.
● After that, click the "Request Download" option. Enter your IG password and click the "Next" top right.
● Now you can view your download data.
You can visit the Instagram help center for more information.