Last Updated on July 31, 2023 by Diana
Are your Instagram posts getting satisfactory interactions or are you curious to know how to increase your Instagram engagement rate? You may be creating authentic content but if you don't get enough likes or comments. The scenario indicates that your account may shadowban or you don't use new features or others.
Don't panic! In this guide, we will share IG engagement decline factors, engagement rate growth hacks, and engagement tools to drive more sales. So, what are you waiting for? Let's dive into understanding what Instagram engagement is in the next section!!
Contents
Understanding Instagram Engagement
Instagram engagement is a measurement that highlights how many people interact with your content (Story, Reel, etc.) on Instagram. It considers a range of metrics to measure your followers' interactions, such as –
Comments
Likes
Saves
Shares
Branded hashtags
Click-throughs
DMs
Accounts engaged
Overall, it is a key ranking factor in the Instagram algorithm which indicates how passionate your followers are about your business. It's time to check out the core things of engagement on Instagram and why it's important.
Role of engagement as a metric for success on the platform
As you know, IG engagement is a metric that measures audience interactions with your posts on Instagram. The more engagement you gain, the more your brand boosts sales and active followers.
Let's take a look at the IG engagement role for success on the platform.
First of all, it represents how active and engaging your content is. If your posts get a lot of engagement, it means audiences find your posts relevant and interesting.
Second, Instagram algorithm ranking. When audiences engage with your content most, the IG algorithm will give priority to it and show up on the "Explore page." With this, you will get a wider audience.
Third, engagement helps you to create a strong IG community by building relationships with your audience. When people interact with your posts, you will get their feedback which helps to acknowledge their likes and desires.
Unveiling the Downward Trend
Instagram is the most famous social media platform with lots of creators and brands. From post to video trends, it provides different marketing trends. But-
Presenting the data: Statistics and studies illustrating the decline in Instagram engagement
A study from Socialbakers mentioned that in 2022, average Instagram engagement rates declined by 15%. Also, at the same time, the brand's engagement rates declined by 20%.
In another study, Simply Measured found that from 2018 to 2022, the Instagram post engagement rate fell from 3.57%. And the brand posts fell from 2.63% to 1.54% in the same time period.
Later stats that, in 2022, the average number of user likes per IG post declined by 20%, and comments by almost 30% declined.
A study mentioned that the engagement rate per post by follower count is lower (30%) than it was the year before.
Another study found that in 2022 health & beauty (0.32%) got less engagement compared to regular posting (4.55).
Analyzing industry-specific trends and variations in engagement rates
Let's look at some industry-specific trends and variations in Instagram engagement rates below:
Fashion: Fashion is the most demanding and has higher engagement rates industry than others because of its appealing visuals which audiences love most. Also, fashion brands use trendy business hacks and hashtags to grab users' attention to their content.
Beauty: Like fashion, beauty uses high-quality product pictures that instantly grab audiences' attention. Also, people love to try new beauty brands and products.
Travel: Travel is another engaging industry that gives inspiration, nature beauty, and location-based information. By utilizing travel hashtags and geotags, the brands gain high engagement rates on Instagram.
Food: The specialty of the food industry lies in high-quality photos and videos. People love to explore new recipes and inspiration. That's why the food industry gets lots of engagement rates on Instagram.
Technology: Like other niches, technology gains less engagement. But the IG tech community prefers AI and other developed technology.
Now let's go through several factors that backfire on your IG engagement rate in the next section!
Factors Influencing the Decline in Instagram Engagement
You must put a lot of effort into and make plans to boost your Instagram brand engagement. But in the end, you may not get a satisfactory result. Here we've listed key factors affecting your engagement below:
Algorithm updates and their impact on content visibility and reach
Instagram algorithms have been consistently chance for ensuring security, effective user experience, and offering advanced features. Earlier, IG focuses on post timing, now it focuses on authentic and unique posts with high-quality visuals.
That means if your post is not engaging enough, the algorithm will put it lower in the IG feed. Your target audience may not find yours among niche-like competitors.
Content saturation and increased competition for attention
Instagram is a popular platform where different content is shared every day. If your content is similar and not engaging enough compared to others, followers will lose interest. This will drop your Instagram algorithm ranking.
On the contrary, when your IG profile purpose is to advertise your brand don't overdo it. It will demotivate your audience to get the main point.
Changing user behavior and shifting preferences
Instagram is rich with different trends and post types which indicates users have lots of options to switch when they find others engaging. Posts that are 15 seconds or less in length perform better than longer ones.
Also, user experience plays an important role to show your content top on the list. Brands and businesses focus on posts visuals, features, and audiences preferences to increase their engagement rate.
Strategies to Reignite Instagram Engagement
No matter what your IG engagement rate is, there are different strategies for a better engagement score. Without more talk, let's get started!
1. Crafting compelling and visually appealing content: Tips for creating posts that capture attention
Eye-catchy visuals – the most important factor is adding attention-grabbing high-res images to IG posts. For this, you can use filters and take advantage of editing tools, i.e., Adobe Photoshop.
Use short & sweet captions – Informative and short captions audiences like most. That's why try to use clear and concise language with trendy hashtags.
Note: Avoid using too many locations and branded hashtags.
Post at the best time – Ensure to post at the best time when your target audiences are active and maintain post consistency.
Mix content – Try to post different content types or mix content like videos, quotes, memes, etc.
Use CTAs – Add relevant CTAs (call-to-action) for more engagement.
2. Encouraging meaningful interactions: Techniques to spark conversations and dialogue
Ask questions, Giveaways, or contests – These three surefire ways help to get people's attention.
Use stories – Stories are a great way to encourage lots of followers at once. Try to add behind-the-scenes in your IG stories.
Live videos – Host live videos to visually connect with your audiences and get their feedback to develop your service or product.
3. Building an engaged community: Cultivating a loyal and active follower base
Know your audience – Pay attention to your target audiences' demographics to identify their needs, what type of content they like most, and others.
Promote across social media platforms – If you want to grab other social followers' attention, try some cross-network promotional posts. Also, this technique saves time to create new content for different social media.
Utilize Instagram ads – Retargeting and custom audiences is another tactic to get more active followers.
4. Leveraging the power of influencer collaborations: Amplifying engagement through partnerships
Collaborate with niche-like influencers – Find niche-friendly influencers to grab their audience's concern and boost your business.
Drive more sales & leads – When an influencer promotes your business or brand, audiences trust their recommendations.
Improve your social media engagement – Influencer engagement builds audiences' trust and loyalty to your products or business
5. Harnessing the potential of hashtags and geotags: Maximizing discoverability and reach
Niche-like hashtags – Make sure you choose niche-friendly hashtags. For hashtag suggestions, you can use online tools.
Mix popular & niche hashtags – Popular rule for mixing hashtags is 10-15 niche-like hashtags and 5-10 popular ones per post.
Location-based hashtags – Geotags help users to discover location beauty and experiences. Also, you get attention from local audiences.
Instagram Engagement Tools
Like others, you also want to measure engagement rates to boost your business or brand. In the hope of helping you, here we've listed experts' suggested Instagram engagement tools.
Chrome Extension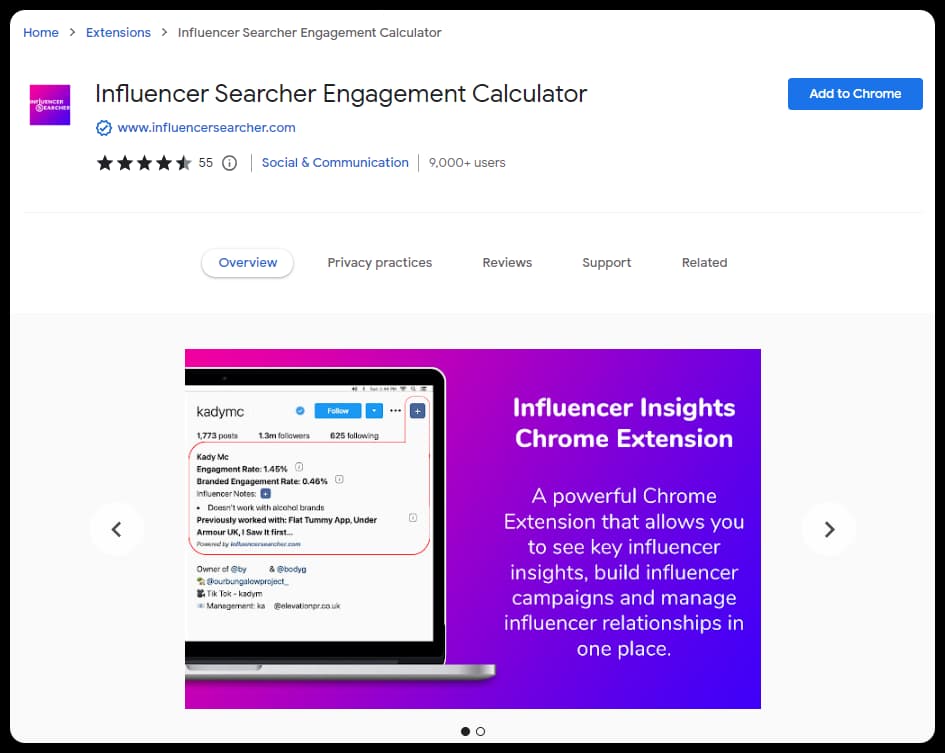 Influencer Searchers is one of the most popular engagement calculators for Instagram and TikTok. It's a free Chrome extension that provides brands and competitors deals in the past.
Also, you can get recent posts engagement (likes and comments) up to 6 for Instagram and 30 for TikTok. Along with this, you will be able to see influencer engagement rates with brands and gain a deeper insight into influencers' metrics.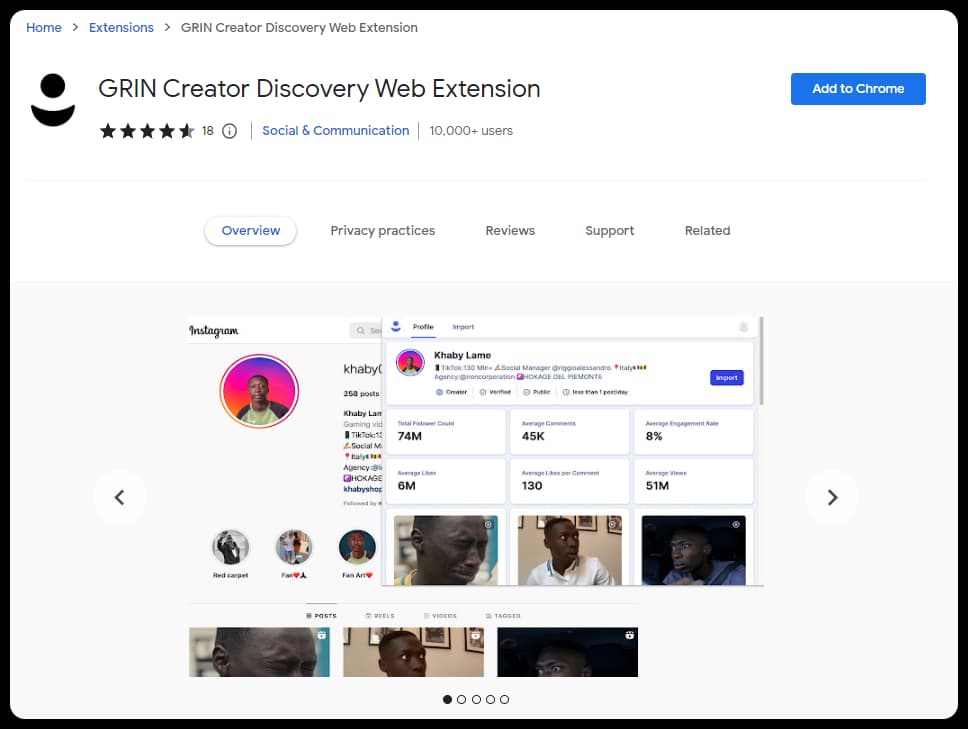 Are you searching for a creator management and engagement rate tool? GRIN is the world's first creator management platform for influencer marketing, affiliate marketing, customer advocacy, and many more.
Overall, you can interact with your social platforms, e-commerce solutions, and end-to-end influencer marketing. From advanced statistics of creators to their post-performance (IG, TikTok, YouTube, and Pinterest), you get all data.
Instagram engagement calculator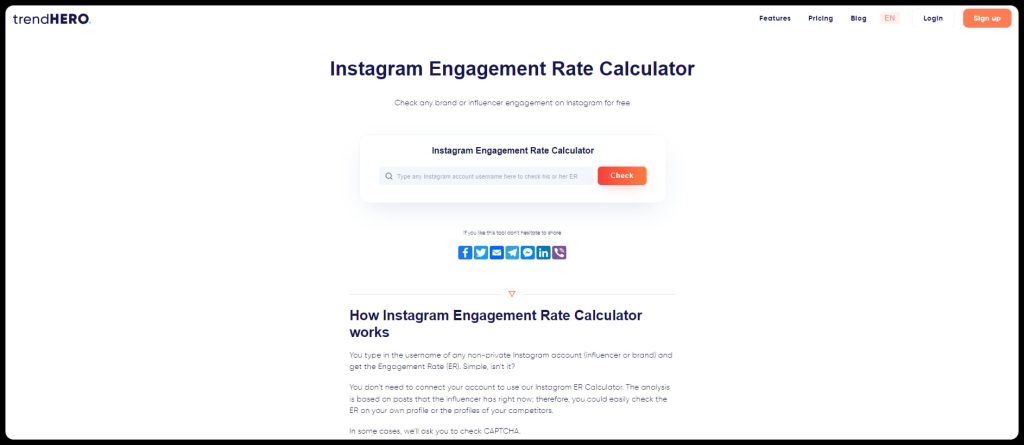 TrendHero is another effective and demanding Instagram engagement tool with tracking, best time for posting, notes, and other features. From connecting with influencers to email outreach, audience analytics, content analysis, and mention analysis all in one place.
However, you can also check the influencer's audience authenticity, competitor analysis, and monitoring. You can also track your own or clients' accounts' engagement rate too.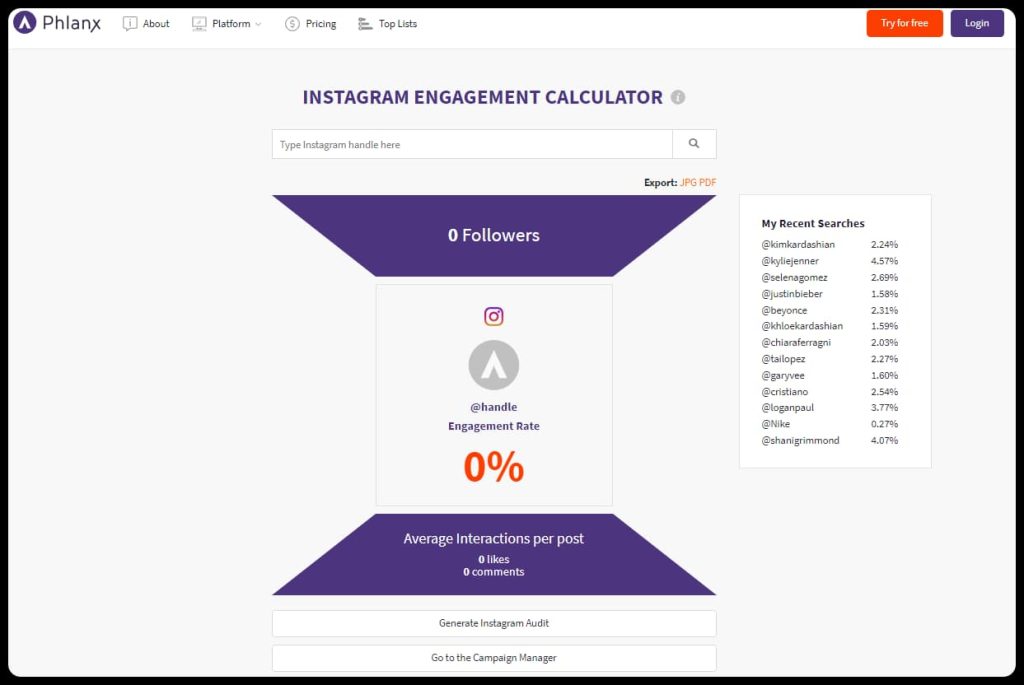 Phlanx is another popular engagement rate and audit report platform for Instagram, TikTok, and YouTube. It's a free tool with lots of amazing features, i.e., identifying fake followers, growth analytics, and so on.
With this easy-to-use tool, you can get niche-like influencers, insights into individual posts, and track your IG business growth. For more advanced features, you need to go with a paid subscription.
Case Studies: Success Stories and Lessons Learned
Showcasing real-life examples of Instagram accounts that have successfully revitalized their engagement
Glossier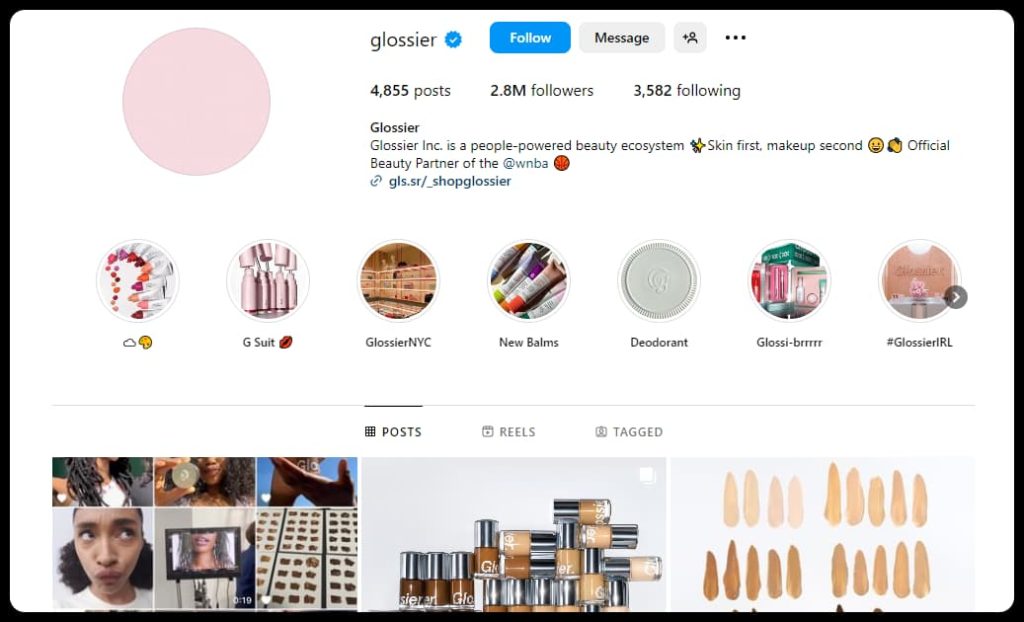 Glossier is a world-famous luxury beauty brand with 2.8M fan followers. From makeup items to skincare, all products are made inspired by real life. Also, celebrities and users love this brand for its loyalty which creates a strong customer relationship.
Wayfair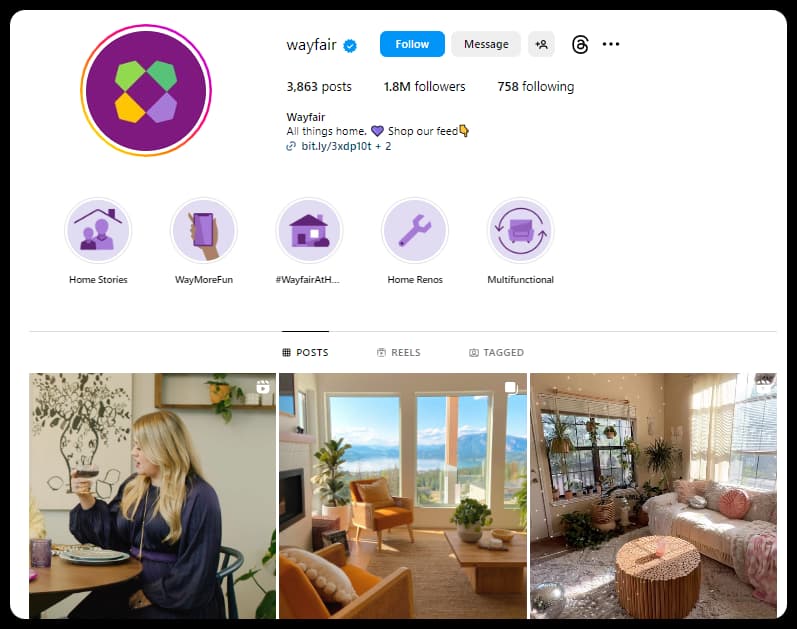 Wayfair is a popular and known brand that allows consumers to find and shop the best items for their homes. The brand takes advantage of Instagram shopping features so that users can easily spot an item and buy it within a few clicks.
Starbucks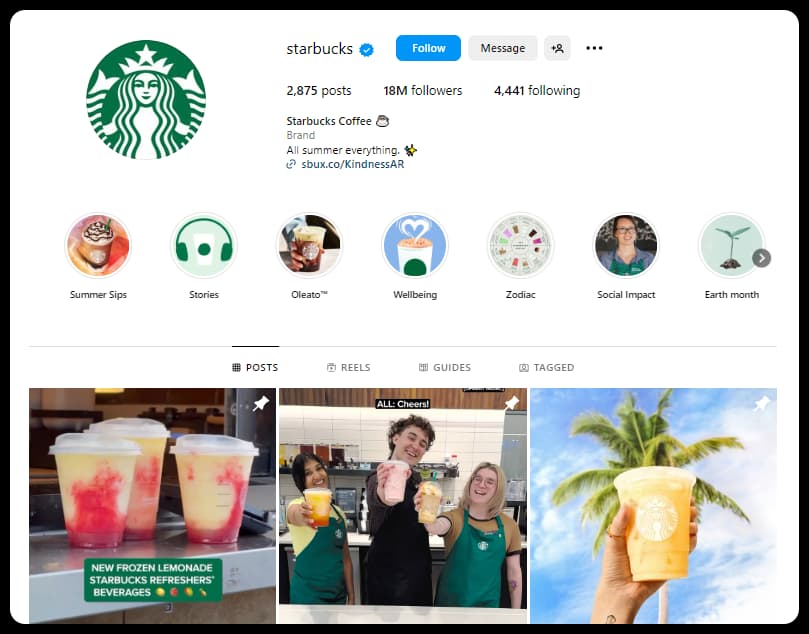 One of the most famous coffee brands is Starbucks which gain 18M Instagram followers. It won a silver IPA effectiveness award in 2018 for its creative and unique social strategy.
Examining the strategies and tactics implemented by these accounts
Glossier
Product content gives audiences real-life experiences and encourages them through memes and customer messages.
Repost user-generated content and share product tutorials.
Ask target audiences about their preferences to develop their product.
Wayfair
Collaborate with influencers to represent visual content.
Aesthetic and high-quality product images that build trust among users.
Take advantage of Instagram's new features and social network.
Starbucks
Use promoted posts.
Offer high-quality content and visuals that users love most.
Build hype around seasonal drinks and events.
Extracting actionable insights and key takeaways for readers to implement in their own Instagram strategies
After going through top brands and businesses, you might plan to build your unique Instagram business strategy. As you know social media landscape moves fast and new trends coming, meaning you need strong IG strategies, such as –
Focus on creating engaging and unique content that catches users' attention at a glance.
Show off your product's best visuals and video content that interact with your niche audience.
Take advantage of different IG features, like Reels, memes, Q&A, and many others.
Collaborate with influencers to attract their followers to your brand.
Repost user-generated content and build a strong social network.
Navigating the Future of Instagram Engagement
Speculating on the future of Instagram engagement in an evolving digital landscape
The future of Instagram engagement in an evolving digital landscape varies on different factors, including:
Influencer marketing – Influencer marketing creates hype on Instagram and audiences love to follow their promoting products or services.
Rise of live streaming – It is becoming popular day after day on Instagram. It connects with real-time audiences and creates a sense of excitement or urgency about a product.
Data analytics – Another important factor is data analytics which allows brands to track their business performance and identify what generates more traffic.
New competitors – The rise of new social platforms, like TikTok and Snapchat offers different features and experiences which become a threat for IG.
Identifying emerging trends and potential game-changers
Let's check out the top Instagram marketing trends in 2023 below:
Brand partnerships – It is a win-win situation for your business and helps to boost more followers.
Live shopping – The most popular IG marketing trend that makes users curious about product pricing. Also, this feature helps users to get more insights, like how to wear clothing items, makeup, etc.
User-generated content – UGC or brand-specific content, like images, videos, reviews, or testimonials give positive vibes around your audiences.
Community engagement – Keeping in touch with your audiences gains trust and increases active followers. Also, your followers get a chance to know your brand closely.
Analytics tool – Instagram analytics tools are time-savers and effective to track your brand or business growth rate.
Emphasizing the importance of adaptability and staying ahead of the curve
Want to engage with your target audience or keep pace with trends and change the content type? Here are some tips to stay ahead of the curve on Instagram:
Track your analytics – If you want to compete with your competitors, keep track of your analytics to check what's working and what's not. Also, you get an idea about trends and what type of content users prefer most.
New features – Instagram updates and new features help to hold its popularity among its users. With quality content, you can try new features, like live videos, Reels, stories, IGTV, and so on.
Competition – If you want to stay ahead, see what other businesses are doing and utilize those strategies for better engagement.
Be your own way – Feel free to try new things, add hashtags, and others to keep your audience engaged.
Conclusion
Now at the end of this article – Boosting Instagram Engagement Like a Pro, we hope you get enough resources to increase your engagement rate. Also, pay attention to downward factors, like IG algorithm changes, audience preference changes, and competitors.
IG engagement rate helps you to achieve your brand goal and ranking too. So, when you plan and create your content, consider these tips and watch the result instantly. If you have any engagement growth strategies, feel free to share them with us.
Ready to stay ahead of your competitors and achieve a good engagement rate?
FAQs
1. Why am I suddenly getting less likes on Instagram?
Your visibility and engagement loss on Instagram for different factors, such as –
● IG bots and fake accounts,
● Lackings of quality content,
● Instagram algorithm changing,
● Lackings of consistency,
● Lack of utilizing IG features (Reels and stories), and many others.
2. Do Instagram Engagement Groups Work?
Yes, Instagram engagement groups or pods work (likes and comments) during the first hours of posting when everybody drops their posts.
3. How to calculate the engagement rate?
The engagement rate is calculated by dividing an account's interactions (likes and comments) by follower count and multiplying by 100.
4. Are there any specific tools or metrics to measure Instagram engagement?
Yes, There are specific tools to measure Instagram engagement, i.e., Phlanx, GRIN, Influencer Searcher, and trendHero (measure content management). The most common metric is the engagement rate (likes, comments, saves, shares, reach, and impressions).
5. How can I improve my Instagram engagement?
There are several hacks to improve your Instagram engagement, including:
● Posting high-quality content,
● Using relevant hashtags & geotags,
● Including CTAs (call-to-action),
● Sharing creative Reels, stories, and aesthetic visuals,
● Collaborating with influencers and many others.
6. Does the timing of my Instagram posts affect engagement?
Yes. Posting at peak times (your target audience's active time) helps you connect with more followers at once which increases the engagement rate.
7. How can I leverage user-generated content to boost engagement?
Here we've listed expert-suggested and tried tips for leveraging user-generated content to boost engagement:
● Engage with branded hashtags to track your UGC campaign performance.
● Run contests or giveaways to know your customers and encourage them to share content.
● Use UGC to create polls, quizzes, Q&As, and share their experiences with your brand.
● Repurpose UGC in different ways, i.e., Reels, advertising, and other social media platforms.
● Use UGC for responding to your audience's feedback.
8. Are there any Instagram engagement metrics beyond likes and comments?
Yes, there are different Instagram engagement metrics beyond likes and comments, including:
● Follower growth rate,
● Engagement rate,
● Website traffic,
● Saves,
● Shares,
● DMs, and
● Profile visits.
9. Is it better to have a high number of followers or high engagement rate on Instagram?
A high engagement rate is better than a high number of followers on Instagram. The reason is high engagement rate indicates your followers are actively interacting with your content and boost more exposure.
10. How can I encourage more comments on my Instagram posts?
Yes, there are different Instagram engagement metrics beyond likes and comments, including:
● Follower growth rate,
● Engagement rate,
● Website traffic,
● Saves,
● Shares,
● DMs, and
● Profile visits.
11. Can using Instagram Stories help improve engagement?
Of course. Instagram stories are a goldmine for audience interaction, making sales, engagement, and ranking.
12. Should I prioritize quantity or quality when it comes to Instagram posts?
You should prioritize high-quality post content over quantity. Posting too much without maintaining quality district audiences that hurt your engagement.
13. How can storytelling enhance Instagram engagement?
Storytelling is an authentic and engaging way to connect with your target audience by sharing experiences, emotions, and journeys. It creates a sense of empathy and connection what audiences love most.
14. Is it necessary to collaborate with influencers to improve Instagram engagement?
Collaborating with influencers helps to increase the reach and engagement of your business or service. Also, you get their fan followers' and brand attention.
15. How long does it take to see improvements in Instagram engagement?
The improvements in Instagram engagement depend on several factors, including:
● Content quality,
● Posting frequency & best timing,
● Engagement with followers,
● Hashtags & geotags using,
● Consistency, and many others.