Last Updated on August 11, 2023 by Diana
Instagram giveaway is a type of promotion that helps a brand or creator boost their product or service. With the right giveaway strategy, like setting your goal, choosing a winner, tracking success, and others you can get thousands of potential new followers.
Are you ready to host your Instagram giveaway? In this article, you will get expert-level giveaway tactics, the top 3 giveaway tracking tools, steps to create one, and many others.
So, what are you waiting for? Let's get started together!
Contents
Why Do Instagram Giveaways?
Instagram giveaways allow you to get free likes, comments, and shares with more engaged followers. Why do you need to run an Instagram giveaway? Let's check out some benefits of Instagram giveaways below:
Increased engagement: Instagram giveaways require engaging post content that interacts with more audiences and creates an urgency to participate. And as we all know Instagram's algorithm prioritizes content that gets higher engagement rates.
Follower growth: For many brands or small businesses' giveaways common rule is to follow their IG profile. With this strategy, your followers increase along with entries.
Brand awareness: Giveaways help you to boost brand value and get a wider audience instantly. By using a niche-relevant or specific hashtag in your giveaway, you can enrich your visibility who might not aware of your product earlier.
Customer insights: By hosting a giveaway, you can get an idea about your target audiences' insights, like who are they, what motivates them, and their likings. With this data, you can develop your service or product to fulfill their demands.
Cost-effective: IG giveaways are a cost-effective approach to generating more traffic and achieving your marketing goals. All you need to follow IG contests or giveaway rules.
Understanding the Instagram Giveaway Rules
If you plan to promote your new product through giveaways or engage with your followers, you need to understand IG giveaway rules. For more details, let's check out below:
Explanation of Instagram's rules and regulations for giveaways
Open to everyone – If you don't have any bindings, try not to set restrictions on location, age, or other factors.
Free to enter – Giveaways are free to enter which encourages followers to participate, tag their friends, and others.
Maintain transparency – Make your giveaway rules clear and how the winner will be chosen and when you will announce it. Also, disclose any sponsorships or partnerships in your giveaway.
Offer legal ones – Ensure your giveaways are legal and maintain all Instagram promotion rules.
Importance of compliance to maintain brand reputation and avoid penalties
Compliance represents your brand as trustworthy and builds trust among audiences.
As you know, Instagram ban or suspends accounts that violate its terms of service. Compliance helps to prevent you from reaching fake followers.
Compliance helps to avoid legal problems and other penalties.
Step-by-Step Guide: How to Do Instagram Giveaways
Want to run a successful Instagram giveaway to fulfill your marketing goals? For creating a great one, check out the in-depth steps below.
Step 1: Define Your Goals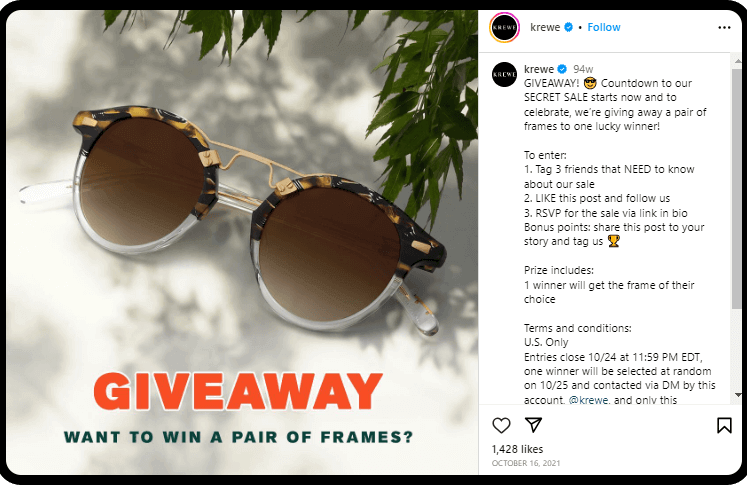 If you want to run a successful Instagram giveaway, the first step is to find out your ultimate marketing goal: what you want to achieve, such as –
Do you want to grow your followers or followings?
Want to promote a new product or celebrate your milestone?
Boost brand awareness or increase engagement?
Collaborate with another brand or influencer?
So, decide first to fine-tune your strategy and track your campaign.
Step 2: Choose the Prize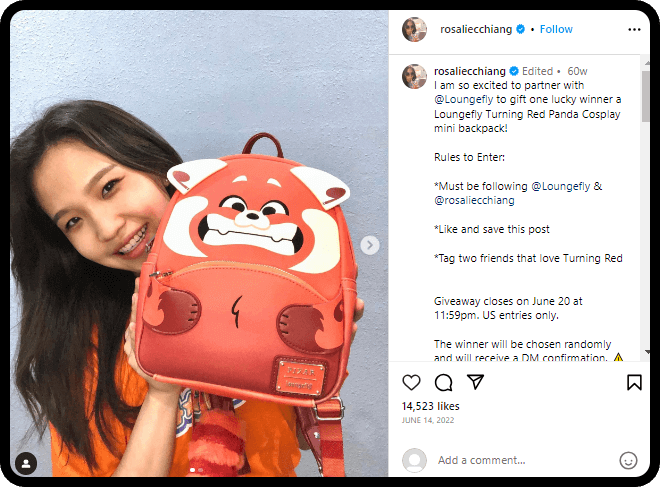 After finalizing your target, identify what products or experiences you offer as a giveaway prize that motivates users to participate instantly. Whether it's a product, service, experience, or others, you'll choose a prize that entices both exciting and target audiences.
However, if you plan to partner with a brand or influencer for running your giveaway, you can offer combined prizes or individuals. For example, @rosaliecchiang partnered with @loungefly to offer their IG followers an opportunity to win a Loungefly Turning Red Panda Cosplay mini backpack.
Note: You can ask a few members from your community about the offered prize, like whether are they motivated enough to tag friends, share, or like the post.
Step 3: Set the Rules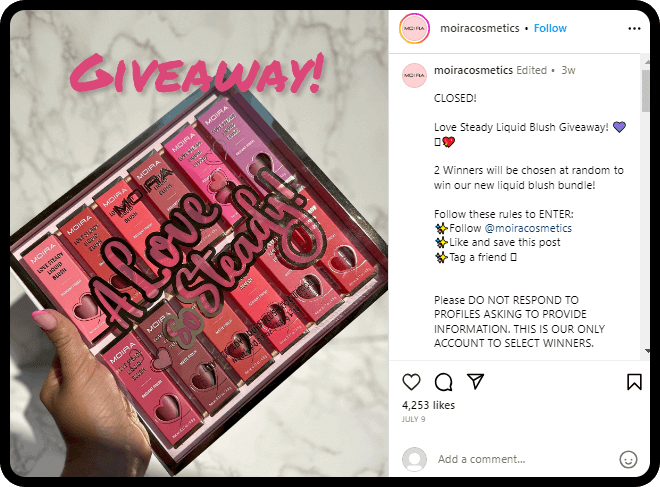 Once you set your giveaway prize, you'll need to define clear and easy-to-understand rules on how to participate or enter your giveaway. Depending on your giveaway goals, you may set several rules to maintain transparency, such as –
Tag 3-5 friends,
Follow the page or post,
Like and share, etc.
If your top goal is to attract new followers, must include following your account as a part of the entry requirements. Also, mention other details, such as –
How long will you plan to run the contest? (clearly specify closing dates and time zones.)
Will your contest or giveaway be open to certain countries or global participants?
Is there any age limitation?
Include Instagram regarding promotions on the app (if you want).
Step 4: Promote & Launch the Giveaway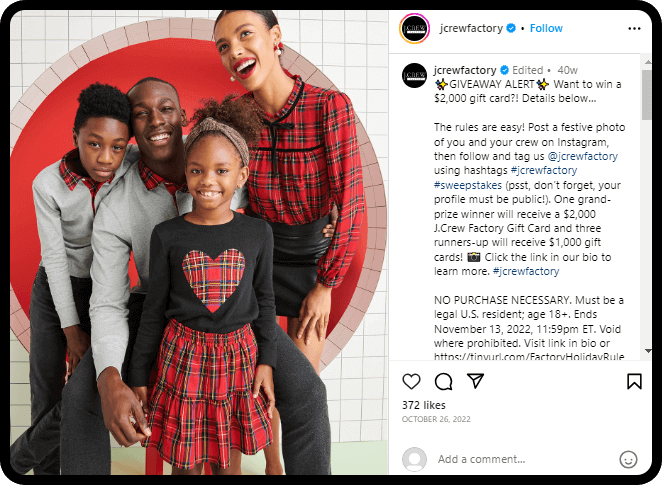 Now, the most awaited time comes to launch your giveaway. For promoting or announcing your contest, you can use Reel, story, grid post, or other Instagram features.
But ensure to use a high-quality image, add CTAs (to encourage many entries) in your caption, and share the giveaway announcement at your best time to post. However, if you have multiple social media platforms (Twitter, TikTok, Facebook, etc.) you can try a cross-promoting giveaway hack for additional reach.
Note: Before ending the giveaway re-promote it on your stories.
Step 5: Monitor and Engage
For tracking and counting the success of your giveaway, you can use different tools from our listings. Monitor the giveaway and respond to DMs from users.
Step 6: Choose and Announce the Winner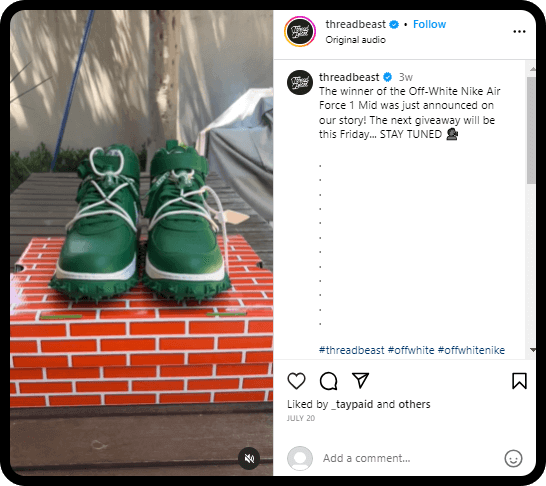 Follow some methods to choose and announce the winner from all entries, including-
Comment selection – choose a winner based on the comments.
Direct message – select a DM winner by asking users to send you a message to enter the giveaway.
Hashtag selection – ask users to use a specific hashtag when posting the giveaway.
Random selection – use a random number generator or name picker tool to choose one.
Step 7: Post-Giveaway Analysis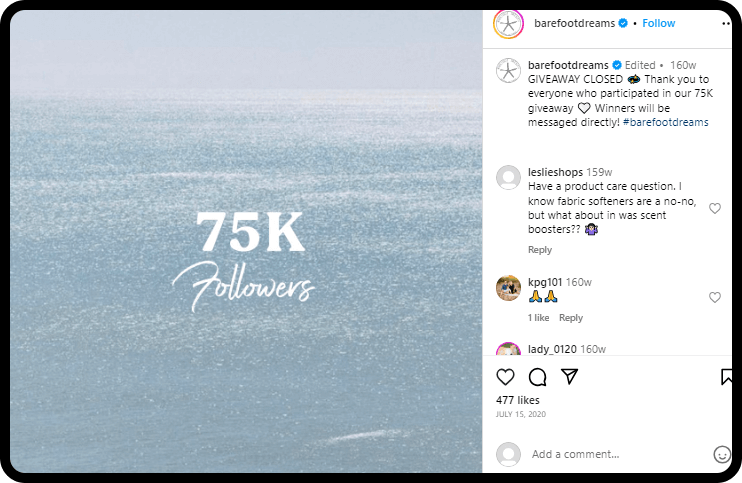 Thank all giveaway participants for their engagement and encourage them to follow your Instagram page for further updates and giveaways. Share your thoughts and run additional giveaways to maintain or build your follower base.
Top 10 Instagram Giveaways Ideas
Idea 1: Product Bundle Giveaway
Do you plan to launch a new product? Host a contest or giveaway to create hype around your followers and share news of the launch. For more engagement, use eye-catchy visuals, highlight product benefits, create suspicion, or allow the audience to guess.
Just look at @focallurebeauty new product giveaways that earned 1,755 likes instantly. The reason for this engagement is a fresh product has the power to generate more active followers.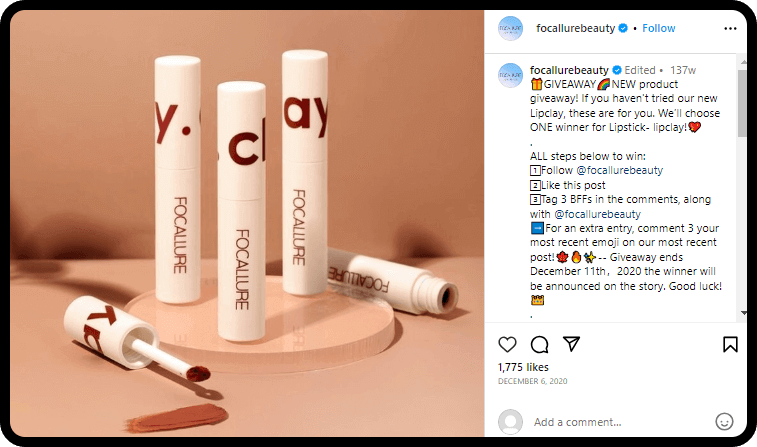 Idea 2: Collaborative Giveaway with Another Brand
Collaborating with a brand, influencer, or celebrity for contest promotion help to get their fan followers' attention which increases your brand's popularity. For this, ensure the brand's value aligns with yours, like Remedy Organics and Bitsy Brain Food collaboration.
Another example is Fresh Restaurants collab with their health enthusiast Spinco to launch the ultimate workout package giveaway. Both brands offered a combined prize for the winner.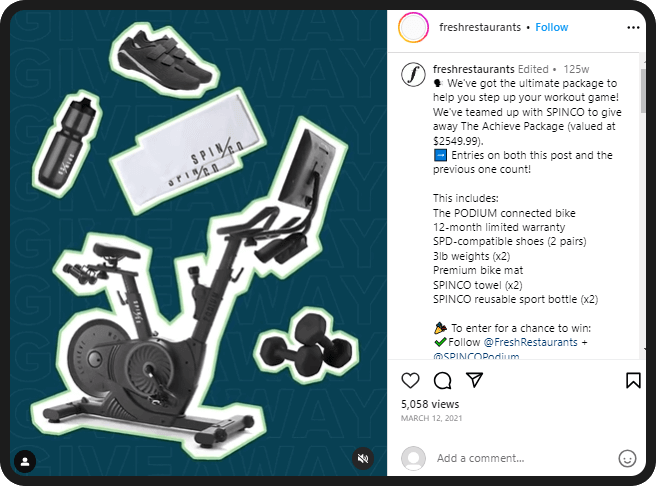 Idea 3: Themed Giveaway (Seasonal, Holiday, etc.)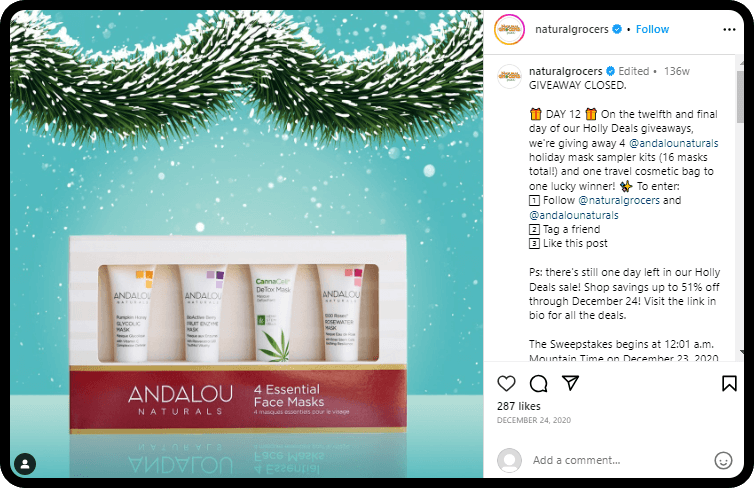 As we all know, people love free stuff at any time or on any occasion. That means you don't need to think again about themed giveaways known as personal occasion branding.
It might be your brand's anniversary, reaching 10K followers, or a publicly-recognized day (Valentine's Day, Christmas, Mother's Day, BFF Day, etc). For example, @naturalgrocers Holly Deals giveaways on 4-holiday mask sampler kits with one travel cosmetic bag to one lucky winner.
Idea 4: User-Generated Content Contest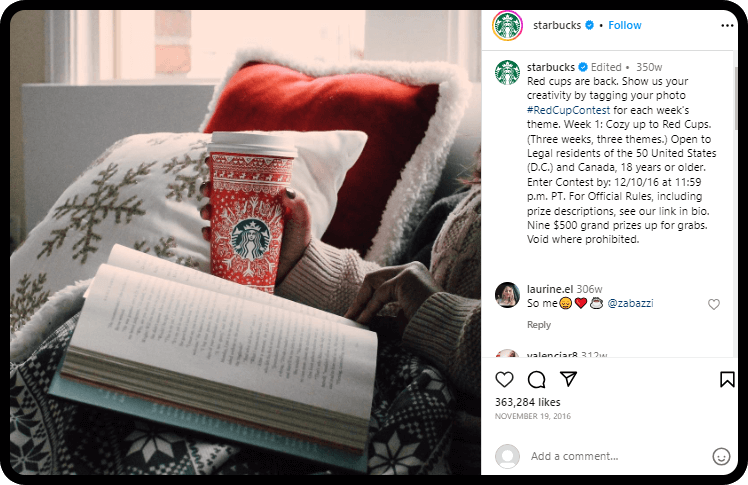 Who doesn't love Instagram photo challenges or contests? The photo contest is the most helpful strategy for connecting with new followers and creating awesome user-generated content. You can ask entrants to post photos with your wares like Starbucks who ask their audiences to post a photo with the #RedCupContest hashtag.
However, you can also ask them to share their stories with a theme or brand products on your IG page. Contests like these build brand loyalty and help to collect real-time testimonials.
Idea 5: "Tag a Friend" Giveaway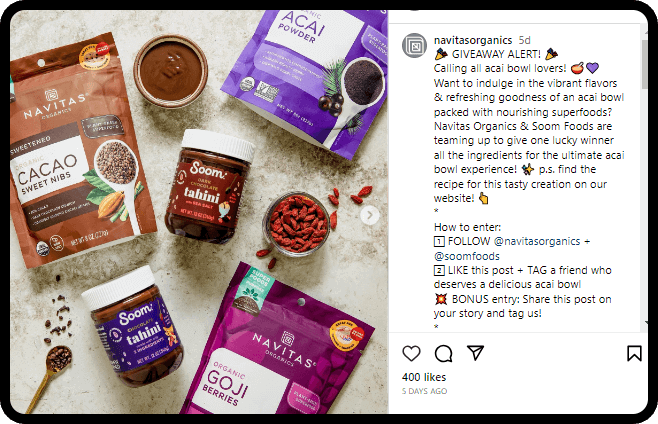 One of the most effective Instagram followers growth hacks is a "Tag a Friend" contest or giveaway. With this giveaway, you get the entrant's friends when they tag and encourage them to enter the contest.
For example, @crazyshirts and @navitasorganics both brands offered "Tag a Friend" giveaways in the comments, and in return, they will gift the winner their best products. Also, you can ask entrants to share this post on their stories.
Idea 6: Milestone Celebration Giveaway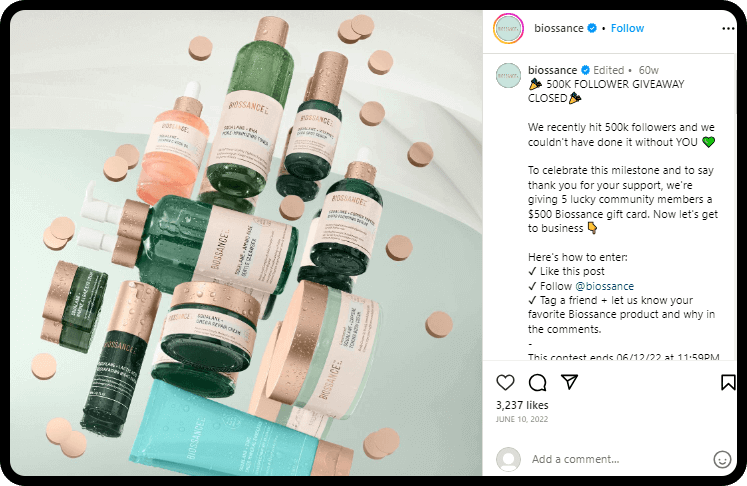 Instagram milestone giveaways are another tactics to enrich your account or brand with more active followers. You can celebrate 10K, 200K, or 500K followers to thank your audience for their support and love.
Also, you can entice your audience to an upcoming milestone giveaway to motivate them to share, like, and follow your page. For example, Biossance's 500K followers giveaway which offered a $500 Biossance gift card to 5 lucky members.
Idea 7: "Share to Win" Giveaway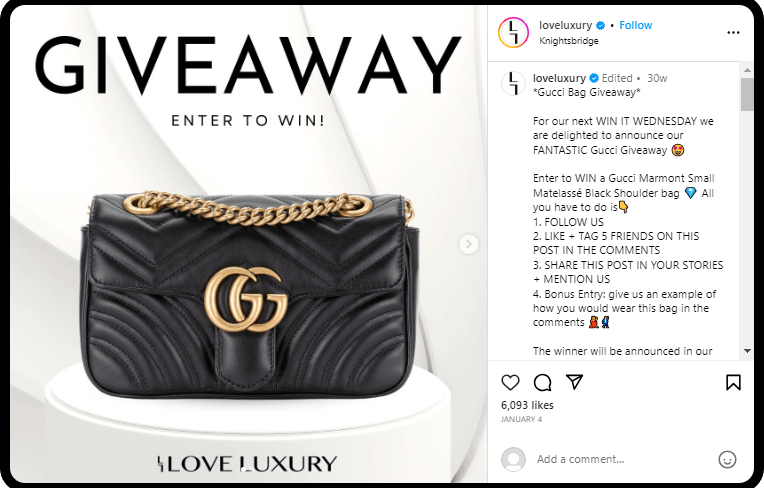 "Share to win" or "Like & Share to Win" giveaways are more creative approaches that popular brands or influencers applied to achieve their brand goal. You can ask your audiences to share your giveaway post and win the prize.
When your posts are shared on their Instagram story, you will grab the attention of their fan followers. All you need to post compelling product images that encourage your target audiences to check it out and learn more.
Idea 8: Trivia or Quiz Giveaway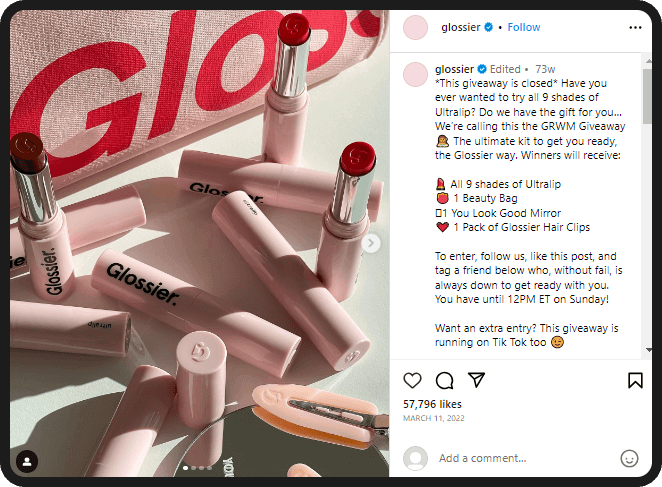 Trivia or Quiz is a game-changer giveaway hack that helps you to connect with your followers and develop your product after acknowledging their requirements. With this contest, you and your audience get a chance to know each other in a fun way.
You can them about your product experience, a historical fact, a trending topic, etc. For example, Glossier loves to engage with its audience by sharing their opinion on its products.
Idea 9: "Follow and Like" Giveaway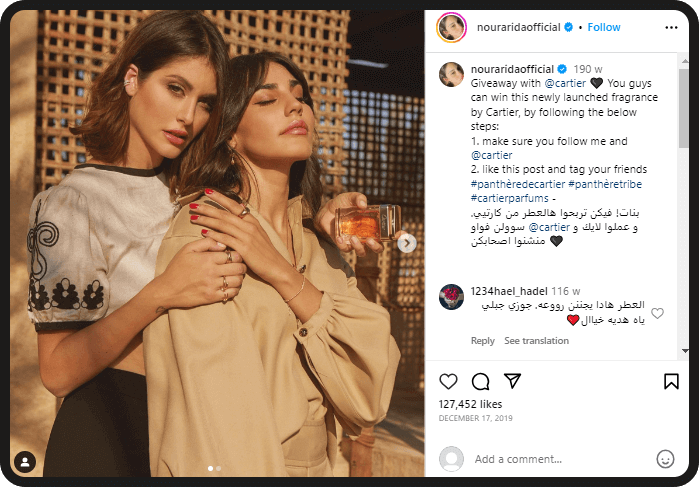 "Follow and Like" is considered the most common and famous Instagram giveaway hack. You can ask entrants to follow and like the post, your brand, or who you partnered with in the giveaway. By doing this, you get more engagement and sales too.
Take a look at the Nouraridaofficial giveaway where they set rules to follow their official page and @cartier to win a newly launched fragrance. If you have a product-based business, you can try this famous hack.
Idea 10: Exclusive VIP Experience or Behind-the-Scenes Access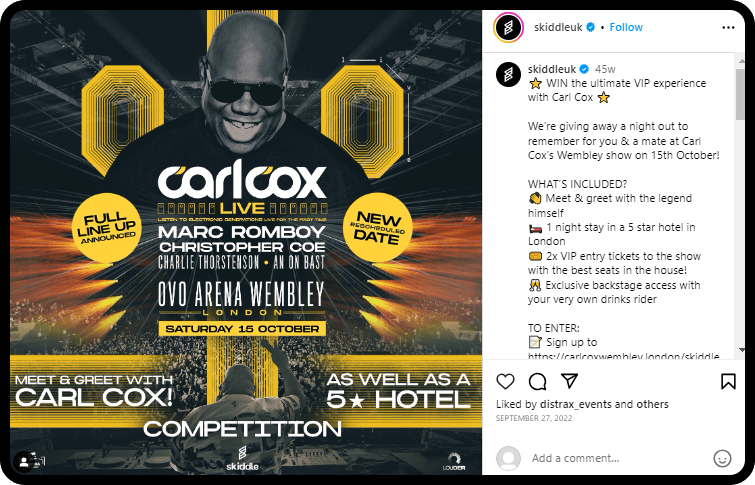 Last, but most exciting Instagram giveaway tactic is the VIP experience or behind-the-scenes that audiences love most. If you have a fashion brand, you can offer a luxury boutique or a behind-the-scenes fashion tour of new product launches.
For doing this, you need to focus on high-quality and visually appealing images with details, like @skiddleuk. You can ask your audience to follow your brand or profile, tag their friends in the comments, and many others.
Best Practices for Doing Instagram Giveaways
Want to promote your brand with the Instagram giveaway best practices? Check out expert-suggested tips and strategies for maximizing the impact of giveaways, such as –
Optimal posting times: First, set the best time to post your Instagram giveaways depending on your target audience and their active time.
Using relevant hashtags: Choose the most engaging, popular, and niche-friendly hashtags that suit your giveaways.
Collaborating with influencers: If you have enough budget to collaborate with influencers, try it to attract their followers and reach a large audience.
Give priority to limited time: Limited-time giveaways create urgency and encourage people to take part sooner rather than later.
Tools to Help You Do Instagram Giveaways
Who doesn't want to run hassle-free contests or giveaways and count the result to select the winner? Instagram giveaway tools can help you streamline the process, including tools for random winner selection, analytics, and promotion.
Here, we've listed the 3 best Instagram giveaway pickers tools below: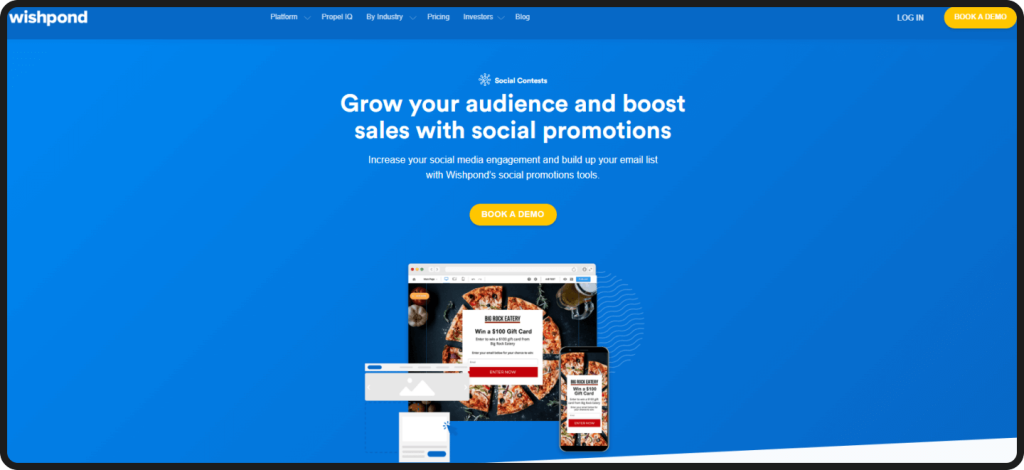 Do you want to run regular contests on Instagram and track success? Wishpod is the most popular IG giveaway tracker and organizer tool which allows you to view all the entrants on your dashboard. With this tool, you can take your promotions, social media campaigns, and giveaways to the next level.
Features:
Add a voting capability for users,
Create landing pages & professional-looking social promotions,
Automate your giveaways,
Integrate with email marketing & generate more leads,
Works well with Facebook and Pinterest,
Price:
Wishpond pricing starts at $49/month up to 1000 leads. You can also get a 14-day free trial for annual plans.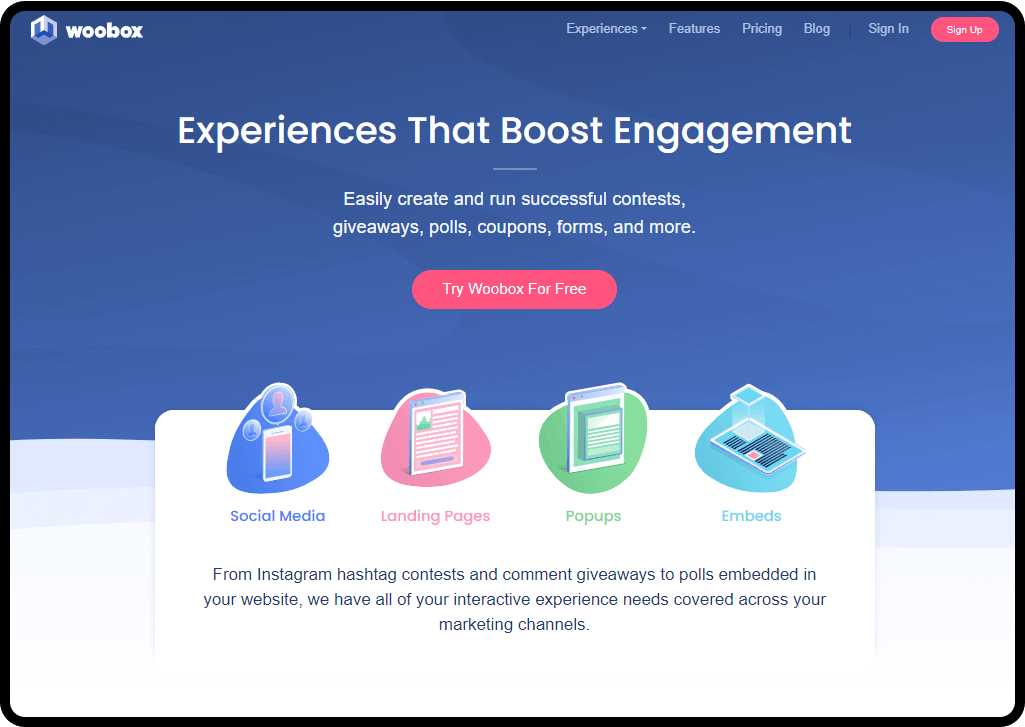 Searching for an IG giveaway tool that helps you to run contests, polls, coupons, forms, and many others? Woobox is a perfect match for different social platforms, like Vine, YouTube, Instagram, and Pinterest. From Instagram hashtag contests to comment giveaways, social media campaigns, and many others you can explore all.
Features:
Drag & drop functionality help to customize your giveaways.
Embeds beautiful hashtag galleries, polls, and custom forms.
Help to create custom popup website overlays for blogs, e-commerce shops, or any website.
Price:
With Woobox you get a free limited plan and four paid plans that start at $32/month.
SweepWidget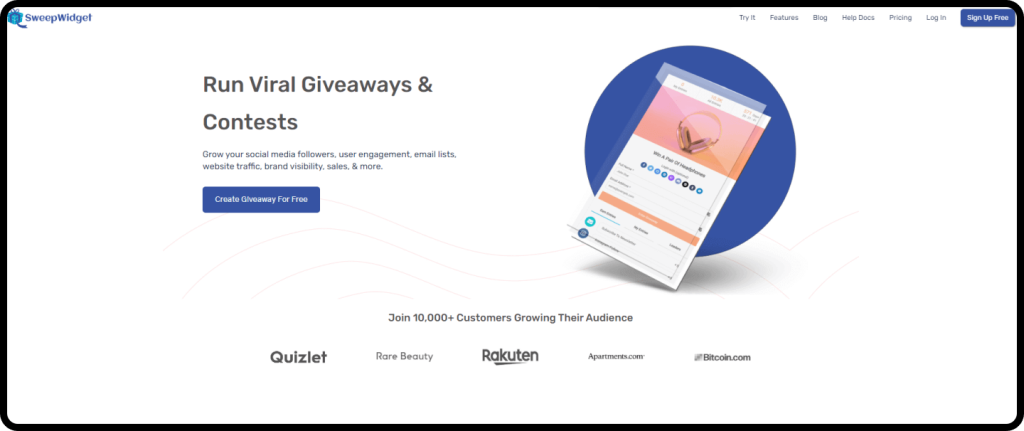 From brands to small businesses everyone's ultimate goal is to convert leads to sales. With this tool, you can achieve your goals and allow you to grow your likes, followers, shares, and user engagement. However, you can run different giveaways, like
viral sharing contests,
social media growth,
leaderboard competitions,
Instant coupons/rewards, and
Milestone campaigns.
Features:
Milestone campaigns.
20+ API integrations (email marketing and marketing automation tools), i.e., Mailchimp, Aweber, etc.
Select random or manual winners and disqualify/delete entries.
Offers 90+ entry methods & 30+ social media platforms.
Advanced design editor and custom CSS builder.
Price:
This tool offers a free plan with unlimited entries, but for more advanced features the plan starts at $29/month.
Case Study: Successful Instagram Giveaways
Searching for real-life examples of brands that successfully increased their engagement and followers through an Instagram giveaway? Let's check out some inspiring and effective Instagram giveaway examples below:
One of the most impressive and popular giveaways in this list starts with Domino's who offered the chance to get free pizza. For this, they instruct individuals to share their profile images from the Mind Ordering app on Instagram or Twitter.
Also, they recommend using @DominosMindOrdering and @Sweepstakes hashtags to prove they're a superfan. Each instruction is simple and clear which gets a quick response from followers. It also entices new followers to order one pizza from the brand.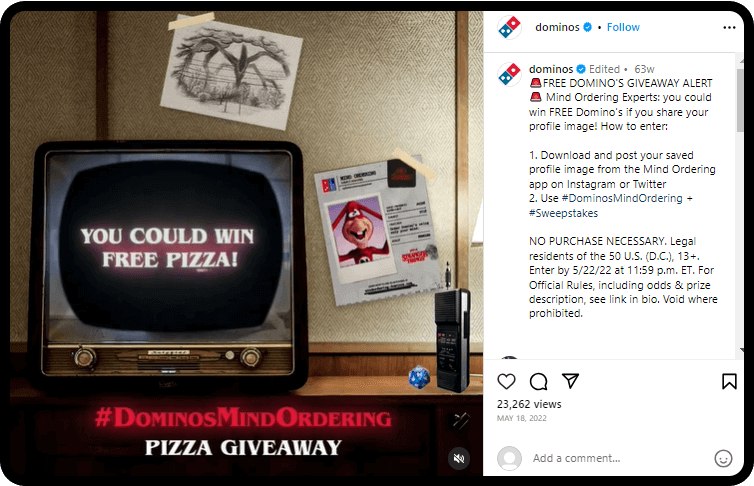 Another giveaway example is Sojos Vision who cleverly asked participants to follow @sojosvision, like the giveaway post, tag 2 friends, and repost the post to their profiles. Also, they add "Giveaway" text at the top of the post image to draw the attention of followers to their giveaways.
However, they also use different trendy hashtags, including #giveawaycontest, #primedaydeals, #primeday, #sojosvision, #amazonsunglasses, #amazonfashion, #bestsunglasses, etc. Their giveaway tactics are encouraging enough to grab followers' attention instantly.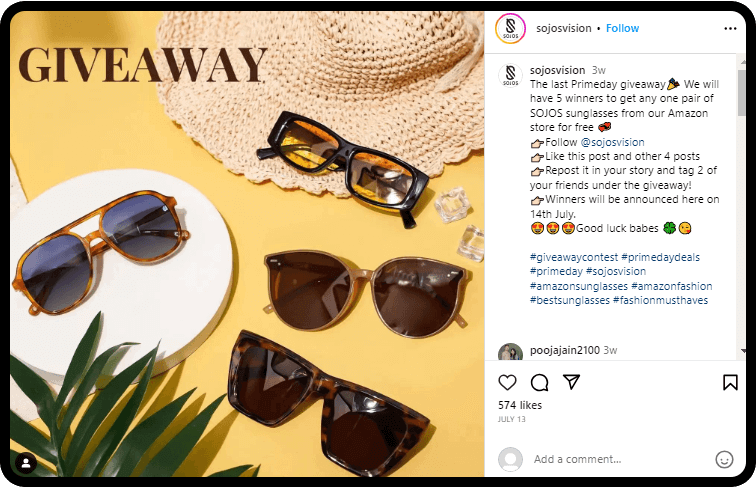 Krave Beauty's giveaway earned over 7,953 likes that level of engagement is pretty good for raising their brand value and achieving a new sales line. Sometimes, the brand also announces a partnership giveaway like ZitSticka to encourage their audiences too.
What makes their promotion unique? Well, they asked participants to follow their page @kravebeauty, like giveaway posts, comment on how you #PressReset, and tag 2 friends. Along with these hacks, they offered additional entries like following brands on TikTok which help to build their social media brand popularity.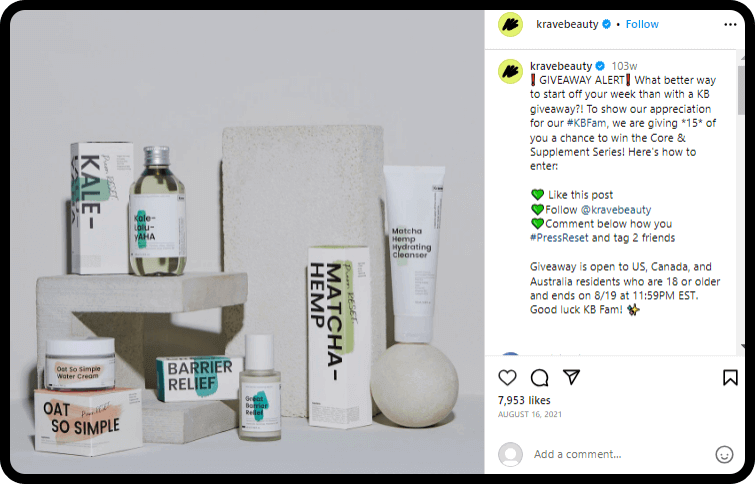 Measuring the Success of Your Instagram Giveaway
After going through several Instagram marketing strategies and giveaway ideas, it's time to measure your Instagram giveaway success. Let's look at some key metrics you must need to track!
Reach: With this metric you can count how many people click and see your Instagram giveaway post. For counting reach, you can measure the number of impressions per post.
Engagement: This metric measures the level of people's interactions (likes, comments, and shares) per giveaway post.
Followers: With this, you can count how many IG followers have you gained by comparing before and after giveaways.
Sales: If your giveaway's purpose is to generate sales, you can track sales by looking at your website analytics or your sales data (before & after the giveaway).
Additional tips to analyze the results are:
Consider overall reach and engagement.
Compare your results to your planned goals.
Compare current giveaways to previous ones which help most.
Make changes based on your giveaway strategies.
Conclusion
Whatever your target business goals are, an Instagram giveaway will help you with various things. But all you need proper planning before running a giveaway and following IG rules to secure your page.
Have you planned to take advantage of Instagram giveaways to enrich your reach, build credibility, and promote your product?
If not – plan to start planning your own creative Instagram giveaway and earn more followers instantly.
FAQs
1. What are Instagram giveaways?
Instagram giveaways are contests or promotions a brand or content creator offers to increase Instagram followers, likes, and comments. It is a strong way to boost Instagram engagement.
2. How can I run a successful Instagram giveaway?
You can run a successful Instagram giveaway after finalizing your goals or campaign outcomes what you want to achieve. After that, you can set rules, create giveaway hashtags, promote your campaign, announce prizes, and so on.
3. Are Instagram giveaways effective for increasing followers and engagement?
Yes, Instagram giveaways are effective for increasing followers and engagement. But all you need to maintain the right steps to achieve your campaign and branding success.
4. What are the rules for Instagram giveaways?
The Instagram promotion guidelines or giveaways rules are –
● Every entrant or participant must submit a complete release of IG.
● Eligibility requirements and offer terms must be included, i.e., age and residency restrictions.
● Compliance with giveaway rules and regulations, i.e., registration and necessary regulatory approvals.
● Prizing offer details.
● Acknowledgment about the promotion is in no way sponsored, endorsed, administered by, or associated with Instagram.
● Use the term "contest", "sweepstakes", or "giveaway" for avoiding miscommunication.
For more details, you can visit the Instagram help center.
5. What tools can I use to help manage my Instagram giveaway?
For managing your Instagram giveaway, you can go with free or paid tools. For example, Wishpond, SweepWidget, Woobox, and many others.
6. How do I choose a prize for my Instagram giveaway?
You can choose a prize that your target audience loves most for your Instagram giveaway because your ultimate goal is to increase IG followers and engagement.
7. How do I promote my Instagram giveaway?
You can promote your Instagram giveaway in different ways, including
● Announcing the contest or giveaways on Instagram.
● Sharing the link to the giveaway in your IG bio.
● Adding posts about the details of your contest to your stories.
● Promoting the contests on your website (if have any).
● Cross-promoting your giveaways on other social platforms, i.e., Facebook, TikTok, etc, Instagram ads, etc.
● Sending emails to your IG profile or brand subscribers and many others.
8. How long should my Instagram giveaway last?
You can run your giveaway for 2 weeks (14 days) which gives you lots of time to secure entries and create urgency. Well, as per business requirements, you can exceed time but remember a long time makes users forget about your offerings.
9. How do I ensure my Instagram giveaway is fair?
Ensure that your giveaway rules are easy to understand and transparent to select the winner.
10. How do I measure the success of my Instagram giveaway?
You can follow several metrics like reach, engagement, sales, and others to measure the success of your IG giveaways. Also, you can try IG giveaway picker tools for more accurate results.
11. How do Instagram giveaways pick a winner?
There are several steps judges take to pick an IG giveaway winner, such as using IG giveaway tools, rechecking the winner meets all eligibility requirements, etc.