Last Updated on July 26, 2023 by Diana
Instagram Notes are the most popular and encouraging way to communicate with your followers. With this, you can share your business ideas, personal throughs, product details, new discounts, and many others. It works as Instagram stories where followers can reply to your notes.
Wondered thinking: How to Get Notes on Instagram or how you can create yours? This article will walk you through in-depth details. Without further ado, let's start together!
Contents
What are Instagram Notes?
Instagram notes are short posts or messages (similar to Instagram stories) with a maximum of 60 characters long. These IG notes are your inbox stories. You can share with your "close friends" or followers who follow you back.
However, you can find it in your inbox (at the top of your direct messages). From product promoting to assisting customers, or engaging with your followers in a creative way, you can use it.
The launch and evolution of Instagram Note
Instagram Notes have the potential to attract new audiences, generate more sales, and boost your business. Let's take a look at the Instagram Note launch and evolution timeline!
July 2022 – First Instagram note is launched in the United States as a test feature only for a small group of IG users. (Source: Hootsuite)
December 2022 – Expanded to more users in the United States and Canada.
January 2023 – The IG feature is rolled out worldwide.
March 2023 – Set the character limit (2,200 char).
April 2023 – Adds images and GIFs ability to notes.
May 2023 – Users can reply to IG notes.
How to Use Instagram Notes
A. Step-by-step guide on creating an Instagram Note
Do you want to create Instagram notes about your business? The process is super easy, let's check out below!
Step 1
Sign in to your Instagram profile & navigate with your inbox (at the top right corner).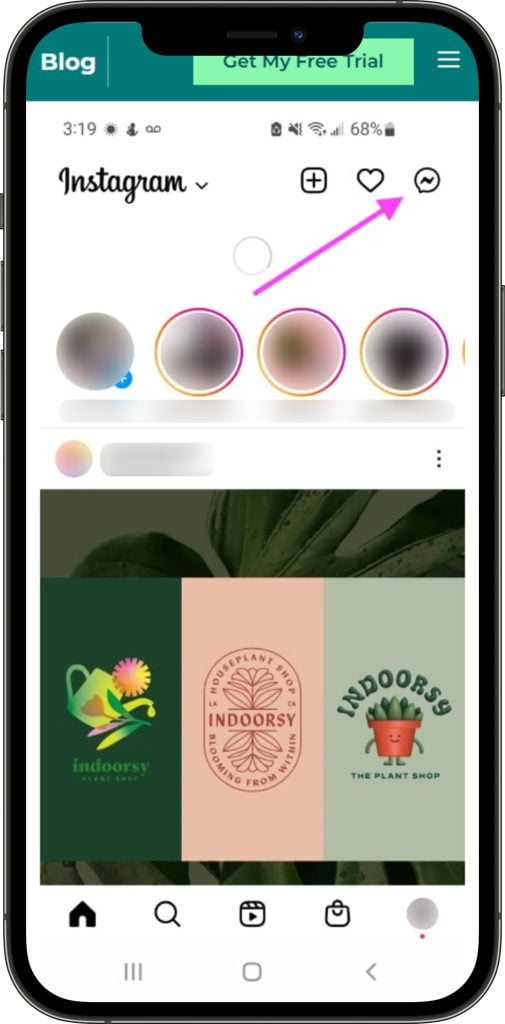 Step 2
After that at the top left corner, click the box ("leave a note").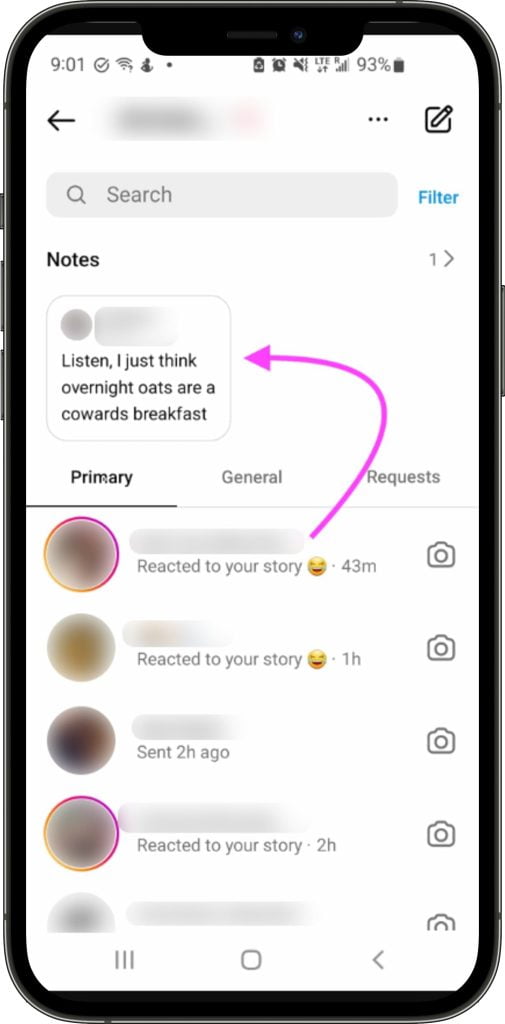 Step 3
Write your notes within 60 characters king and select people who you want to share with and then click the "share" button to publish.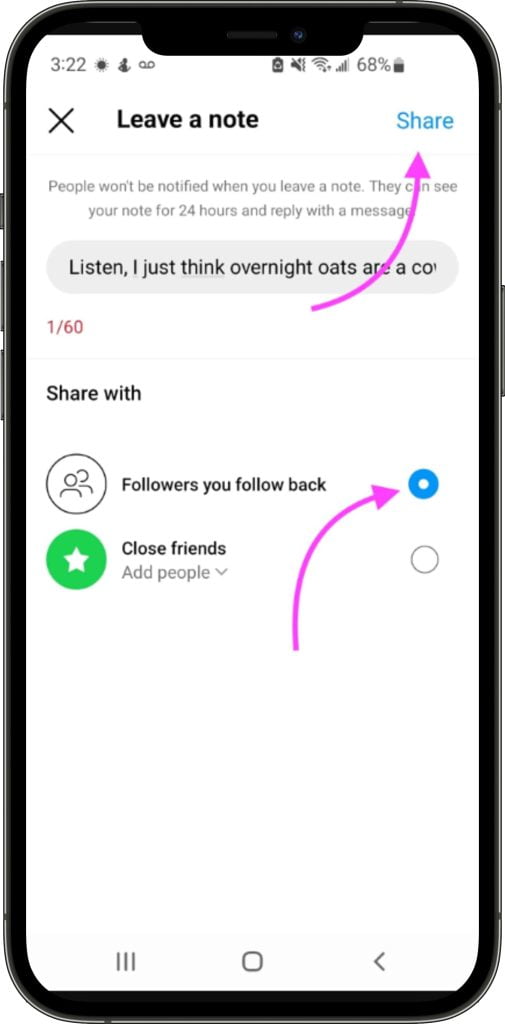 Note: You can use emojis to share your IG notes.
B. Tips on effectively using Instagram Notes for communication
Instagram notes are creative and attention-grabbing that have the power to capture like-minded audiences' attention instantly. Let's check out some ways on how effectively you can use this feature below:
Promotions and events announcements: You can use Instagram notes for upcoming promotions, big sales, or events. Here, you can give details on how to participate and what your followers explore.
New product: IG notes are more effective for launching new products and updation. In this way, your followers and customers engage with your brand or business.
Feature suggestion & feedback: IG notes allow your customers to share their feedback on your products (feature requests, adding another, etc.). It's a great way to build an engaged and strong Instagram community for your target audience.
Real-time marketing: Want to boost engagement and drive more traffic to your online business? Instagram notes allow you to share trends and unique product sale lines.
Ask me anything: Polls, stickers, emojis, and Q&A – these are the best and most effective popular IG features that attract lots of audiences. By hosting an "Ask Me Anything" session, you allow your audience to know your brand in detail.
Better visibility: Compared to regular Instagram posts and stories, IG notes help to increase followers by generating more likes, comments, and shares.
Call-to-action (CTA): You can drive traffic to your online business or your e-commerce site by suggesting CTAs.
Troubleshooting: Why Don't I Have Instagram Notes?
A. Possible reasons for not having Instagram Notes
The Instagram Notes feature is available in different countries including US, UK, Europe, etc. But if you don't get the feature, there are some reasons behind this scenario. Let's check out in details below:
App version – The most common factor is not using the latest Instagram app version.
Region restriction – If you are using the latest app version, then check out your region availability.
The account is disabled or flagged – If your account is disabled, you may not get access to the Instagram notes feature.
Operating system or device incompatible – The IG notes require a specific operating system or newer device to get access.
Technical problems – Poor internet connection or a bug affecting on loading of Instagram features.
B. Solutions to common issues
After acknowledging some reasons why your Instagram notes working, it's time to go through overall solutions.
1. Updating the Instagram app
Instagram notes is a new feature and to get it you need to install or update the app from the App Store or Google Play Store. If you see the Update option, click it to install the latest one.
Note: You can open the IG app and click the messages icon to check whether the IG note is working or not.
2. Checking if you've muted notes
Do you mute your Instagram notes? By doing so you will not get access to IG notes. For checking, you can go to your IG profile and access the note. Tap and hold the note for opening a menu. Here, you can see the mute option.
3. Switching to a professional account
If you want to switch to a professional account, this will help to fix many problems at once. For this, tap on your IG profile picture icon (bottom right) and click the "Edit Profile" button. Here you notice an option "Switch to a professional account" and provide all business details.
4. Turning on the activity status
You can turn on the Instagram activity status to fix your notes issue. For this, you need to log in to your IG profile, click three lines, and tap "Settings". After that click "How others can interact with you" and uncheck the box next to the "Show Activity Status".
5. Offloading and reinstalling the Instagram app
If your Instagram notes feature is not still working, you can offload the IG app, delete it, and reinstall the new version. As an Android user, you can simply uninstall it and reinstall it from Google Play Store.
As an iPhone user, go to settings, tap General, and click iPhone storage. Here you need to select Instagram, click offload app, and reinstall the app again.
However, you can try other solutions, including –
Check out your account status to solve the account disabled issue. For this, you can visit the Instagram help center and search mentioning "account status".
Check out whether your device is compatible or not by visiting the Instagram help center.
Ensure your internet is strong. Also, you can log out and log back to fix your profile-related issues.
The Impact of Instagram Notes on Businesses and Brands
A. How businesses can leverage Instagram Notes for promotion and customer service
Here are some specific ways that businesses or brands benefit after using Instagram Notes:
Promote products and services – Notes allow e-commerce business owners or small businesses to promote sales or discounts, announce new products, etc. Also, you can use notes to share behind-the-scenes content or tutorials.
Offer customer service – Through notes, you can ask questions, create polls, resolve issues, and many others.
Connect with like-minded followers – You can share your brand stories, ideas, personal thoughts, and others that help to reconnect with followers.
B. Potential effects of Instagram Notes on the Instagram algorithm
Replace traditional posts – Notes become more popular day after day. Like stories, notes can be used to replace traditional posts that boost the IG engagement rate.
Boost visibility – Notes are short and convincing enough that allows users to get important updates from brands or businesses.
More traffic – The IG algorithm prioritizes users' interests and notes help the IG algorithm to get more users' requirements, needs, and preferences.
Types of Instagram Notes
Similar to Instagram stories, you can use notes for promoting your products and encourage the audience to follow you in a meaningful way.
A. Overview of different types of Instagram notes (e.g., inspirational, funny, personal, promotional)
There are two types of Instagram notes: public (visible to anyone who follows you back or your Close Friends list) and private (visible to those whom you want to share with).
Apart from these two types, there are different Instagram notes, including –
Personal notes: You can use these notes for sharing your personal thoughts, updates, unique stories, and many others.
Inspirational notes: These notes are used to share motivational and positive quotes about success, work, life, and others.
Announcement notes: If you want to share your business news, upcoming sales, or brand information, these notes are popular.
Q&A notes: These types of Instagram notes are used for answering followers' questions from your followers.
Poll notes: You can create poll notes on a particular topic to engage your followers.
Promotion notes: These notes are mainly used for promoting products, services, or events.
However, you can try different types of notes as per your brand's specific goals and needs.
B. Examples of each type
Let's go through some engaging and effective Instagram notes examples below!
1. Personal notes
"I am starting a new diet and excited to see how it goes!"
"Going on a trip [destination] to next week for exploring nature's beauty."
2. Inspirational notes
"Embrace your creativeness to show your unique approach to the world".
"Live in today. Tomorrow is unpredictable."
3. Announcement notes
"Hosting a live at 7 P.M. today night. Share your queries and throughs. See you there."
"Making some changes to my existing products. I'm so excited to announce the updated features and can't wait to share it with you all"
4. Q&A notes
"What hair colors suit you?"
"Which Starbucks coffee flavor you love most?"
5. Poll notes
"What's your favorite place to travel? [ Options:- A. Paris, B. Rome, C. London]"
"What's your favorite book? [Options:- A. Harry potter, B. Hunger Games, C. Lord of the rings.]"
6. Promotion notes
"Exciting news! The new product will launch soon stay connected."
"The most demanding and awaiting $10 sale will start on [date]!"
Instagram Notes Ideas
A. Detailed list of Instagram notes ideas, categorized by type
1. Personal Notes
Share your feelings, thoughts, and inspirations.
Write about experiences (recent trip, place details, challenges, or others).
Share about your dreams and goals, like what ways help you to be on track, who is your idol, and so on.
Share your creative vision to the world that makes you different from others.
2. Announcements
Share your business or brand new achievements or new product launches.
You can announce upcoming events (sales, a meet-up, or a live stream).
You can add CTAs to follow your new platform or service.
3. Q&As
You can connect with your audience and learn more about their demands by answering their queries.
Ask your followers about their experiences as feedback so that you can fulfill their requirements.
Host a Q&A [this can be on a specific topic, product feature, and others].
4. Polls
You can host a poll to engage with your target audience by asking what are their favorite eye palettes, fashion brands, etc.
With a poll, you can create curiosity among your followers. For example, Guess which classic matte palette we [brand name] will launch?
5. Promotions
Promote your online business or services by expressing its uniqueness and why customers buy it.
Offer discounts or coupons (if available) to attract new customers and generate sales.
Host a giveaway or contest to ensure repeat sales by generating excitement.
B. Examples and suggestions for each category
1. Motivational & inspirational
"Fashion is all about your personal style. Let's find yours that gives you confidence and comfortable too."
2. Personal
"Shine in your own way. Be bold, try new things, and experiment with what you like most."
3. Funny
If Monday has a face, will you punch it or not?
4. Sarcastic
Sometimes I need expert advice and for this, I talk to myself.
5. Educational
Do you know? The world's oldest living tree is over 4,800 years old.
6. Engaging
What's your favorite fashion brand?
7. Announcement
Knock, knock! A new product will come soon!
8. Promotional
Ready for the big discounts on your favorite matte palette? Stay tuned!
Tips for Creating Engaging Instagram Notes
A. Tips on how to drive engagement with Instagram notes
Here we've listed popular hacks that you need to know when creating Instagram notes. Let's get started!
The better you know your audience, the better you provide the most effective IG notes to meet their expectations and needs. You can take advantage of Instagram demographics to understand your audience. Also, you need to understand who are your niche traffic and what are their requirements.
However, you can create your audience personas for generating more sales. After knowing your audience, you can share IG notes for asking feedback and many other purposes.
Identify your unique brand tone
What type of tone (bold, curious, and authoritative) suit best for your business or brand? And which tone your audience like most. Instagram is a place for e-commerce business owners, creators, and influencers where users love to explore new ideas, products, etc.
After confirming your niche audience, you should give priority to your unique business style and voice. For more details and Instagram note examples, you can get suggestions from Google search or Instagram experts.
Prioritize the important topics
Start notes by mentioning important facts to utilize the best use of 60 characters. Followers love to-the-point words at the beginning which increase changes to click CTAs or More to see the rest.
However, ensure to put attention-grabbing info, like Discounts, Product launches, Events, and others. You can also add hashtags in your IG notes for attracting more followers and influencers.
Note: Try to create unique hashtags or use relevant ones. Don't use random ones or copy from others.
Want to encourage people to take a specific action after viewing your IG notes? You can take advantage of adding a call to action in your notes. In CTAs, you can include your website links, product pages, and others.
Engagement is a key thing in the Instagram algorithm which open up new opportunities to interact with audiences. With notes, you can connect with your niche-like audiences from time to time.
B. Importance of using emojis, keeping notes under 60 words, and other strategies
Visually appealing – Emojis add personality, creative visuals, and emotions to your Instagram notes.
Short & concise – Notes allow 60 words which allows users to scan easily and catch the important point instantly. It is helpful for small screens like mobiles.
Avoid jargon – Make notes in a more engaging way.
Strong headline – Try to use attention-grabbing headlines, images, videos, and others.
Promote notes – You can share notes on your other social media platforms for more reach and engagement.
Instagram Notes for Different Audiences
A. Discussion on how to tailor Instagram notes for different audiences (e.g., girls, boys, couples)
Let's check out some hacks to tailor Instagram notes for different types of audiences below!
Girls – Self-love & empowerment note suits best for girls. You can also use visually appealing images and videos that match their interests.
Boys – The language and tone you use for boys depending on their interests, sports, gaming, etc.
Couples – For writing couples notes, you can use romantic, intimate, and others depending on your target audience.
Note: Consider age, interests, and their preferable fields before writing Instagram notes.
B. Examples of notes for each audience
Girls
"Beautiful, smart, and strong – Don't categorize only these 3 words."
"I'm not always classy. I'm sassy!"
"Fall in love with yourself – Every day and Every time!"
Boys
"Happiness is a choice that needs to choose wisely – what you say?"
"Which sports do you love most? A. Football B. Cricket C. Basketball"
"Hey boyz – Secrets must have to be in secret in all ways!"
Couples
"Beautiful relationship means good communication. The more you talk to each other, the more your love increase."
"Couples goal – Be each other's biggest fans and friends too."
"Which place do you plan to travel to celebrate your love anniversaries?"
Conclusion
After the end of this article: How to Get Notes on Instagram, you get enough idea about its importance in attracting new followers, boosting sales, and others. Will you give it a try to supercharge your business? Share your thoughts with us about the new Instagram Notes feature if you use it.
Frequently Asked Questions about Instagram Notes
1. Can I delete an Instagram Note?
Yes, you can delete or edit your Instagram note when you want.
2. Do Instagram Notes affect the Instagram algorithm?
No, like other Instagram features, notes follow the same principles.
3. Can I mute Instagram Notes?
You can mute or hide Instagram notes shared by someone at any time from the IG app. Check out the Instagram help center for more details.
4. How long do Instagram Notes last?
Instagram notes disappear within 24 hours if you don't delete them.
5. Can I choose who sees my Instagram Notes?
Yes, you can select people who you want to share your Instagram notes with. You will explore two choices: share with followers you follow back or close friends.
6. Can I use emojis in Instagram Notes?
Yes, you can use emojis to reply or react to the Instagram note.
7. Can I edit an Instagram Note after posting it?
Yes, you can edit Instagram notes after posting them. For this, you need to click three dots top right of your post. After that, select edit, delete, or add a caption and click done.
8. Can I save drafts of Instagram Notes?
No, you can't save drafts of Instagram notes because it has no draft-saving capabilities. That means when you delete your note, it will go forever.
9. Can I respond to an Instagram Note?
Yes, you can respond to an Instagram note. Also, users can reply to users through DMs (direct messages).
10. Can Instagram Notes be used for promotional purposes?
Yes, Instagram notes can be used for promoting your purposes (product highlights, connecting with followers, offering customer service, etc.).
11. Are Instagram Notes Similar to Instagram Stories?
Instagram notes are almost similar to stories that disappear within 24 hours or until you delete and replace them. But IG stories features are not similar to notes.
12. Can I schedule Instagram Notes?
No, you can't schedule Instagram notes. If you want to schedule your IG notes, you can use third-party tools, like Hootsuite, Later, etc.
13. Are Instagram Notes available on both Android and iOS?
Yes, Instagram notes are available on both Android and iOS devices. For more details, you can check the Instagram help center guide.
14. Are Instagram Notes visible to the public?
The Instagram notes will be visible to your followers you follow back, your friends, or close ones whom you decide to share.