Last Updated on June 29, 2023 by Diana
Being popular on Instagram is everyone's buried desire, whether you begin your influencer journey or develop a brand on Instagram. However, when you spend hours, even years, trying to get more Instagram followers, the overall outcome is zero. It freaks you out, right?
Contents
Don't worry! With us, you'll get some expert hacks that help to gain more followers on your IG account –
The challenges in gaining Instagram followers
Strategies to overcome
Monitoring the entire followers gaining process
Turn the entire game in your favor.
Let's walk you through it!
Factors Contributing to the Difficulty of Gaining Followers
As we all know more followers give more credibility and revenue. But all these require proper planning and figuring out what roadblocks are preventing you from getting more Instagram followers. Without more talk, let's dive together!
Instagram's Algorithm
Instagram Algorithm is a set of classifiers, rules, and processes whose goal is to provide customized/personalized experience for each user. From getting relevant or interesting posts on your niche to building an engaged followers community, IG changed its rules.
Let's reveal Instagram important factors that can fluctuate your IG follower base below:
Interest: IG algorithm goes through your follower's activity to identify their interest and engagement with your posts. After that, it slots the posting ranks.
Timeliness: Do you maintain the best time for postings, submit regularly, or delay your schedule?
Relationship: How often do you engage with other influencers with the same niche market, brands, or other IG users?
Frequency: Will new followers visit your profile, how long they spend on your posts, or make any interactions?
Relevancy: Instagram notices how "relevant" every content posts are, will it fits trendy topics, and whether users find it informative or engaging.
Usage: If you visit Instagram on a short basis, it will show the most relevant posts first. But when you browse longer time, it may provide a trendy and deeper catalog of fresh content.
Competition and Oversaturation
According to Statista, 1.35 billion Instagrammers will be active by 2023. So, you can easily assume that Instagram has a massive user base. That attracts millions of Gen Z and millennial influencers and existing and new brands.
Market oversaturation is common as technology advances. It occurs when a product or service is mass-produced in a specific market to meet greater demand, which isn't really necessary. It increases competition one hundredfold, turns you into a huge loss, or even ends your influencer or brand journey.
Inauthentic Engagement and Follower Growth Tactics
Instagram engagement largely depends on how many people are engaged with your posts, stories, and reels and frequently visit you just for your new updates. Think, if you post an image or a video and receive no likes, comments, or shares, feel disappointed. But no! Your Instagram account metrics hurt as well.
This happens because you may have less idea who your target audience is, which posts they respond to the most, how powerful hashtags are, or even when Instagrammers are most active.
Strategies for Overcoming Instagram Growth Challenges
If you want to overcome the above challenges and elevate your Instagram follower growth, turn to the following strategies for bringing new followers-
Creating High-Quality, Engaging Content
When growing your Instagram following, always prioritize high-quality and engaging content. Because your target audience wants to know who you are and what value you bring to their lives. Otherwise, this oversaturated market will flaunt you.
Try to use storytelling vibes in every post. It captivates the follower and helps them connect with your emotional and personal journey. The more followers connect with your content, the higher you'll get audience exposure.
Pro Tip: Take advantage of different content types, i.e., behind-the-scenes, memes, Inspirational quotes, User-generated content, etc.
Leveraging Hashtags and Instagram Features
Hashtags are the secret sauce for expanding your content's reach beyond your existing audience. When optimizing your Instagram content, pairing strong captions with relevant keywords for your industry and niche-related is recommended.
Use at least 20 hashtags for each content bucket to increase audience exposure and possibly virality. Don't forget to maintain consistency when posting content and try to add geotags too for local discovery.
Pro Tip: For more reach, try to combine hyper-relevant hashtags and popular ones. Also, follow your niche-friendly competitors' top hashtags for more reach.
Building an Authentic Community
Encouragement and motivation—these two can be the perfect keys to building an authentic Instagram community. Your potential customers are all over Instagram, but you need to put an effort to convert them.
Here, you must make the first move so your audience can find and interact with you. The more they interact with you, the stronger your Instagram community will be. Try to use Instagram Stories, direct message them, or repost.
Collaborating with Influencers and Brands
Your Instagram profile's follower growth graphs improve when you broaden your network. Reach out to those brands and influencers with similar audiences and niches who are successful in your field, of course.
Because having collaborators, such as established brands or macro influencers, significantly increases visibility and engagement.
Monitoring Progress and Adjusting Your Approach
When using Instagram growth strategies, it is crucial, as we all know, to keep an eye on the entire process. If you do not know which strategies work well, you will not get to the top and may even be unable to adjust your previous strategies to get there.
Figure out which steps you must follow on-
A. Analyzing Instagram Insights
Instagram insights give you in-depth insights into your Instagram account's overall performance, audience demographics, and content engagement.
As a result, you can make changes based on the performance of your individual posts, reels, and stories in terms of reach, engagement, and impressions. For this, you can try GetFollowerUp developed InsTrack Analyzer for precise and accurate insights.
Why do you use this iOS app?
Latest updates & real-time IG analytics in time.
Follower data (new/hidden/ghost).
Accurate and reliable information about your profile.
B. Adapting to Changes in Instagram's Algorithm
As you know, Instagram's algorithm isn't static to improve the user experience. Its most visible impact is on the visibility and reach of your content. Adapting changes according to the constant change of the algorithm is an intelligent move.
For example,
Feeds and stories aim to pique your audience's interest by posting creative and scheduled content.
Reel algorithms aim to determine which reels get the most likes, comments, and shares, and whose reels you interact with more.
Explore pages algorithm changes based on your past interactions and which content you
The faster you adapt to changes, the higher your chance of Instagram follower growth.
C. Continuously Improving Your Content Strategy
Content is king, whether it is for social media platforms or search engines. An effective content strategy drives more Instagrammers to follow you and increases your brand awareness.
As we all know, Instagram algorithm won't stick to one place, so continuously improving your content strategy can be a safer move This is because when you experiment with various content types and see which ones your audiences enjoy the most.
Instagram has its own built-in post engagement analyzer features, but make sure you have an Instagram business or creator account.
Transform Your Instagram Game: Powerful Hacks for Accelerating Follower Growth
Below, we have listed the two most useful tools that will not only help you get real-time followers but also provide you with monitoring options to speed up the growth of your follower count.
Real Followers UP+ is the safest, free, and Android-based Instagram follower growth app. Its automation tools help you to get authentic and real followers with real-time insights. You can use it to obtain genuine likes, comments, and followers.
What's more?
Instantly gain real and sincere followers, likes, and comments.
This app is free of ads and bots
Easy-to-navigate
No need for human verification
Get 24/7 customer support
Affordable premium prices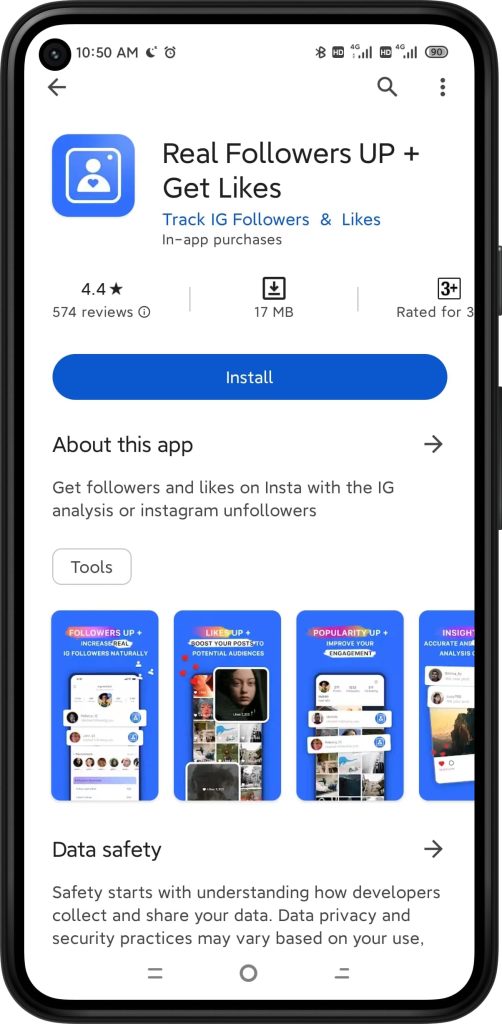 INSUP is the best Instagram follower-growing iOS app. It is not like the others who generate fake or ghost followers and violate the Instagram third-party app integration law. Therefore, it targets sales-oriented followers the most, whether you are building an established brand or a startup.
What's more?
Generate professional Instagram followers
Offer automated likes and comments for your posts
Utilize Smart AI technology
Strategies centered on IG's approval procedures
24/7 customer support
Free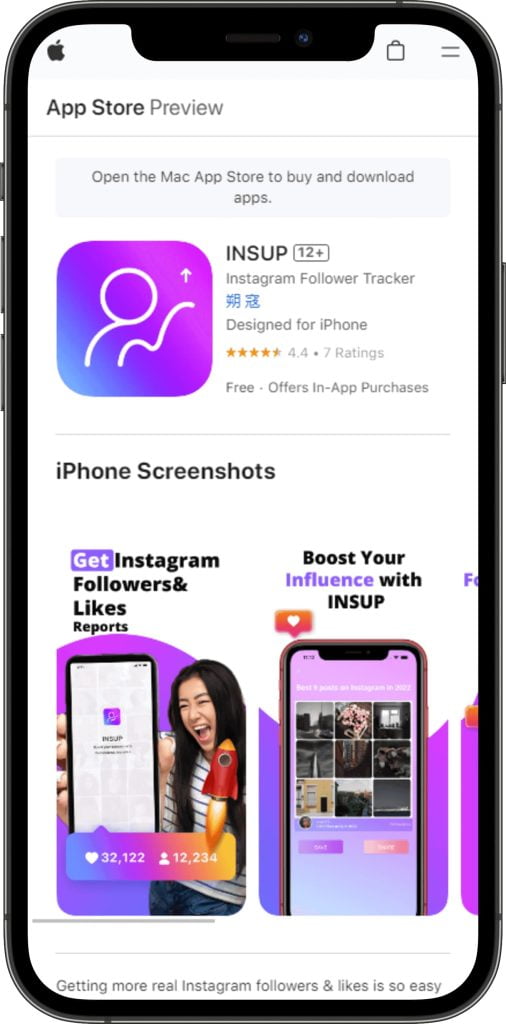 FAQs
1. Why is My Instagram Followers Stuck?
Instagram followers stuck might be a sign that your potential followers are confused about your services or businesses. And this scenario happens when –
● Hashtags' improper placement,
● Low-quality content,
● Posting inconsistency,
● CTAs using issues,
● Don't follow proper Instagram marketing strategy, and so on.
2. Why Do I Have So Few Followers on Instagram?
The core reason is you might not help to grow the community or lack high-quality videos, posts, images, etc., that demotivate new followers.
3. Why Am I Not Gaining Followers on Instagram in 2023?
In 2023, Instagram's follower growth strategy fluctuated to its constant algorithmic changes. After applying Instagram followers' growth hacks, you can try secure and authentic third-party apps like IGSights, INSUP, etc.
4. Is It Lame to Buy Instagram Followers?
No way! However, you must have a clear mind to choose between the secure Instagram follower app and the fake app. Instagram has a rule that forbids purchasing fake followers—but not real ones.
5. Should I Follow Back My Followers?
You can follow them back, but it is not a wise move because it takes time to build an Instagram following.
Conclusion
Instagram Follower Growth needs time, effort, and consistency. Why not cut this lengthy process in half with authenticity? All you need is to maintain follower growth hacks, avoid factors that harm your reputation, and take advantage of 3rd party apps (INSUP, IGSights, etc.).
It's time to take on the heights with the highest Instagram follower count with GetFollowerUp.