Last Updated on May 24, 2023 by Diana
Want to make money on Instagram? Followers are the key factors that allow you to fulfill your dream. Thinking about fake followers or buying likes to monetize your IG account? It will destroy all your hard work and planning to be a celebrity-like influencer.
To leverage the Instagram features and build authentic fan-followers, follow our tried & tested hacks for making money on Instagram.
Contents
Understanding Instagram Followers and Their Value
Instagram influencers' or businesses' success lies in fulfilling followers' desires. When you understand their likings and needs, you will be able to interact with your target audiences successfully.
For in-depth details, let's check out below:
Follower quality: Real vs. fake followers
To boost your IG business account or be a successful influencer, followers count plays an important role. More followers provide more popularity and trust. But you need to pay attention to your follower quality to ensure your authenticity.
Let's break down some key factors of Real & fake followers below:
| | | |
| --- | --- | --- |
| Terms | Real Followers | Fake Followers |
| Trust & Loyalty | Real IG followers come back to your account to buy things again. | Fake ones have no concern about your products & services. |
| Brand awareness | Authentic audiences help you to boost your brand value by commenting, sharing, & likings your post. | Fake followers are considered inactive audiences so they've less interaction with your posts. |
| Instagram Ban | Active follower activities help you to gain top IG algorithm ranking. | This type of follower harms your brand's credibility & the account will be banned later. |
Engagement rate and its impact on earning potential
A better engagement rate means a strong Instagram audience relationship with your brand. Overall, it offers more opportunities to build your popularity, and brand loyalty, and increase sales. Likes, comments, reposts, shares, etc measure engagement rate.
Here, we've enlisted key factors about its importance.
Help you to identify which posts performing well and what content your audiences love most.
Help you to evaluate competitors and conduct with necessary analysis.
It is the best thing for measuring social media advertising campaigns.
Offer social proof of your popularity and business.
Help to play a significant role in different social media algorithms.
The role of niche and target audience
Do you pick a profitable niche or start with your competitors marketing niche? Before starting identify your expertise field in which you serve details information, relate it to a product category, and fulfill IG user's desires.
Without finalizing your marketing niche, you can't find your target audience despite of posting high-quality content. Also, whatever you post or add hashtags, you'll passing a hard time engaging them.
How Many Instagram Followers Are Needed to Start Making Money?
One of the most asked questions among IG influencers is how many followers they need to make money and be a celebrity. Well, for details answers, scroll down to the next section!
Micro-influencers: The power of smaller, highly-engaged audiences
As you know micro-influencers are individuals with smaller but highly engaged fan followers on their Instagram profile. They have 1,000 to 100,00 followers for their niche expertise. So, why are they more popular?
Authenticity: Micro ones are famous for building personal connections by sharing relevant & engaging content to their niche.
Cost-effective: The business that has a limited budget for investing in influencers, micro ones is the best and affection solution to raise their brand awareness.
Better engagement rates: Micro-influencers have higher engagement rates compared to macro because they always share their interests and experiences that encourage audiences.
Growing your Instagram followers to attract brand partnerships
Micro, macro, nano-influencers, or others – which one do you target to attract brand partnerships? For setting your goal, let's understand key things below:
Nano-influencers: To be a nano one, you need to gain between 1K to 10K followers on their social media channels. Also, you need to focus on authentic recommendations and commentary. The brand hires this type of influencer for testing a product launch and services.
Macro-influencers: You need to achieve 100K-1M followers to be a macro one. If you want to collaborate with a reputable brand and increase their brand's reputation, this follower counts is necessary.
Finding the Sweet Spot for Your Niche and Audience Size
Interest, expertise, and passion – these 3 factors help you to identify your niche. When you are enough confidence in your niche market, you will motivate your audiences in the long run. Also, you have all solutions to solve your audience's problems and fulfill their needs for your business.
However, to find out your audience size you need to focus on the –
Market competition to understand and determine the profits of the market as per audiences.
Collect competitive insights.
Use existing demographic data, including location, age range, and gender.
Try Instagram polls to research your audience.
Ways to Monetize Your Instagram Account
Monetizing an Instagram account refers to earning money from the content (posts, Reels, and stories) that you published on this platform. From creators to influencers, Instagram is the most popular platform for monetizing.
Let's dive into core ways how you can earn money on Instagram.
1. Sponsored posts and brand collaborations
One of the most effective and popular ways to make money on Instagram is to collaborate with a brand becoming a brand ambassador. Your work is to promote a company or products by acting as a spokesperson and sharing positive information on social.
In return, the brand will pay you for in-feed photos or videos, story content, Instagram Reels, or any combination. Also, you can try sponsored posts that offer small product reviews but are not overly promotional.
2. Affiliate marketing through Instagram
In 2021, Instagram made two important changes that increased monetization opportunities and they are –
Allow IG users to add links to their stories, but before you need to reach min. 10,000 followers.
Introduce Affiliate & new shop features on their platform.
Instagram stories and captions are the perfect places to add affiliate links. All you need to share a trackable link or discount code to a product first. After that, when customers buy the product with your link, you earn a commission as a referral sale.
Note: Instagram allows this marketing when you disclose to your audience that it is an affiliate link.
3. Requirements for Affiliate Marketing
Follow the Instagram content guidelines and monetization policies.
Be transparent and disclose your shared affiliate link including simple hashtags like #ad, or place a statement, "Earn commission through sales places with this link".
Follow the creators' guidelines on how you can get started with affiliate marketing on Instagram.
4. Selling your own products or services
You can market your own products or services via Instagram Shopping features and create an online store. All you need to follow Instagram selling hacks. By selling you can boost your business or brand sales and skyrocket your reach.
However, you can sell owing a website, but ensure to verify your domain by going through the Domain Verification process. But it is possible to sell without a website. For this, you need to go through Instagram shop commerce eligibility requirements.
5. Instagram shoutouts and promotions
Another way to monetize your IG account as a creator or influencer is through shoutouts and promotions. But for this, you need to establish yourself as a micro or macro influencer and become an expert in your niche. Also, brands will partner with you for promoting their products or offerings.
On the other hand, you can promote your own content into an inspiring ad and these publications offer you higher outreach and engagement among your community.
Tips For Increasing Your Instagram Followers and Earning Potential
Instagram is the most popular social media platform for businesses and individuals to build a wider follower count and boost brands. But to be at the top of the Instagram algorithm, you need to follow trendy hacks, like –
1. Consistently posting high-quality and engaging content
Identify trends on Instagram to post engaging and creative content. To ensure your Instagram content is accessible, you need to maintain some key strategies, including:
Write compelling and long captions to grab the attention of your audience.
Post inspiring and unique content that suits your niche.
Add subtitles to video content for more engagement.
Create share-worthy content to attract new audiences.
Add inspirational quotes, informative carousel posts, or eye-catchy grids.
Try trendy memes to reach your targeted audiences.
Encourage your community via user-generated content (UGC).
Along with these tricks, always pay attention to posts consistently by identifying your audience's active time.
Pro Tip: Try different content formats and analyze which one performs best.
2. Utilizing Instagram Stories, Reels, and other features
Take advantage of Instagram stories highlights to showcase offerings, resources, and many others. High-quality highlights boost your brand awareness, attract new followers, and build trust with new visitors.
Like stories, Reels are designated spots on the Explore Page and show on the feed navigation bar that makes it more discoverable. Also, you can try Instagram Live, highlights, and other features to build your own community. For the best output, you can try –
Trendy sounds on IG Reels.
Keep Reels and stories short; yet engaging.
Add on-screen texts, and so on.
3. Collaborating with other influencers and accounts
You can collaborate with follower-rich influencers, brands, and other channels with similar niches to build a strong Instagram marketing strategy. In this way, you'll be benefited from brand association and grab new potential followers.
If you're a beginner on this platform, you can work with brand ambassadors instead of celebrity-like influencers. Discoverability, reach, and social proof – all you get through collaboration.
4. Hashtag strategies to increase visibility
Instagram hashtags and geotags are the best hacks to grow organically. These tags fuel the search results on the IG Explore page. So, try to use relevant, targeted, and brand-trendy hashtags on your posts and stories so that users can discover your content.
But avoid using "like for like", "like4like", or "like4likes" hashtags which give you low-quality followers. If you want to build your own community, you can try creating your own hashtags (company name or slogan).
5. Hacks for Rapid Follower Expansion GetFollowerUp APP
Do you want to grow your follower base organically? With GetFollowerUp followers' growth apps, you get active followers instantly. No bots, No password, and No privacy leakage. Each app offers you excellent UI and secures Instagram growth services.
Let's take a closer look at the top 4 auto followers and likes apps below:
Rating: 5 out of 5
Price: Free
Android-based popular Instagram follower app. When you use this app, you experience almost all types of AI technology. Also, you get organic IG users and likes after installing it on your device.
Features
Offer dynamic & active followers/likes instantly.
Make your IG account more popular by enhancing follower growth.
Supports multiple Instagram accounts.
Risk-free Instagram automated tools.
No hidden subscription fees are required.
Rating: 3.2 out of 5
Price: Free
One of the most trusted and demanding Instagram automation tools that offer real IG users on your account. Also, the app helps you to fulfill your Instagram marketing targets by building loyal followers. After installing this app, you get more coins instantly.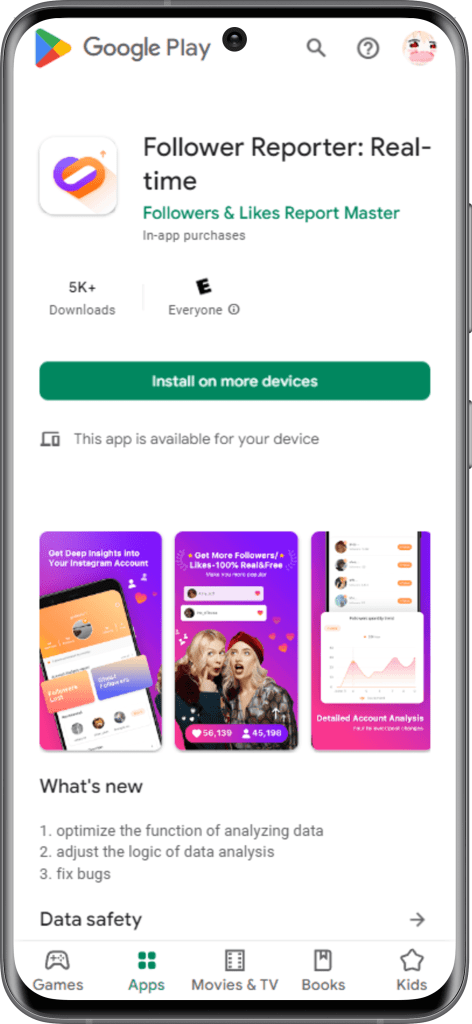 Features
Enrich your IG account growth with accurate analytics..
Safe & bots-free app.
No leakage, no password, and no banned.
Easy-to-install.
User-friendly & smooth design.
Authentic followers/likes.
Rating: 4.4 out of 5
Price: Free
iOS-based Instagram followers apps that offer several features to grab your niche-oriented audience's attention. It gains popularity among iOS Instagram users for its advanced features and AI technologies.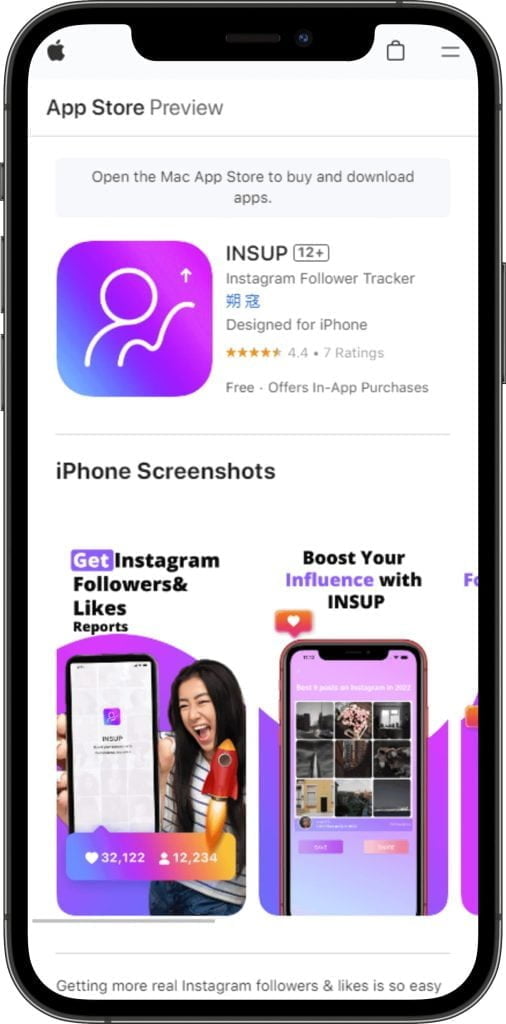 Features
Eye-popping UI interface.
Help to monitor & manage your account anytime.
Offer professional & real Instagram account followers.
Bots-free & ban-free app.
No privacy disclosure.
Note: Earn extra coins through daily check-ins & performing assigned tasks (inviting friends, commenting/liking on posts, etc.). Or, you can buy coins.
Rating: 4.1 out of 5
Price: Free
Do you want to get 1K, 10K, or more active Instagram followers to your account? INSBOOSTER is one of the most reliable and popular iOS Instagram followers/likes growth apps. With this app, you will interact with your target audience and deliver comments/likes.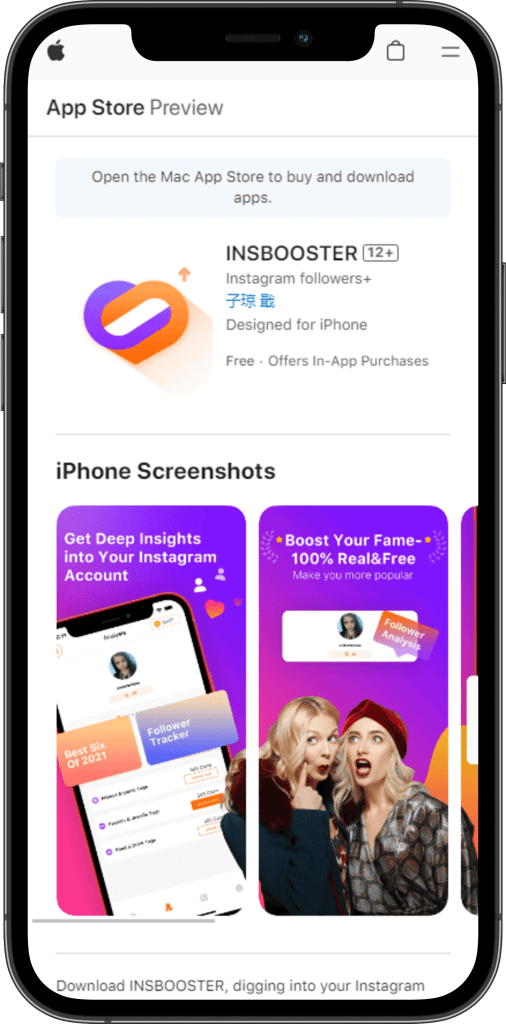 Features
100% secure & bots-free.
Improve IG engagement instantly.
Authentic likes/followers.
No human verification, survey, or personal information is required.
Case studies: Successful Instagram Influencers and Their Path to Monetization
Instagram is an all-in-one social media platform that allows influencers to boost their brand or products in their creative ways. Here we've disclosed the top highest-earning influencers on Instagram and their monetization hacks to smoothen the path of your goal.
Examples of influencers who monetized their accounts with varying follower counts
Example 1:
Kimberley Loaiza (@kimberly.loaiza) is the most popular Mexican YouTuber, influencer, and singer. Her fanbase focuses more on images of the clothes she wears. Also, she has a wide range of social network followers, including YouTube, Instagram, Twitter, and TikTok.
Example 2:
Zach King (@zachking) is an American famous illusionist and filmmaker in Los Angeles. His Instagram genres are Humor, Fun, and Happiness. Though his main channel is YouTube, he is popular on TikTok and Instagram too.
Example 3:
PewDiePie (@pewdiepie) has a strong Instagram following of more than 21 million followers. He is known for his computers & gadgets videos. Also, he has loyal YouTube and extensive media supporters.
Lessons learned from their journeys to making money on Instagram
Lesson 1: Make money from her musician fanbase.
Kimberley makes money by promoting her musical abilities. Her most demanding video is "Roast Yourself Challenge" which gained millions of views and then people notice her musical abilities.
Lesson 2: Monetize Reels & Live videos.
Zach King makes money by creating funny reel videos based on illusion and inexplicable courses of events that grow curiosity. Also, he earns from TikTok, YouTube, and Instagram brand promotions and ad revenue from Google.
Lesson 3: Collaborate with brands on sponsored posts & monetize content.
PewDiePie real name is Felix Kjellberg, he makes money via commentary-based videos and is sponsored by popular brands, like Opera, NordVPN, the Ridge, and World of Tanks. Also, He offers unique content with proper information that gains his targeted audiences' trust.
Conclusion
After going through the article, you might end up that there are no alternatives to focus on building quality Instagram followers and increasing engagement rates. So, to be a successful influencer and monetize your IG account follow our organic hacks. Also, you can try risk-free GetFollowerUp apps to pursue monetization through strategic growth and engagement.