Last Updated on April 27, 2023 by Diana
Almost $2 billion industry, Instagram influencer marketing is booming day by day. If you're the most-followed influencer or a small creator, views and IG's algorithm matter most. Do you want to be a macro influencer or a micro or nano one?
If you want to be an influencer, you need to understand the number of views you need to achieve. Don't worry. This post will discuss the step-by-step process, Instagram algorithm details, views efficiency, and many others.
Contents
What is an Instagram Influencer?
Instagram influencers are Instagram users who have strong social media personalities with loyal and engaged Instagram followers. They aim to influence potential buyers of a product or service they promote.
In short,
An Instagram influencer is a regular IG user with many loyal followers and high engagement rates.
They can persuade others to buy something through their authenticity and trustworthiness.
Roles and Responsibilities of Influencers
Influencers (social media professionals) collaborate with brands, popular companies, and businesses to promote their services or product. They encourage audiences to buy them or visit their official website.
For this, they create digital content on specific niches -fashion, technology, lifestyle, etc. and share it on their profile. Here, we've enlisted some core roles and responsibilities of influencers:
Post videos about products or services related to their social media channels.
Encourage and educate people.
Collaborate with brands and companies to boost their marketing strategy.
Share company links to provide authenticity and build trust.
Share high-volume and effective digital content.
Help to improve search ranking and conversion rate.
Gain audience popularity by fulfilling their needs.
Create new trends and marketing strategies to leverage new traffic.
Impact of Influencers on Marketing and Consumer Behavior
As per statistics, 92% of consumers trust influencers more than advertisements. Let's look at some factors of how Influencer marketing and consumer behaviors relate to each other.
Authority – Influencer marketing is all about sharing knowledge, confidence, and credibility that build trust and develop reputations.
Social Proof – Consumers rely on those brands that have social proof, and influencers are the ones who highlight every detail.
Trust – Content shared by an authentic and ethical influencer is more relatable and builds brand trust and transparency.
Brand awareness and loyalty – Influencers convince consumers that purchasing a brand (referred by them) can fulfill their desired needs.
Trends – Influencers show off new trendy trends that consumers like most and influence them to apply.
Factors Contributing to Becoming an Instagram Influencer
As per Statista, over 4.26 billion people worldwide use social media, whereas the influencer marketing industry in 2022 hit almost $15 billion. How can they achieve it? Their key role is to inspire the audience, share passions, encourage them, and generate income.
Do you want to be a successful and top influencer? Follow these 7 steps now!
Niche market
The first step to being an influencer is to figure out your niche market. You'll be able to grow a community at the beginning that trusts and love your content. Why niche-based audience relies on your content?
Because you have enough resources, interest, and expertise in your area that fulfill your audience queries at a time. The area that fulfills your audience queries at a time. It can be DIY crafts, recipes, travel bloggers, gaming experts, a combination of 2-3 interests, or other fields.
Focus on your content pillars. As a fashion blogger, you can include styling tips, lifestyle trend posts, social media insights, etc.
Pro Tip: To discover your niche, ask yourself:
What are you passionate about?
What encourages you to create content?
What are your interests, or what are you most knowledgeable about?
Audience Targeting
The most important step is to conduct audience research: who follows you, who enhances your engagement rate, that positive response to your content, etc. The quickest and easiest way to identify your market-based audience insights is to go through the –
Demographics (target audiences age, gender, location, internet savvy level, etc.).
Challenges (audience pain points), and
Interests area (what brand, product, or service they like most).
You can use Instagram analytic tools or Instagram insights to get these audience insights. Discovering and learning about your audience will help you collaborate with their favorite brands and increase your popularity.
Content quality and consistency
To expand your reach and see the growth on Instagram, maintain content quality and consistency. For this, formulate your content marketing strategy, such as –
Set up necessary requirements,
Find out good lighting,
Choose a perfect time when your audience is more active,
Plan your post schedules (daily or weekly), etc.
Some influencers post content and fill their feeds with all their interest fields, like food, beauty, fashion, travel, etc. Others mix content types and posts to keep their audience attached to their niche. Suppose, as a food blogger or influence, you can post recipes, popular restaurant menus, reviews, or promote a brand.
Note: Maintain a natural tone when making sponsored posts so that it fits your rest feed content.
Number of followers
The more followers you can achieve on your Instagram profile, the bigger influencer you will become. When people notice you and follow you, it increases the chances to leverage the power of social proof. Also, your fans and the new audience will increase organically daily.
How can you generate more traffic? For this, you can –
Share easily accessible content so your audience can share it with their networks.
Use the right hashtags and tag others to increase visibility.
Add eye-catchy and amazing visuals, i.e., images, videos, infographics, etc.
Try to host webinars, audio podcasts, video interviews, etc.
Networking and collaborations
Collaborate with other industry-expert influencers in your niche, which allow you to gain fans and followers from their communities. Popular ones often have millions of fans, and working with them helps your content to grab massive brand-new audience attention.
There are several ways you can follow to work with them, such as –
Interact with their content by commenting and sharing.
Tag them when sharing the post.
Create expert roundup articles, do interviews, etc.
Pay them to promote your content (if you have the budget).
Engagement rate
They'll lose interest if you don't consistently engage with your audience. Along with content consistency, you can monitor your audience's feedback and reply to comments. Also, you can grow curiosity with new content ideas or ways to engage them with you.
However, evaluate and track your progress to monitor your influencer journey growth. Doing this gives you insights into your post content popularity and engagement rate. Also, brands collaborate with those influencers whose content pushes people to make purchases.
Authenticity and credibility
Instagram followers' growth and engagement rate are important factors in being a successful influencer. But you need to focus on the quality of the community to boost your authority and credibility.
No matter what stage influence career you achieve, hyper-focused on depth, influencer recommendations gain audience trust. To build a strong community, you can –
Show up on video and share the person behind your brand-sponsored products or services.
Utilize engagement-boosting features like creating polls or questions to grab audiences' interactions.
Get suggestions or listen from your community about what products they love most or want to see next.
Analyzing the Relationship Between Views and Influencer Status
If you want to improve your ranking, enhance views, and gain your targeted influencer status, the Instagram algorithm plays an important role. Views work as a measure of engagement. How do you relate views and influencer status?
Let's check out Instagram algorithm ranking factors and relationships below:
Identify the right influencer – Are you a celebrity or nano influencer? Views highlight your influencer tiers.
Engagement – Follower counts and page/post views; everything represents influencers' popularity numbers and true engagement rate.
Performance – As an influencer, your posts or content reach depends on views and performance factors, such as – link clicks, conversations, post views, etc.
Personalize your brand – The more views you earn, the more your brand gain popularity among your audience's eyes and build a strong presence on social media.
Build customer relations – Positive views encourage others to rely on your brand/services, which creates bottom-funnel customer relations.
The Role of Views in Algorithms and Visibility
The Instagram algorithm prioritizes the best posts and trendy or niche-relevant hashtags, which gives them the most visibility. But before that, let's understand views' role in Instagram algorithm and visibility.
If you share misinformation and posts that break community guidelines, you're views will decrease after the detection of these facts.
If you purchase fake followers, their activity will backfire over time, and these types of activities will ban your profile.
Avoid posting something from third-party apps; this post sounds robotic.
Comparison of views with other engagement metrics (likes, comments, and shares)
Instagram
Engagement Metrics
Views
Likes
Comments
Shares
Indicator
Views represent the length of time how many people have seen your post.
Like, highlight how many audiences actually like your posts by clicking the "like" button.
These metrics acknowledge how engaging your content is (positive or negative comments).
It defines the number of times your story, posts, and videos share with others.
Boosting Factors
Engaging captions evoke people to click the "more" button or read it.
Select the content type that your targeted audience like most.
Post when your audiences are most active.
Share your posts with a direct message.
Case studies: successful influencers and their view count
Huda Beauty/ Huda Kattan (Fashion & style influencer)
It is one of the most Oklahoma-born influential beauty experts (@hudabeauty), with a wide-ranging outreach (52.6 million followers).
Megan Gilmore (Food influencer)
Her gluten-free recipes and meal plans (@detoxinista) reach 235K followers.
Jack Morris (Travel influencer)
As an entrepreneur, his posts and reels (@jackmorris) reach almost 2.6M followers.
Paul Nicklen (Photography influencer)
As a popular wildlife photographer, his profile (@paulnicklen) earns 7.4M followers and 1,663 followings.
Marie Kondo (Design influencer)
Her posts and reels (@mariekondo) reach around 4.2M followers.

How many views do you need to be an Instagram Influencer?
You need to identify your Instagram influencer tiers to get the answer. The most common methods are –
Follower numbers,
Content genres or types,
Niches you work on, and so on.
For more details, we've enlisted the varying thresholds as influencer status and estimated the minimum number of views needed to reach the tiers.
Micro-influencer
Micro-influencers are ordinary Instagram users who have become known for their specialist niche. They might have between 10,000 and 50,000 followers on a single social platform. It is not just a number; it's all about relationships and interactions.
Macro-influencer
This type of influencer earns between 500,00 and 1 million followers on a social network. They are either B-grade celebrities (who haven't made big fan followers) or successful online experts who built up more significant followers than micro ones.
Mega-influencer
This type of influencer is considered a celebrity with many followers on their social network. They have more than 1 million followers on at least one social platform. Most movie stars, musicians, television stars, or sportspeople are these types of influencers.
Assessing the Impact of viral content on Influencer Status
Micro-influencer – Post original content related to their online sharings and build stronger relationships. Because of their small follower count, they have less skill in increasing brand awareness.
Macro-influencer – Their content focuses on one interest that their followers enjoy. Also, their brand audience helps them to reach consumers with each post.
Mega-influencer – Their content goal is to make brands known among a large number of people. With broad demographics, they offer diverse audiences and deliver the quickest solution in a single post.
Strategies to Increase Views and Become an Instagram Influencer
Searching for a way how to boost your Instagram followers or increase views like a top Instagram influencer? Here are some Instagram expert suggestions and tactics to help you get more views on your IG profile.
Let's get started!
Content creation tips and tricks
To build trust and engagement, you must provide easier; yet informative content with an eye-catchy headline. Filters, captions, content types, and post times help you provide pillar content. Let's take a look at some hacks below:
Optimize your Instagram caption by using the right keywords for search and engagement too.
Use strong call-to-action (CTAs).
Create fun and relatable content.
Build hype on new product launches or arrival.
Share your site link if you have any.
Try to share user-generated content.
Use a content calendar to schedule content.
Pro Tip: If you are unsure where to start, you can try to –
Analyze your competitor's well-performing content,
Keep an eye on the new Instagram trends, like Reels,
Get ideas from well-thought-out niche-relevant influencer content.
Utilizing hashtags and location tags effectively
As we know, hashtags and geotags are the best way to expand your reach. Instagram allows up to 30 hashtags per post, feed posts of 3 or more, and 10 per story. If anyone clicks on the hashtag can see your posts even if they don't follow you.
Want to discover how your posts appear in Instagram search results?
Use popular Instagram hashtags, i.e., #photography, #instagood, #follow, etc, within your photos.
Use relevant hashtags that suit your niche. For example, if you sell fashion accessories, add trendy hashtags.
Utilize brand keyword hashtags, like #fashion, #instafashion, etc.
Add product category keyword hashtags, like #happysocks.
Add geotags to boost local discovery, like #torontofashion.
However, use social media management tools to discover valuable hashtags in your niche.
Note: To boost your Instagram SEO, add hashtags in the caption rather than in the comments.
Collaborating with other influencers and brands
A major growth hack in Instagram is partnering with niche-relevant and like-minded influencers, creators, and brands. Also, you can benefit from brand associations to grow your potential followers.
For example, the beauty brand collaborates with content creators, photographers, and dancers to create hype around their latest product arrival. You can work with nano, micro, or brand ambassadors if you don't want to pay celebrity influencers. By doing this, your business earns more sales and Instagram followers too.
Engaging with your audience
You can share videos, host contests, organize giveaways, or try Instagram Live to encourage engagement. Reels can bring new long-term followers to your IG profile.
As per Instagram, the casual and organic way to turn fans into followers is by hiking, replying, and resharing their responses. Some engagement tactics you can try:
Host a contest on question stickers or your favorite emoji party combo.
Respond to comments with video replies.
Suggest tagging friends win the contests, etc.
Leveraging Instagram features (stories, reels, IGTV, etc.)
Take advantage of Instagram features if you're worried about thinking your posts are not getting your expected response. Stories and IGTV can earn more attention on your content. Unlike other types of IG posts, i.e., carousels, Reels are the most effective way.
It has designed Explore page, home feed navigation bar, and other eye-catchy features that make it super discoverable. Keep your Reels short and snappy. Use keywords, hashtags, high-quality video footage, and trendy sounds on Reels.
Note: You can save your IG stories for more than 24 hours with Instagram story highlights.
Cross-promoting on other social media platforms
A great way to start is to look for extra ways to grow your followers by cross-promoting your account on other social media platforms like TikTok. For this, you need to connect with your preferred social platforms with your Instagram account.
After that, create a few posts or videos to encourage viewers to click on your IG profile. If you want to connect with your audience via your website, email newsletter, or podcast, you can do it.
Utilize the GetFollowerUp App for Rapid Growth [Efficient Method]
When it comes to increasing traffic instantly, some influencers prefer to use the Instagram follower growth app like GetFollowerUp. It is one of the most secure and fastest ways to get followers on your posts.
With this app, you get both Android and iOS versions. Curious to explore more?
Real Followers UP +[Android]
It is one of the safe, bots-free, and free Android apps launched by GetFollowerUp. This app provides active and organic followers. You don't need any human verification, survey, or password for installation.
What's more?

Get real and authentic followers and likes instantly.
Ads-free & 100% secure app.
Eye catchy UI & UX.
Easy-to-navigate.
Provide instant 24/7 customer support whenever you need it.
Want to install the app? 
First, install the Real Followers UP + APP and sign up with your email address.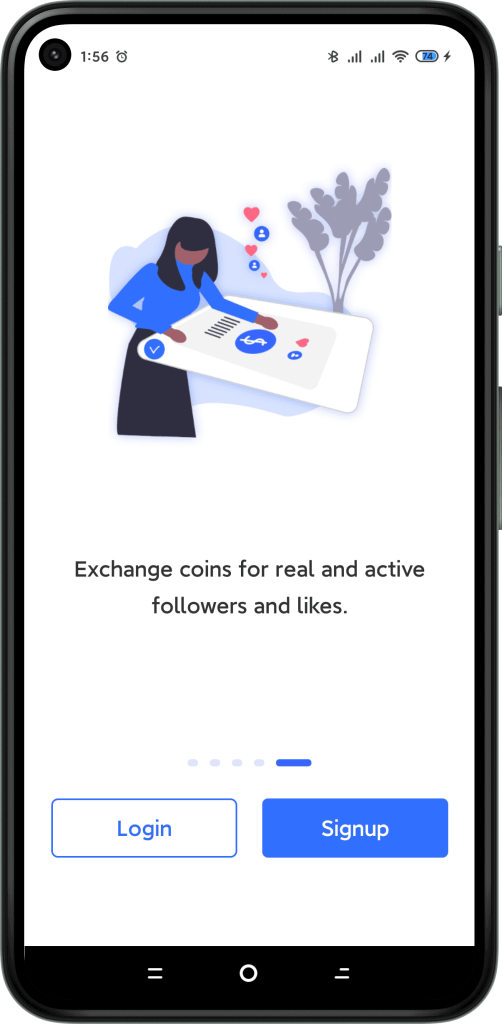 Second, Add your Instagram username to get access and earn 200 coins instantly.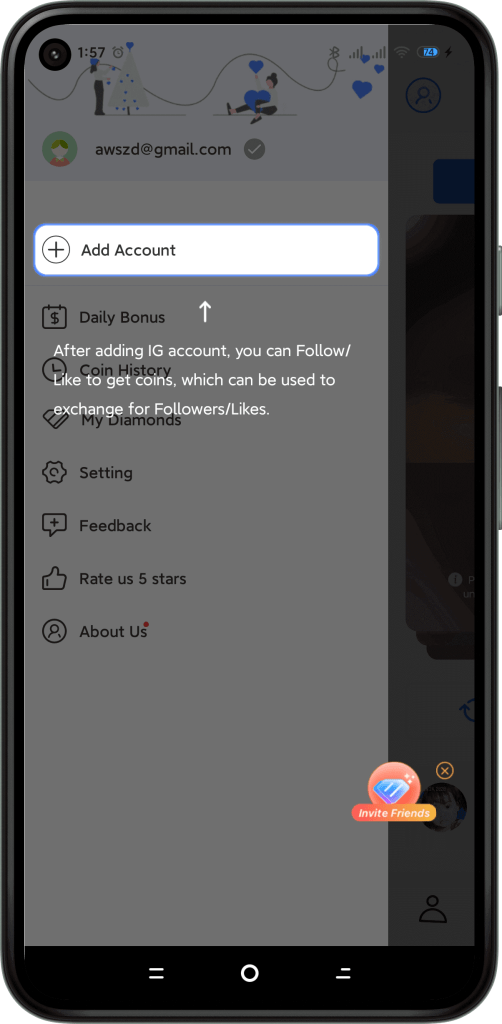 Third, follow/like to get more free coins.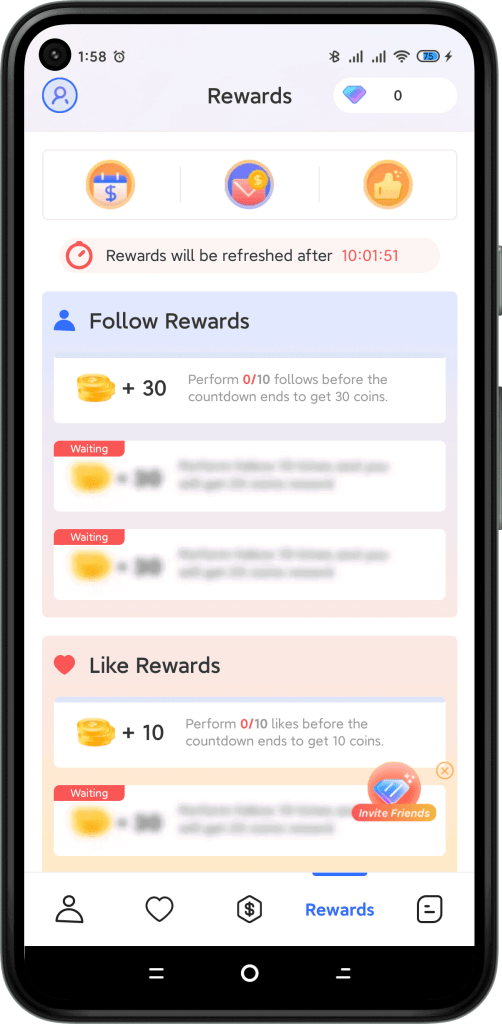 INSUP [IOS]
When it comes to getting professional followers and likes, INSUP is on the top list. Most iOS users use this app to boost their IG profile and more engagement. To install this app, you need to download INSUP from the App Store.
What's more?
Easy to get more active and real followers and likes.
Help to grow your IG account organically.
No privacy disclosure.
Secure & bots-free app.
Want to install the app?
First, signup by using your IG username and get 30 coins instantly.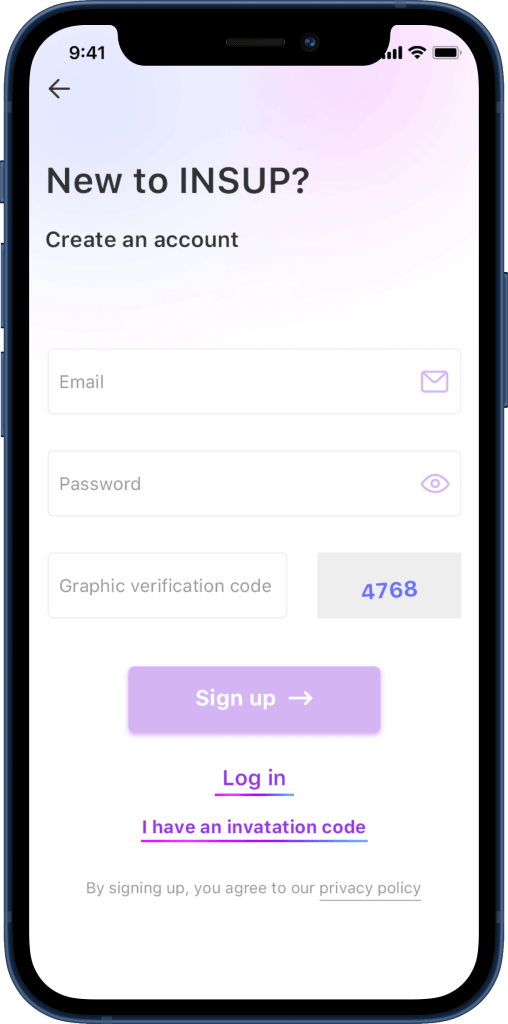 After that, you can get unlimited followers/likes with the coins.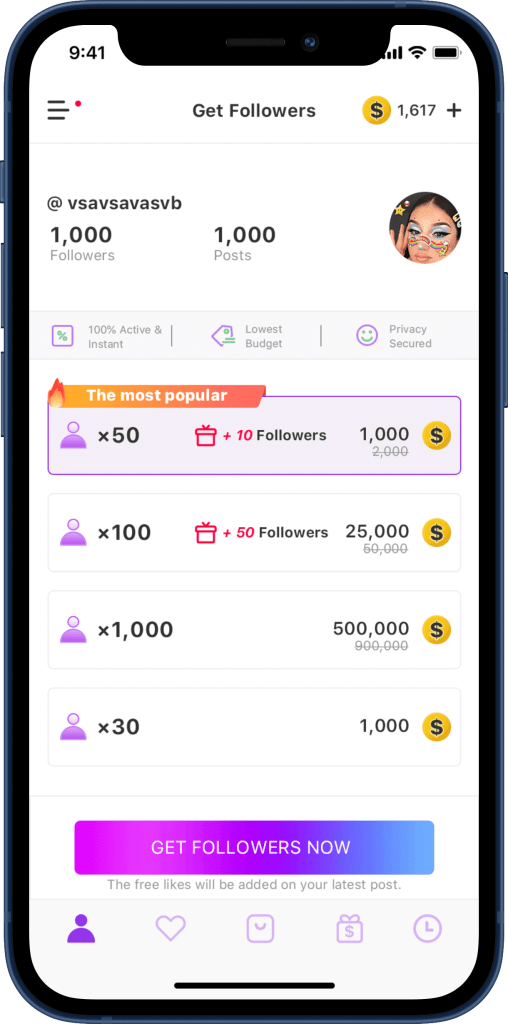 The Role of Instagram's Algorithm in influencer growth
Instagram Algorithm is a set of rules that identifies the user experience. For this, it analyzes every piece of content that is posted on the Instagram platform.
It collects metadata (captions and images alt text), hashtags, and engagement metrics. After analyzing this information, it displays content to each user based on their interests and likings.
Curious to explore: how the algorithm affects views and visibility?
For your feed, stories, Reels, and Explore page, the Instagram algorithm follows and predicts some criteria, such as –
Who posts and the interaction way – Instagram tracks how many times you've interacted with any Instagram user (comments, likes, profile views, etc.). After that, try to get a sense of is their activity interests you or not.
Story and person information – Info like story posts, time, stickers, or music, whatever you use and interaction (likes, engagement on polls or questions), all Instagram tracks.
Reel story and your activity – Signals like which Reels like audience most, video caption, audio track, and analysis of pixels and frames, overall counts.
Tips for working with the algorithm to maximize views and reach
Relevancy – Instagram decides how "relevant" every content with your niche or if it fits your trendy topics. So, posts, stories, or content maintain relevancy over older posts.
Interest – Does an Instagram user interact with your content? If they love and enjoy the format of your post, the Instagram algorithm will show them more of the same.
How many followers follow you – Instagram accounts user actions and count follows. So, the more accounts or audiences interact with your posts, the more followers you gain.
Post information – How many likes do your posts get? When was it posted, or do you tagged with a location? How long is the video? Everything Instagram algorithm checks to determine posts' popularity and relevancy.
Activity – Instagram tracks the quantity and content types you've interacted with. It is wise to provide engaging and original content.
Conclusion
Hopefully, these tips have inspired you and guided you on the right track to improve your social strategy as an influencer. Remember to set the goal of your views first and maintain the Instagram algorithms rules to gain your influencer success.
Schedule and publish posts, engage your audience, and run all your social media profiles to boost your influencer marketing.