Last Updated on May 23, 2023 by Diana
Instagram shadowban is a mysterious thing that users noticed over the years, and its impact on your engagement rate and audience reach. If you notice your posts receive fewer likes, comments, and shares or aren't appearing on the hashtag or Explore page, you might be shadowbanned.
Don't panic; we will cover everything in this article that help you to take precautions and get the numbers back on track if you are introduced to a ghost ban. Without more talk, let's get started!
Contents
Understanding Instagram Shadowban
An Instagram shadowban refers to an unofficial ban that restricts a user or an account's visibility (posts, feeds, stories, Explore pages, etc.) without giving any prior notice. This shadowban happens when a user violates Instagram Community Guidelines or posts any sensitive content that is strictly restricted.
However, your content will not appear on non-followers feeds, Explore pages, or hashtag pages. That means it creates obstacles for creators and business owners who are trying to grow their communities and reach newer audiences.
Note: As per Instagram, shadowbanning or ghost banning is not practiced on this platform.
Impact of shadowban on account visibility and engagement
Shadowban can decrease limit and reach.
Content will not appear on others' Instagram feeds.
Lower your engagement rate.
Drop your ranking on the Instagram algorithm.
Lead to stagnation of your IG account growth.
Reasons for Instagram implementing shadowbans
To offer a secure environment for Instagram users.
Help to filter out accounts that violate their terms.
Remove those users who use unauthorized apps and irrelevant hashtags in their content.
Help to showcase only genuine and informative content.
Identifying a Shadowban on Your Instagram Account
One of the most asked questions among IG users is: How to check or identify if their account is shadowbanned? Here are some common signs that indicate you are exploring shadowban and methods to resolve the issue:
Common signs of a shadowbanned account
1. Decreased engagement
A sudden drop in your Instagram engagement (fewer likes, comments, followers, or shares) is the most significant sign. Also, you may not appear on search results or suggestions.
2. Hashtags not working
If you notice that posts have been hidden or hashtags you regularly use don't show any results, your account may be ghost-banned.
3. Reduced visibility to non-followers
Another sign of shadowban is limiting non-followers. Along with them, you may lose your active followers and reach too.
Tools and methods to check for a shadowban
1. Instagram Insights
To resolve shadowban, look at the percentage of accounts that weren't following you. Compare the difference in "discovery" of the two posts, as the following percentage and account reach
2. Third-party shadowban checkers
You can use third-party shadowban checker web-based tools, like Heist to find out whether Instagram limits your account or content. Some allow you to check search and search suggestion bans and reply deboosting.
3. Manual testing with non-followers
Ask people or other IG users who don't follow you to search for the hashtag is another hack to test shadowban. If none of them notice your posts using your mentioned hashtags, you might face shadowban from Instagram. Also, you can check :
1. Hashtag page posts & comments to ensure they are available on your pages.
2. Instagram Insights to notice if there any engagement drop happened.
Reasons Why Your Instagram Account Might Be Shadowbanned?
The shadowban is unclear to some Instagram users, and how Instagram identifies it. However, to protect you from this ghost ban, we've mentioned some actions below:
1.Inappropriate content or behavior
Instagram provides all guidelines on which types of content violate their rules, such as violence, misinformation, sensitive content, and so on. It counts each interaction on how often you follow, unfollow, or post within an hour or day.
Also, Instagram dislikes reposting or resharing user-generated content or posts without prior permission from the original creator. However, when you repeat comments, it causes shadowban.
2. Overusing hashtags or using banned hashtags
Another reason is using banned or broken hashtags and reusing them repeatedly. Though Instagram hasn't released any official banned hashtag lists, you can find them on other marketing blogs. You can reuse hashtags if you create content on similar topics for your business.
On the contrary, Instagram prohibits reusing repetitive content and hashtags. Also, they remove banned hashtags from the search results.
3. Automation and bot usage
Secure and authorized follower growth apps help you to boost your Instagram business and social media activities. But the unauthorized tools and bot-like activities violates Instagram rules. However, applying these spammy tactics may result in shadowban.
4. Repeatedly violating Instagram's community guidelines
When you don't follow Instagram using terms and break their community guidelines, this causes a shadowban of your account. For example, offering misleading, unlawful, or unauthorized purposes. Also, pay attention to IG music guidelines and Meta platform developer policies.
Steps to Fix an Instagram Shadowban
Is your Instagram account shadowbanned? We've covered all tried and tested steps to help you get back the banned account to normal.
1. Review and remove rule-violating content
One of the most common reasons for shadowbanning is posting rule-violating content. So, ensure to remove all posts that break IG terms of service, such as hate speech, spammy content, adult or sensitive content, etc. When Instagram identifies that you have deleted the violating content, they will again promote your posts to your targeted audiences.
2. Adjust hashtag strategy
As per Instagram algorithm rules, they prioritize new and fresh content on their platform. Hashtags are the most powerful Instagram growth strategy that enriches your content quality. But for this, you need to –
a. Diversify hashtags
Avoid repeating hashtags that you use on several posts and try to post without hashtags or implement some trendy; yet unique ones. Also, remove old hashtags or replace them with newer ones from your posts to avoid shadowban.
Note: Use less than 30 hashtags and try to place them in the caption for a new post.
b. Avoid using banned or spammy hashtags
Delete forbidden hashtags from your IG profile, posts, stories, Reels, etc. Also, ensure to remove all broken hashtags (i.e., #milf, #boho, #instasport, etc.) and avoid using too many hashtags per post.
Pro Tip: Before using any hashtags, double-check and research your top-performing competitors to acknowledge which one goes with your niche and which needs to avoid.
3. Limit bot usage and engage authentically
One of the best solutions to enrich your brand or service is to avoid bot tools or apps. It's better to have a loyal audience who loves your content and makes purchases than 1000+ fake followers. The Instagram algorithm monitors your followers' engagement throughout your posts and gives a ranking based on those reports.
4. Take a short break from posting
You can back off posting for two or a few days by considering your marketing niche. Some Instagram users reported that a break from using their IG account or posting could reset the system and help to back on track. However, a short break works as a temporary social media cleanse.
5. Contact Instagram Support
Always getting in touch with Instagram is a time-consuming and complex thing. But some people get their accounts back after reporting the problem. Do you want to contact Instagram?
Let's follow the perfect ways below:
· "Report a problem" – One of the easiest and most recommended ways to contact Instagram and inform them about your problems. For this, you need to –
Go to your Instagram account first.
Click the "Settings" button.
Select the "Report a problem" option and place your issues.
· You can send an email to [email protected] by mentioning your issues.
· You can shake the phone to report the problem.
Note: This feature may not be available on all phones.
Tips to Prevent Future Instagram Shadowbans
Here we've enlisted a few hacks to protect your Instagram account from shadowbans on Instagram.
1. Stay updated on Instagram guidelines
Be on your market niche and follow Instagram's official terms of service and guidelines. If you have a company ensure you own the copyright for your produce or service posts. However, to create a positive environment and earn the trust of your audience, keep yourself updated on IG guidelines.
2. Engage with your audience organically
Be respectful of your audience's communications (even DMs). Also, be aware of postings at least several times per week; these keep your targeted audiences attached to your feeds and enhance your followers count.
3. Use hashtags responsibly
Avoid using banned, broken, or restricted hashtags. Also, recheck your usual used hashtags for your posts, reels, or stories so that they haven't been caused shadowban. If you find any, remove them from your recent posts.
How can you identify which one causes a ban? Review it by going through the message below on the hashtag page or searching; if only the "Top Posts" section appears, then it's been banned.
4. Monitor your account performance regularly
From IG profile detailed information to content interactions (posts, stories, Reels, and videos), to evaluate your account performance go through the essential metrics –
Impressions,
Reach,
Engagement per follower,
Follower growth,
Engaged hashtags
Referral traffic,
Comments, shares, saves, opinions, and so on.
By following this, you keep your account secure from shadowbans and build a strong audience.
5. Avoid using bots and automation tools
Focus on growing your IG account organically by interacting and engaging with your targeted audience. Bots and automation tools are not official Instagram partners which provide fake and spammy IG users along with comments.
And by using those tools, your IG account will end up on the Instagram shadowban list. If you have any, you can find out by heading to your IG settings, tapping the security option, and going to "Apps and Websites".
Pro Tip: If you're searching for approved & secure automation apps, you can install (Android & iOS) from GetFollowerUp.
Case Studies: Recovering from Instagram Shadowban
Instagram shadowban is still a complex thing. Though they clear some facts and instruct users to maintain their guidelines; some face this ghost ban after following their rules. Let's explore some real-life examples of Instagram users who face shadowban!
Real-life examples of users who successfully resolved shadowban issues
Example 1:
Camryn Rabideau is a freelance writer and product reviewer who introduced Instagram Shadowban and successfully solved it around three weeks. But **how did she fix it?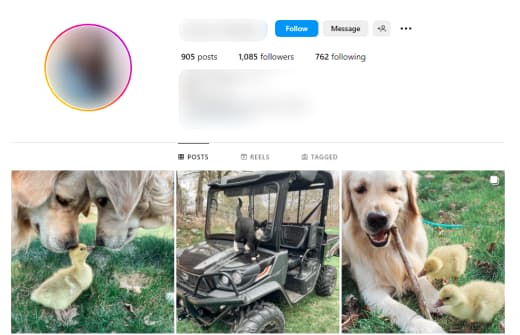 She delayed posting any new pictures and content for eight days, and then the ban was lifted. It worked for her, and she suggested that taking a week-long break helps her to solve these complex issues.
Example 2:
Helene Sula is a travel and lifestyle blogger who faced shadowban for dispelling the rumors. Her content won't violate the rules of IG, but she won't find her posts in the hashtag feeds.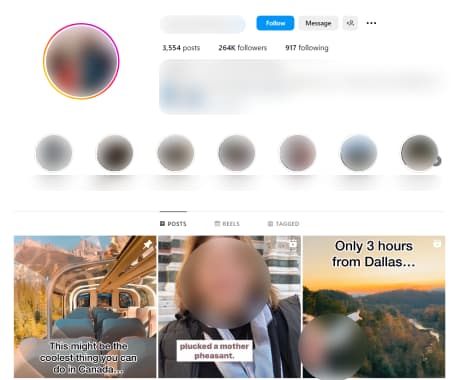 How did she fix her shadowban? She rapport it to Instagram and got her account back within a few days.
Example 3:
As per PetaPixel, some photographers on their line faced Instagram shadowban. Most of their photographs were no longer visible on Instagram's hashtag pages. Also, those photos were viewed by some other users who didn't follow their accounts.
How did they fix it? They informed Instagram by reporting issues they faced but failed to get back their account. After that, they added new hashtags by deleting old ones (hashtags won't violate the IG rule) and recovered their account.
Lessons learned and best practices
All case studies of Instagram Shadowban represent that you need to strictly maintain Community Guidelines and follow Instagram algorithm updates to protect your account from these issues. Also, focus on trendy and branded hashtags and use those that fit your niche market.
Practices to boost your IG account
Always post unique and creative content.
Don't buy followers by using third-party tools that work as bots.
Represent a strong personal brand (inspirational quotes, styling tips, etc.).
Optimize your Bio and add CTAs to engage your audiences.
Create an eye-catchy feed and write evoking captions.
Research high-performing content strategies and tactics.
Conclusion: Regaining and Maintaining Instagram Visibility
Instagram shadowbans drop your profile's engagement and visibility instantly, which kills your potential and growth. So, to avoid getting shadowban, it's best to maintain and follow Instagram community guidelines. Additionally, ensure to use relevant hashtags, provide genuine content, and follow organic hacks for more engagement.
It will take time to reach your desired goal, but in the end, you will be able to build your own active Instagram fan followers.