Last Updated on May 5, 2023 by Diana
Starting fresh on Instagram or just trying to boost your online brand? Instagram followers are key to enhancing your social media growth with loyal audiences that provide more revenue. Through posting or content, you can achieve your goal. But the task requires time and effort to fulfill.
Contents
Wondering thinking how to get Instagram followers without posting? Go through this article and get 6 experts suggested methods along with a follower-growing app.
6 Methods to Gain Instagram Followers Without Posting
From collaborating with influencers to cross-promote social media platforms, we've highlighted some tried and tested Instagram follower-growing hacks without posting. Let's check out the in-depth guide in the next section!
Ensure That Your IG Profile Stands Out
Your Instagram bio is the first touch point when new users visit your profile. If your profile convinces business profiles, audiences, and influencers enough to click the follow button, you earn authentic followers instantly. For this, you need to
1. Craft an eye-catching bio
Highlight and include all necessary details, such as who you are, what you offer, your website link, username, name, etc. Remember to maintain the bio's description length (it should be up to 150 characters). Convey your brand identity with short, sweet, and informative to give them a reason to follow you.
Check out how the Headspace (@headspace) profile communicates and proposes its activities in a simple and informative way: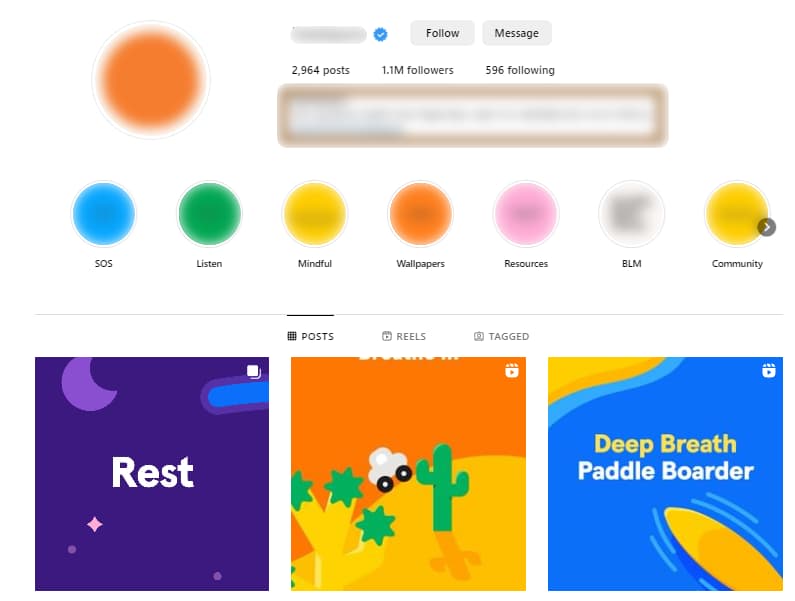 Use these spaces to give brand voice to your target audience through keywords for more reach, just like (@tarini_shah).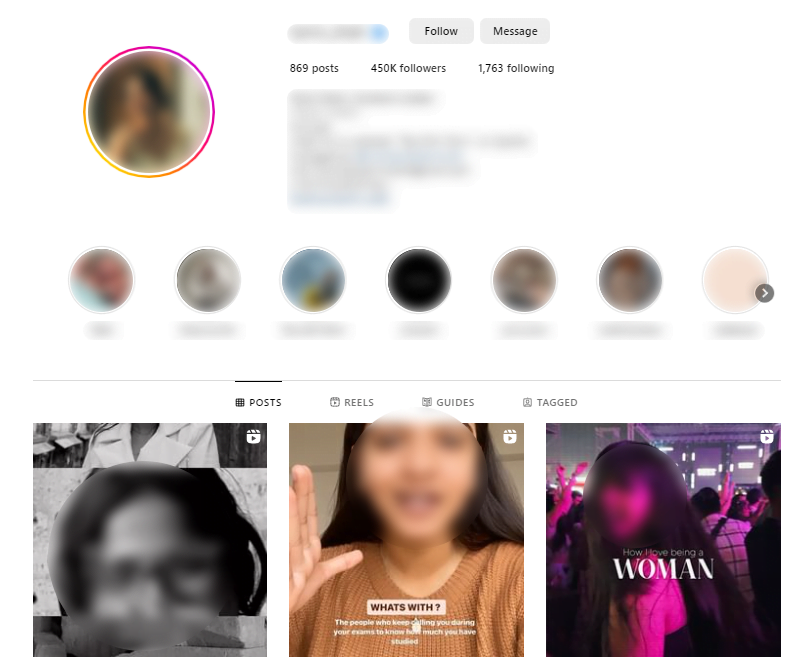 Note: Instagram bio allows one external link (website or customizable link).
2. Use a high-quality profile picture.
Only post well-composed and high-quality profile pictures and videos to create an aesthetic Instagram feed. If you go through high-profile Instagram celebrities and brands, you notice they can't post blurry photos or images. All you need to be is to focus on enhancing engagement.
However, a short and positive quote or statement is a good idea; you can include it in your product description or a long message in the image. You can tag photos or videos with your product links if you have a business profile. Nowadays, the IG page turns around a resume, portfolio, and website all in one.
Note: Avoid including logos & watermarks on your profile images.
3. Create a cohesive aesthetic with your profile and content.
Instagram users won't randomly follow you for your postings but rather for the promise you'll post and give them a strong reason to follow you. Your audience wants answers about what they will get if they click the "Follow Button".
So, focus on creating a cohesive aesthetic through your profile and content. For this, you can add CTAs, engaging captions, and other post formats, such as -fees, stories, Reels, lives, etc..
4. Set your profile to public.
Do your Instagram account verified and public? The little blue tick adds credibility, trust, and authenticity to your brand or services. Also, your audience gets positive vibes from your business.
So, to deliver a trust signal that your brand is real, consider these points below:
Authentic (information about your business or brand must be real).
Unique (only have one account per service or brand).
Public (profile must be public).
Complete (informative & engaging bio, high-quality photo, and at least one post).
Notable.
Promote Your Instagram Profile on Other Channels
As you know, Instagram is a highly demanding visual marketing channel for influence, brands, and small businesses. It allows you to build loyal audiences that boost your business growth. To grab all these facilities, you can
1. Share your IG handle on other social media platforms.
Do you have a website, newsletter, YouTube channel, or other social media platforms? You can share your Instagram profile on other social media platforms. Chances are, the Instagram fans who already follow you on Facebook, Twitter, or TikTok will also follow you on Instagram.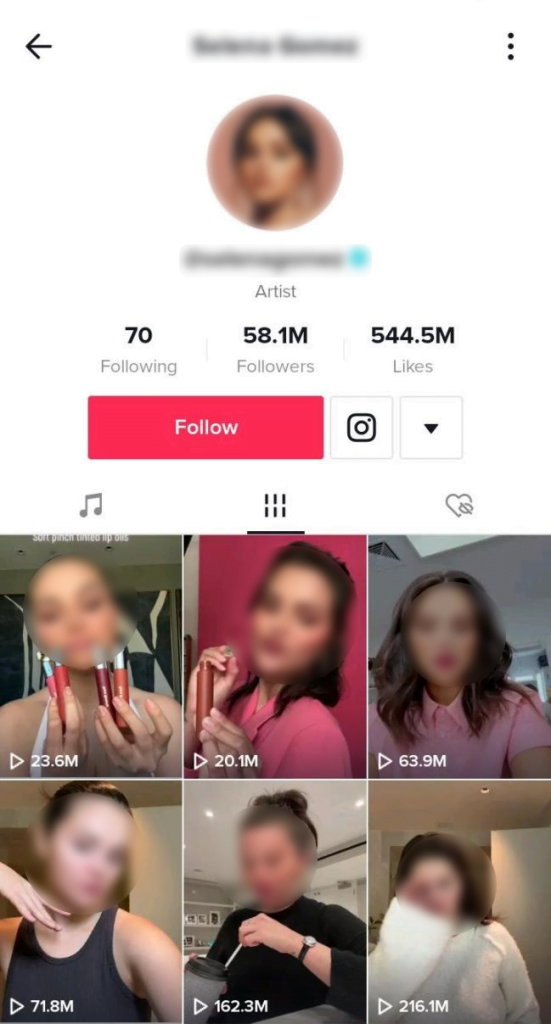 First, connect your Instagram account with your TikTok account or other platforms. Then add an IG profile link after creating a few and engaging TikToks like Selena Gomez's.  
2. Cross-promote on your blog or website.
One of the best tactics to save time and resources is cross-promoting. It's also effective for increasing brand awareness and followers on your account. Whether it's a short-form video, a lengthy tutorial, or website posts, you can cross-posting.
3. Collaborate with other content creators.
Partnering with your niche-relevant content creators, brand ambassadors, and brands is a major growth hack. You'll be benefited from brand association and introduce to new potential followers. Some collaborate with photographers or dancers on a Reel to create hype around their posts or products.
4. Use email marketing to direct traffic to your IG profile.
If TikTok or other social media isn't part of your marketing strategy, you can convince your Instagram audience via your website, email newsletter, podcast, etc. Share social links in your email newsletters or add a simple CTA: "Join the community" or others to follow you on Instagram.
Engage Comments from Other Instagram Users
Another best way to engage with users and increase followers without posting is by interacting with potential audiences via commenting. How do you achieve these goals? For this, you need to
1. Engage Comments from Other Instagram Users.
Responding to Instagram comments; it can be your post or other popular Instagram accounts. This opens up two opportunities: your audiences feel attached when you reply or comment back. Secondly, you'll get access to commenting on IG profiles' recent posts in your feed.
Check out the trendy Men's style page (@malefashionrules).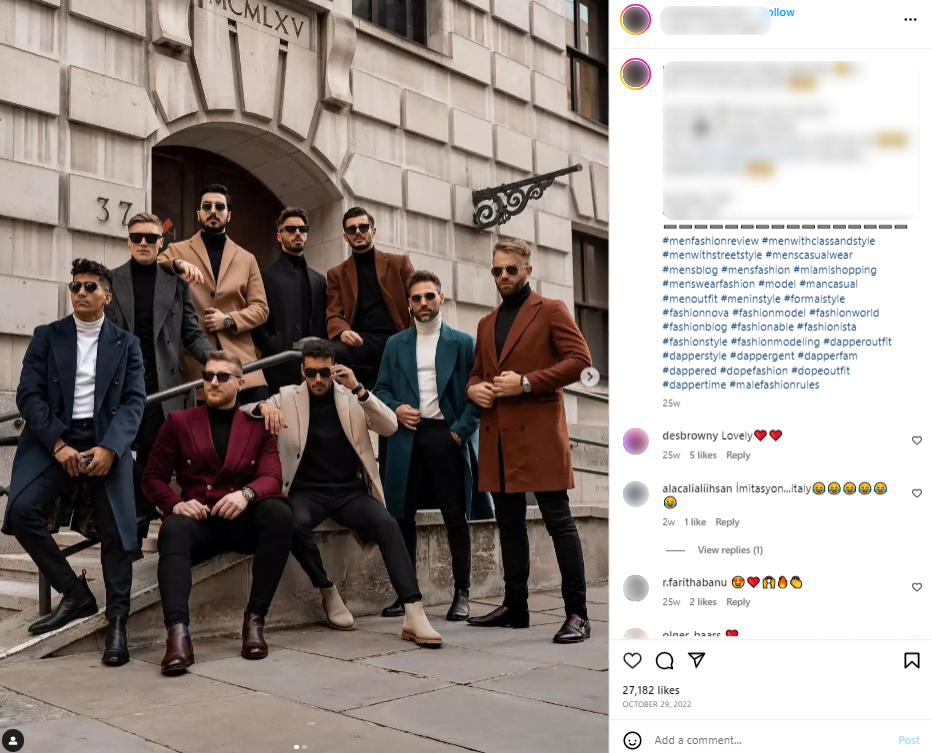 Note: Ensure to avoid funny comments to make your brand more approachable.
2. Comment on popular posts in your niche.
Are you starting a new business on Instagram or want to boost your brand's popularity? Another growth hack is commenting on popular posts that go with your business niche. By doing this, you get both their followers' attention and those brands' eyes on your profile.  
3. Respond to comments on your own posts.
Get involved by commenting on your own posts. People get notifications when you respond (like or comment). They may check out your profile again and notice other activities. With these activities, you can build your own community.
4. Utilize Instagram Stories to interact with your audience.
As per Statista, half a billion Instagram accounts use Instagram stories daily. You can use hashtags, location features, and high-quality story highlights to get highly engaged followers. You can organize your stories into themes, like trendy jewelry you've tried, for fashion accounts.
5. Participate in relevant hashtags and trends.
Using branded hashtags or niche-based right ones, you get followers on Instagram for free. You can create your own hashtags and trends or utilize your competitors' highly targeted hashtags specific to your business or brand.
If you have a local business, add local hashtags or geotags as well. You can include up to 30 hashtags in an Instagram post.
Note: Avoid gimmicks hashtags, like #likeforlike, #tagsforlikes, or #followme.
Leverage Influencer Marketing
As per statistics, 60% or more of consumers follow a brand on Instagram when an influencer promotes it they trust most. Isn't the ratio indicate influencer marketing popularity and reach across audiences? To grab this opportunity, first, you need to
1. Identify influencers in your niche.
Niche-relevant or like-friendly influencers can attract a higher audience and boost brand conversions. If your niche is fashion-oriented, you need to search for one from this niche, like (@camilacoelho). To identify one, we've listed some strategies below:
Check the most popular posts as per specific hashtags – you can go through your industry-friendly hashtags, competitor brands' profiles which influencers they follow, and so on.
Try Instagram Explore page – it helps you to find out similar accounts you can collaborate with, influencers, or other brands/businesses.
Conduct a search on Google & check out top Instagram influencers- you can find lots of similar influencers with other categories by following these hacks.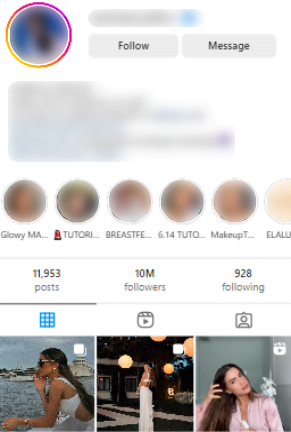 2. Develop partnerships with influencers for shoutouts or collaborations.
Influencers sometimes do non-paid or paid shoutouts to their favorite brands. Shoutouts and story-based collaborations offer an authentic and valuable approach to audiences too. So, you can choose from nano, micro, and macro-influencers for shoutouts or collaborations.
3. Utilize influencer-generated content
Influencer-generated content (IGC) is all about sharing or producing images, videos, and other creative things by social media influencers. As most popular brands do, you can collaborate with influencers for this type of content. How does it help your brand?
Differentiate your approaches or products from your competitors.
Help in promoting social values and lifestyle choices.
Contribute to your website's search engine rankings with quality backlinks.
Highlight every detail "behind the scenes" looks.
Publicize social events, share announcements, and host live videos.
Join Follow-for-Follow Communities and Groups
Are you ready to join Instagram engagement or follow-for-follow groups to get more likes, comments, and followers? All you need to  
1. Find relevant communities and groups, such as r/FollowForFollow on Reddit.
Investing in an Instagram community is the most valuable move for any brand and provides long-term success. r/Instagram communities and groups are dedicated to growing your followers and finding new people to follow or content on Instagram.  
2. Engage in genuine interactions with fellow members.
Instagram is popular social media with different users, brands, and creative content creators (influencers or entrepreneurs). Every user is valuable and adds value to your account. You can use interactive stickers, eye-catchy captions, and others to engage with fellow members.
3. Participate in follow-for-follow initiatives.
Do you want to add or participate in follow-for-follow? It refers to growing your Instagram following by following other page users hoping they follow you back.
Run (Facebook/Google) Ads on Other Social Media
Consider running ads to promote your Instagram profile. You can create carousel ads, promote your content, run a specific contest (marketing campaign), FB/Google ads, etc. First, you need to
1. Target your ideal audience with paid ads.
Targeting ideal audiences is the most important factor in enhancing followers. You can do paid ads based on their interests and behaviors. Grow your IG business by accessing "Google Ads" or "Facebook Ads", etc.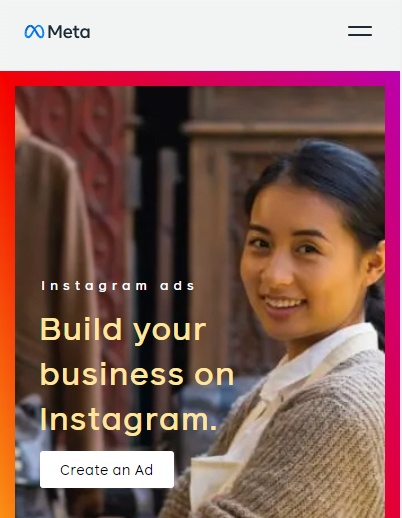 2. Create engaging ad content.
Ads are displayed to your target audiences based on user relevance they followed and bids. Ensure to set your campaign budget, develop audiences, and creative approach that convinces users to click follow button.
3. Analyze ad performance and optimize your campaigns.
By choosing the right type of Instagram or other social media platforms ad formats, you can track and analyze ad performance. You can try an Instagram analytics tool or others to boost your business.
Acquire a Massive Amount of Organic Followers Using the INSBOOSTER APP
Do you search for a way to increase your organic follower base using the Instagram followers app? INSBOOSTER is the most secure way to get Instagram followers and likes without posting. The users can get free coins, likes, and followers after installing.
What's more?–
Instagram followers – provide unlimited free real & active followers/likes after installing the app.
Secure & Bots-free – 100% safe app, no leakage, and no risk of being banned.
24/7 support – instant follower delivery and live support whenever you face any issues.
Installation process – no password is required, only need your Instagram account.
UI/UX – Excellent user interface & easy-to-navigate.
Want to download and install the app?
Step 1: Free download from the App Store.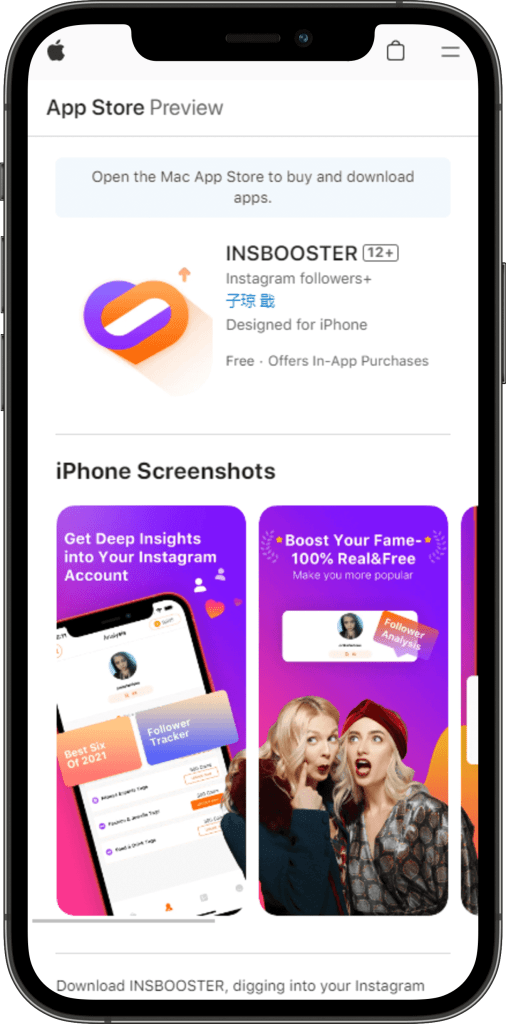 Step 2: Sign up by using your email account and add your Instagram username.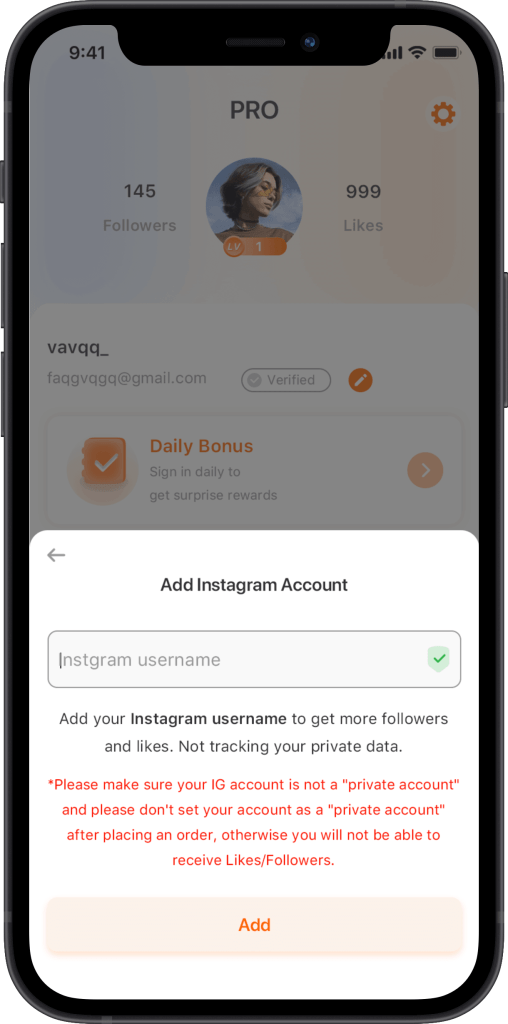 Step 3: Complete daily activities to earn more free coins or you can buy at low costs.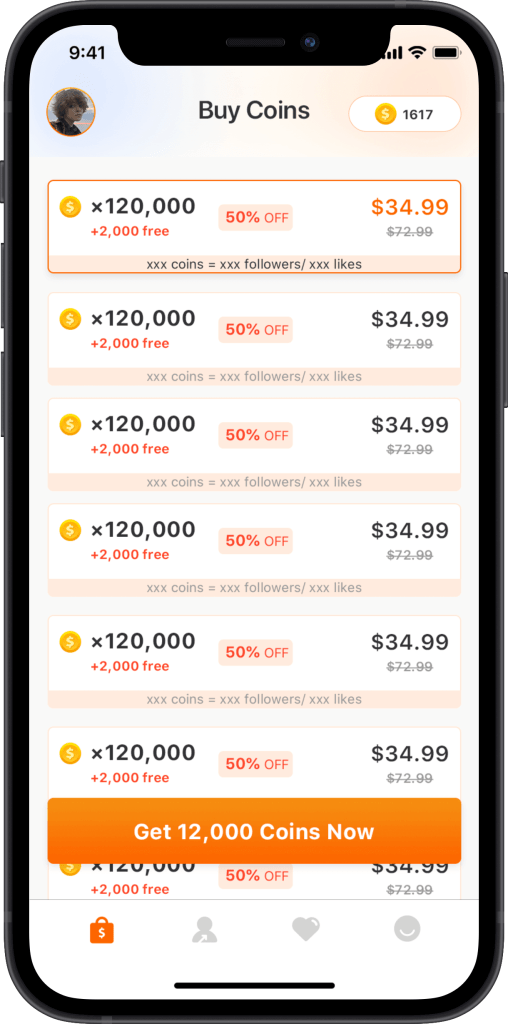 Note: After installing you get 120 coins free.
Conclusion
If you want to get more authentic followers on Instagram without posting right now: Take advantage of these 6 methods, Make sure you utilize all hacks to achieve success in your Instagram goals, Try the INSBOOSTER APP to get instant and active followers.
FAQ
Q: How long does it take to see results from these strategies?
A: It takes 15 days or more to fulfill your desired followers' goals. But if you want instant results with real and active IG users, you can install the app INSBOOSTER.
Q: Is it possible to grow my Instagram followers without spending any money?
A: Yes, it is possible. For this, you can follow the Instagram hacks that we mentioned in this article. Also, you can use organic and natural Instagram follower increase apps:
INSUP (iOS),
SocialMax (Android),
Real Followers UP + (Android),
Follower Reporter (Android).
Q: Can I use these strategies for my personal Instagram account or just for business accounts?
A: Yes, you can use these strategies on both your personal and business Instagram accounts. Also, the app INSBOOSTER provides followers for both IG account types.
Q: Can I use all of these strategies at the same time or should I focus on a few?
A: If you want instant follower growth, you can apply all strategies and use the INSBOOSTER app, too, at the same time.