Last Updated on June 21, 2023 by Diana
Want to supercharge your brand and grab active Instagram followers through Instagram stories? Instagram stories are the best way to build community and brand affinity.
Contents
Struggling to make creative stories that grab potential users' attention instantly? In this article, you will discover a step-by-step guide to increasing Instagram story views with different hacks, like –
Original content effectiveness,
Instagram algorithm role,
Hashtags & Location tags use tricks,
Best post timing to maintain consistency,
Brand success, Instagram stories & their popularity hacks, and so on.
What are you waiting for? Let's get started!
Understanding the Instagram Algorithm
Instagram states that the Instagram algorithm is a set of rules, classifiers, and processes which is used to study users' likings. After that, it sorts content, like in what order or what content shows up on Instagram users' feeds, explores pages, etc.
Let's check out how it affects Instagram Story views or what order your stories earn.
Story information: It collects all story info & features used, like stickers, music, user interactions, engagement on polls, and so on.
Who posts the story: IG algorithm has all data about how often you interact with other users' stories (likes, replies, shares, etc).
User activity: How interested your posts are to others? How many times do you gain personal interactions? Are your posts tagged with hashtags? Everything is important to rank your story and show it on users' feeds.
How to leverage the algorithm for greater visibility
Post, comment, like, reshare, and save – these five interactions on Instagram count to make your stories popular and rank at the top. For this you need to –
Post stories too often – Instagram doesn't show too many posts in a row. So, make your story schedule and reach more.
Follow Instagram community guidelines – This guide helps you to avoid irrelevant post topics.
Avoid misinformation – Always post user-generated and real content on your stories to earn IG users' trust.
Try different & exciting IG features – You can use hashtags, location tags, stickers, polls, and others to interact with your potential audiences.
Respond to comments & branded posts – Instagram counts your every single activity, like when and which posts you make interactions with, and so on.
The Power of Engaging Content
Why creating engaging and interesting content is critical for increasing Instagram Story views?
Instagram Story is an in-app feature that allows users to share engaging content with videos, photos, and other interactives. However, the stories disappear within 24 hours but you can revive them by using IG stories highlights.
Why do you create stories for more active IG followers? Check out below:
1. Keep your targeted audience engaged
By asking your audience's feelings, you can acknowledge how great your content works for them. Here, stories put you in touch with your targeted IG users and know their needs. Through engagement features, like polls, questions, quizzes, stickers, aesthetic photos, and videos you can aware of their feelings.
2. Improve brand visibility
With Instagram stories, you can create an emergency and grow curiosity. Plus, consistent content and creative visuals convey a strong brand image, differentiate your service/business, build brand loyalty, showcase offers, etc.
3. Instagram SEO
Descriptive captions with niche-based keywords, hashtags, and other content hacks enrich your Instagram SEO which helps to rank higher. That means the more rank you gain, the more engagement your stories will gain.
4. Generate leads
Interactive content can convert your viewers to active followers means growing your leads instantly. Instagram stories are discoverable and full of interactives that help you to highlight your creativity.
5. Increase overall engagement
Instagram is a highly personalized and popular place with lots of different themes, feeds, and settings. Real and persuasive content is a king that leads your business to an impressive follower base.
Tips for creating engaging content
Here we've listed some important content hacks that fulfill your target!
More visuals, less text: Precise, clear, and straightforward content with interactive images or videos highlights your brand purpose in an effective way. Also, it opens up the creative side of your brand and products that encourage your audience to like and comment.
Highlight important information: Highlight your business/product's uniqueness by mentioning its quality, how it meets users' needs, and why they rely on it. IG users love transparency and in-point information about the service/brand.
Mix different content types: Reels, feeds, podcasts, live, or others, you can try different content formats to make it more engaging.
Limited offer: Promotions, discounts, and giveaways are the easiest way to interact with a wider range of audiences and promote your best products.
Trendy or exclusive content: Nich-friendly tactics or branded topics can build engagement with your community. Also, you can collaborate with influencers to get more eyeballs.
Utilizing Instagram Story Features to Your Advantage
From marketers to individuals Instagram stories allow all to open up their creative vision among their target audiences. Check out its awesome features and tricks to effectively utilize those in the next section!
Overview of Instagram Story features and how they can be used to enhance views
Want to add variations or more interactives to make your story more eye-catchy and engaging? Instagram offers different and trendy stories features, including –
Visual storytelling – You can add creative fonts, stickers, etc., to tell your brand stories and slideshow to encourage users to publish more.
Interactive functions – Apart from regular GIFs, IG stories allow you to use location tags, hashtags, ask questions, emoji sliders, vote polls, etc.
Live videos/broadcasts – You can post short videos, live events, and others to improve brand awareness.
Links placement – You can add links to your IG stories via stickers, hashtags, or others that encourage users to visit your profile.
Tips for leveraging each feature
Take advantage of stickers by creating polls, mentioning other users, emoji sliders, countdown, quizzes, hashtags, etc.
Record live hands-free videos or podcasts to show the uses of products, reviews. Personal experience, and so on.
Let other accounts or users share your stories.
Use the pen, add symbols or more text with eye-catchy visuals to your story.
Add music or sounds to make your stories more realistic.
Strategic Timing: When to Post Your Stories?
How posting times can affect Instagram Story views
The most asked question among Instagram users are: why are my Instagram story views dropped and what is the best time to generate more views?
Posting at the right time/personalized schedule on Instagram increase follower count and views too. However, if you post at the wrong time or inactive time period, it affects on –
Niche-target viewers count drop – Your story will hide behind of thousands stories and when new or active viewers log in to their profile they won't get yours.
Fewer reactions and replies – The same scenario goes for followers' reactions and replies.
Profile views – As you know top listed stories get higher priority, yours will remain ideal and not reach satisfied user interactions.
Recommendations for best times to post to maximize views
According to later, Hootsuite, Influencer Marketing Hub, Search Engine Journal, and Sprout Social, the best time for "highest engagement" or "user interaction" is:
| | | |
| --- | --- | --- |
| SL No. | Week | Time zone |
| 1. | Saturday | 9 am |
| 2. | Sunday | 1 am, 7am, 6pm to 8pm. |
| 3. | Monday | 5 am, 11 am, 1 pm |
| 4. | Tuesday | 9 am, 1 pm, 2 pm |
| 5. | Wednesday | 5 am, 9 am, 11 am |
| 6. | Thursday | 5 am to 6 am, 11 am to 1 pm |
| 7. | Friday | 7 am, 11 am, 2 pm |
However, you can post early morning and lunch break. But weekends are the least favorite day to post on Instagram.
Pro Tips: You can review your top-performing posts to identify yours and also follow several hacks, including:
★ Check your analytics to determine your niche audience's active time.
★ Go through competitors' profiles to study their posting times.
Leverage Hashtags and Locations in Your Stories
The role of hashtags and locations in increasing Instagram Story views
Instagram hashtags help to categorize or label content and make it more discoverable among your audiences. It works as community-building, sourcing UGC, running your brand or niche market campaigns, and more.
However, by using the right ones, you can convert new viewers into active audiences. Also, it helps to –
Increase brand exposure & discovery – Your audiences are able to explore all the related posts and find your account by clicking on a hashtag. Also, it helps to appear on the related hashtag pages and generate more leads.
Encourage Interactions – Hashtags are a quick way to explain your post or content key points which Instagram algorithm counts.
Build collaboration & branding – When you add popular brand hashtags, your account will notice to their fan followers and influencers who they work with.
Pro Tip: In general, Instagram allows up to 30 hashtags, but for better results, you can use 3 to 5 hashtags per post (story or Reel).
It's time to explore the role of location tags in your IG account. If a geotag is relevant to your story, consider using it to boost visibility. Also, it is useful for –
Local exposure – From local campaigns to amplifying local reach, geotag is a great way to boost your local business.
Easy discoverable – The tags help your audience to acknowledge your shop location, business events, and other places nearby instantly.
Connect with creators, brands & influencers – This can be used as DMs and get the people who are likely to visit those locations.
Increase engagement – With location tags, you add poll stickers or ask questions about a specific location to attract more followers.
How to effectively use them in your stories
Tips for Instagram hashtag use on your stories
Set your brand/business hashtags – The easiest way to find yours, you can look at influencers' and competitors' accounts in the same niche market. Another way is to follow Instagram analytics to study your audiences.
Consider the hashtag amounts – Fewer ones (3 to 5) offer you better engagement and reach. However, the range depends on your story's goal, but don't include up to 30 per post.
Don't forget to add in the caption – For better engagement and reach add hashtags at the end of your caption instead of text.
Pick the best, not the popular ones – Choose hashtags that catch your target audience's attention and give a large number of followers, like follow hashtags.
Avoid ban/spammy hashtags – Pay attention to banned hashtags like #adulting, #beautyblogger, #date, and others that risk your IG account.
Tips for Instagram location tags use on your stories
Share event or geography – Take advantage of adding industry events and sharing popular locations views through location tags. It will work as behind-the-scene content.
Use clickable location stickers – Where your business is located or where the events are held, everything you can inform via location stickers. Also, it attracts more visitors to your pastry shop, beauty salon, and more.
Share customer reviews – You can encourage potential consumers by showing the reliability of the feedback that gives them the confidence to buy from your store.
Share promotions or giveaways – Through geotags, you can tell your audience what exciting offers or things happen in your store. All these build loyalty among your potential consumers and newer ones.
Building a Strong Community: Engagement is Key
Why building a community and encouraging engagement can increase Instagram Story views
Instagram community and engagement are the key ranking factor for the IG algorithm. Also, it's important to –
Build a loyal community that adds benefits to your brand growth.
Memes, graphics, and other tactics help to drive potential engagement to your account.
Allow you to share videos, pictures, and other interactives via carousel posts.
CTAs encourage your audiences to click the link and add to your brands.
Let your creative and unique brand tone to others via stories.
Strategies for enhancing engagement
You can provide creative and valuable content to increase engagement.
Master your aesthetic to offer amazing visuals that give words of your brand's or business's goals.
Take advantage of video content using IGTV, animations, emotions, etc.
Build engagement via DMs, commenting, liking, and sharing niche-friendly accounts.
Use hashtags, post as per schedules, and get creative with stories, Reels, and other interactive features.
Consistency: The Secret Ingredient for Higher Views
The importance of consistency in posting stories
Maintain user's interest and don't destruct them from your IG stories.
Boost up your sales and gain trust vis consistent posting.
Help to build a strong connection because consistency ensures your authenticity.
No risk of an account ban from Instagram.
Strengthen your brand power among users.
How consistency can impact Instagram Story views
Posting consistency defines your strong social presence.
Determine posting frequency and effectiveness among followers.
Consistency helps you to experiment with different post types.
Boost your story performance because it gives audiences a reason to engage with your content.
Collaborations and Shoutouts: A Quick Way to More Views
The power of collaborations and shoutouts in increasing Instagram Story views
Instagram collabs and shoutouts offer transparency that builds trust among users. From macro to nano influencers, brands can benefit most collaborations with them for shoutout posts on Instagram. And both marketing strategies' power lies in:
Resharing content opportunities without any third party or bots.
Get more traffic and leads from collabs accounts.
Influencers can share collaborations posts and Reels on both accounts that help to build a community.
Open up opportunities to interact with new followers.
Ways to implement collaborations and shoutouts effectively
Partnership: You can partner with brands, ambassadors, creators, or influencers for a collab and shoutouts.
New product/service launch: Combined power helps you to get more buyers and promote your new service.
Promote other social accounts: You can promote your other social media profiles that allow you to put the same content to your audience.
Utilizing Instagram Analytics to Boost Story Views
The role of Instagram Analytics in tracking and improving Instagram Story views
Instagram analytics is all about understanding your niche audience, their active online time, and what type of content they prefer or engage with. The analytics depend on brand or business individual goals and track your IG account strategy, including:
Engagement rate of your followers such as sharing, commenting, liking, etc.
Audience growth metrics help you to track your profile reach.
Recreate top-performing content that saves time & resources.
Perform at the top comparing others by planning your campaigns and strategy with analytics data.
How to use the analytics for strategic improvement
Marketers to influencers, use IG analytics to measure their account reach by acknowledging – ➔How many unique accounts do you gain over a time period? ➔How many followers vs new followers notice your account?
You can track your profile activities, like visits, website clicks, CTAs, emails, and others.
Most importantly, you can identify your target audience via demographics that IG analytics serves, i.e., age, location (city, country, or town), gender, etc.
IG analytics help you to schedule your content or post times to get more followers' attention.
Use analytics to measure your content popularity and reach, including feed, profile, explore tab, hashtags, etc.
You can find the most effective content formats, hashtags, and other reports via analytics.
Case Studies: Success Stories in Maximizing Instagram Story Views
Real-life examples of individuals or brands who have significantly increased their Instagram Story views
Example 1: Glossier (@glossier) – 2.7M+ followers
Glossier is one of the most popular and people-powered beauty ecosystems whose official tagline is "Skin First, Makeup Second". They just nailed their Instagram account with lots of followers and customers. Frequent user-generated content posting is the key thing of their engagement.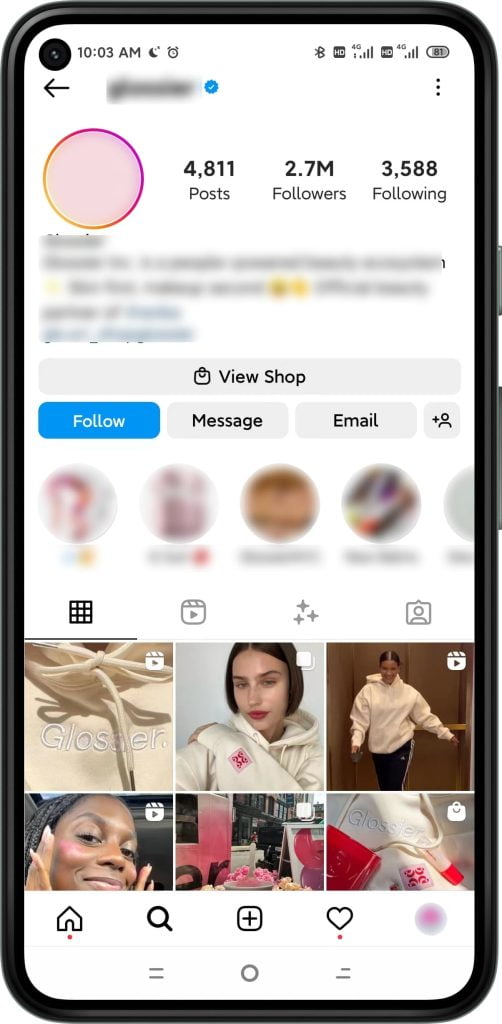 Example 2: Starbucks (@starbucks) – 18M followers
Starbucks steals its audience's heart by sharing new product launches, customer testimonials, fun, and interactive content. The most unique thing about their stories is it never highlights advertisements. They love to engage viewers by explaining the basics or menu tips with interactive polls and quizzes.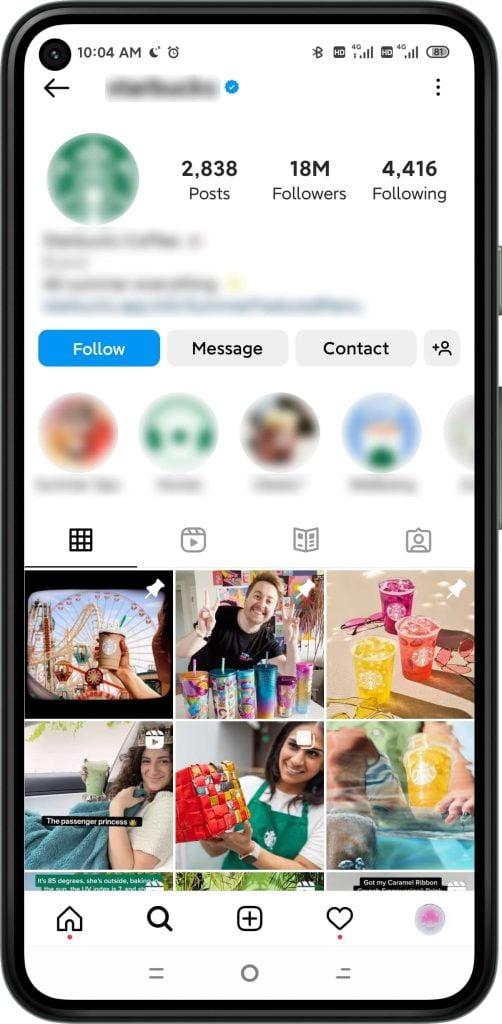 Example 3: National Geographic (@netgeo)
From publishers' & photographers' experiments to eye-catchy wildlife, Natgeo posts different content styles. Their stories mainly highlight mini-documents, like animal activities with original sounds, the beauty of underwater, a short story about nature, etc. Their fascinating video clips and the standard Instagram caption just steal the heart of viewers.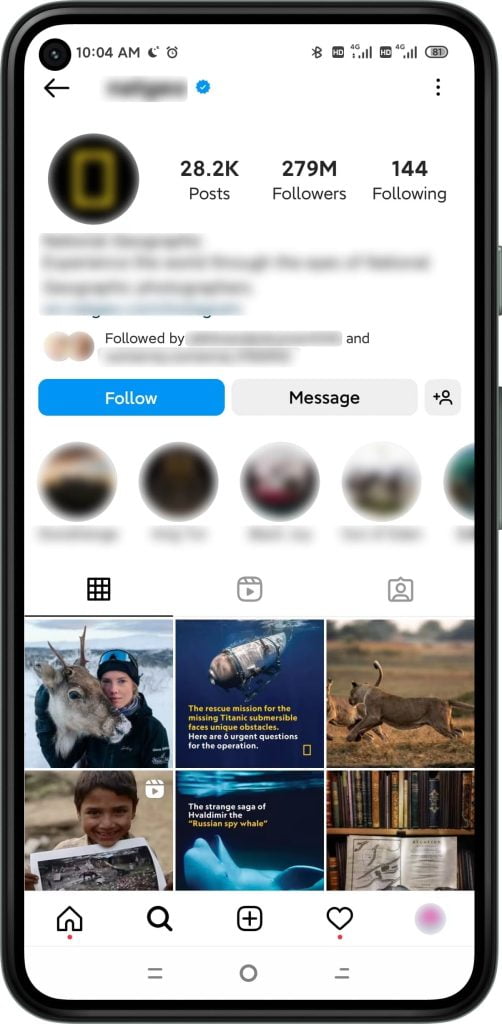 What strategies they used and what lessons can be learned
Glossier Instagram story strategies
Consistency is their main IG story's success. Let's observe some tricks on how they creatively increase views by using IG stories below:
The brand love to ask followers for skincare resolutions and put those comments or suggestions into their Instagram stories.
The expert answered followers' beauty questions and effective hacks.
Reposts content from their customer in a "Top 5" story highlight which evokes others to connect with them.
Starbucks Instagram story strategies
Interactive content and a variety of story features make their stories more unique. For example:
The brand asks viewers to guess which drink is coming back or adding to their menu.
Offer open-ended questions and quizzes.
With polls and voting options, they get viewers preferable coffee flavors.
National Geographic Instagram story strategies
Like NASA and MIT Tech Review, Natgeo focuses more on natural beauty and real-life experiences. Also, they love to –
Add behind-the-scenes peeks at various events and photography adventures.
Talk and highlight the ins and outs of photography experiences, like rock climbing, underwater beauty capturing, and so on.
Create polls to predict their audience on relevant facts, like "What year did Yellowstone become the 1st National Park?"
Conclusion
Ready to level up your Instagram business strategy with our step-by-step guide to increasing Instagram story views? Go through all these steps, like quality content, posting time, hashtags trends, IG analytics, and other story features to leverage your success.
Feel free to share your success stories or challenges you face to increase your IG story views. And don't forget to share stories and blog posts with others to boost your sales.
Q&A
1. What types of content get the most views on Instagram stories?
As per marketers, the most common Instagram story types are –
● Brand awareness content,
● Product-focused,
● Interactive & real,
● Trendy,
● Short narrative stories,
● Demos & tutorials,
● Behind the scene,
● User-generated, and so on.
2. How does the Instagram algorithm affect the visibility of my stories?
Posting consistency, high-quality content, and user interactions (reply, like, view & comment) – Instagram considers all these factors to predict the order of showcasing stories.
3. What are the most effective features to use in Instagram stories for higher views?
Stickers, polls, hashtags, geotags (location tags), Q&A, story highlights, DMs, and others are the most effective features, you can use to get higher Instagram views.
4. When is the best time to post stories to get the maximum number of views?
The hours before work, like lunch breaks and late afternoons is the best time to bring most views and interactions. However, for more details, you can go through the strategic timing section to schedule your story posting.
5. How can I effectively use hashtags and location tags in my Instagram stories to increase views?
You can add tags at the end of your stories' captions or posts, but remember to use niche-friendly ones.
6. How important is community engagement in increasing views for my Instagram stories?
The more engagement you build, the more your content will rank higher (show up in Instagram users' feeds). That means community engagement helps Instagram to determine how important your content or story is.
How often should I post Instagram stories to maintain or increase my views?
As per your niche popularity, you can post 3-5 times per week on Instagram or 2 stories per day.
8. How can collaborations or shoutouts help me get more views on my Instagram stories?
Collaborations or shoutouts allow you to share your content or stories with other accounts with a wider audience. By doing this, you get their follower's attention on your page.
9. How can I use Instagram Analytics to track and boost views on my stories?
You can use IG insights to determine your account's followers' activity, performance, demographics, and others. Also, you can view your targeted audience's engagement with specific posts, stories, Reels, Live, and others.
10. Are there any successful case studies or examples of people who drastically increased their Instagram Story views?
Yes, there are. Adidas Neo, Glassier, YouTube Music, Starbucks, Netgeo, and others use IG stories with different features to increase story views. Check out the case studies section to reveal their story strategy secrets.