Last Updated on June 7, 2023 by Diana
Are you searching for the best posting times on Instagram? Or, what are the best posting days to earn more likes and comments? With us, you will get all analytics and data that help you reach a specific goal. We all have an idea that how effective posting times are to gain new followers and sales.
So, what are you waiting for? Let's start together!
Contents
Understanding the Instagram Algorithm in 2023
The Instagram algorithm is a set of processes, classifiers, and rules that uses to personalize individual user experience. It decides what content appears in what Instagram feeds, Explore pages, hashtag pages, and so on. Also, monitor page ranking factors, the behavior of users on posts, interactions, and others.
However, for more Instagram algorithm details, let's check out Instagram strategy, working process, and so on in the next section!
A. How the algorithm has evolved
In the initial stage, Instagram used a simple chronological algorithm to show off posts in the order of how they were created. But now Instagram algorithm 2023 uses a highly sophisticated system to determine users' interest in displaying posts on that information.
Also, it changes constantly to provide creators and social media managers with a flexible and creative place. Let's look at some core changes in IG's algorithm below:
Focus more on photos and videos – In 2022, many creators showed objection to the fact that videos got lots of views, likes, comments, and shares than photos. For solving this issue, Instagram assures creators that the algorithm will treat videos and photos more equally.
Offer something new that users love most – Instagram CEO Mosseri announced that one of his top priorities is to "help IG users to discover something new every time". And now your posts are shown to a fresh audience.
Promote content that inspires more conversions – In 2023, along with viewers number, comments per post are also counted.
Give priority to original content – In 2023, compared to reposted or reshared content, the original content will be favored more. That means, the more creative you are, the better ranking you earn.
B. The role of engagement, relevance, and timing
Wondering thinking how Instagram algorithms rank? There are different ranking factors, including engagement, relevance, timing, and so on. Let's take a closer look at these factors role below:
Engagement: How many users follow you? Does a user interact (like, comment, share, etc.) with your posts? Overall these things play a crucial role in your IG ranking.
Relevancy: How relevant your every piece of content is? Are the posts fit with trending topics? Or, Are your recent posts more relevant than older ones? Instagram go through these things and measure the relevancy of your niche market.
Time: Are Instagram users spending very little or more time on your profile or content? From publishing time to how often someone "likes" your content, all these signals are counted on each part of this platform.
C. Why timing is crucial for success
In social media platforms, timing is an important thing. If you want to ensure that your content reaches the widest possible audience, the perfect and active timing schedule help you to fulfill your goal. After all, the best content alone can't make an impact without the right timing.
Here are some keys factors that ensure that how important perfect timing in social media management.
Maximum conversions and reach: Suppose, you post a funny meme or beautiful landscape photo in the middle of the night for your American audience, you might get a few likes, shares, and engagement. But if you post in the middle of the afternoon on a workday, you have a chance to get more eyes.
Pro Tip: Go through your existing statistics to identify your target audience's active hours.
Gain new followers: By identifying the perfect posts time, you can gain new followers. For example, workday or weekend timing. For this, pay attention to niche-like competitors' posts scheduled.
Help to know your targeted audiences: Timing helps to understand your Instagram users' requirements and needs. That's why you need to choose a few major locations where you want to focus on boosting your social media marketing growth.
Uncover the Best Times to Post on Instagram in 2023
Many businesses have surveyed engagement metrics across the globe by considering millions of Instagram posts. But the time zone mainly depends on your business type/Industry, your targeted audience, and your content.
However, below we've mentioned some key guides for the best posting times on Instagram in 2023.
A. Data-driven insights on the best posting times
Instagram posting schedule insights help you to enhance your business or brand growth and find out the exact audience engagement rate. Here we've discussed weekday and weekend best posting times on Instagram by considering the US Pacific time zone.
1. Weekday posting times
Are you just starting to post on Instagram and have fewer audience insights to work with?
Here we've enlisted the best post times to post on Instagram more than once a week (as per US Pacific time). You can try posting around these peak times.
| | | |
| --- | --- | --- |
| Entities | Week Day | Time |
| 1. | Monday | 5 AM, 11 AM, 1 PM |
| 2. | Tuesday | 9:00 AM, 1 PM, 2 PM (between 8-10 AM engagement is also strong) |
| 3. | Wednesday | 5 AM, 9 AM, 11:00 AM (highest engagement rate) |
| 4. | Thursday | 5 AM to 6:00 AM, 11 AM to 1 PM |
| 5. | Friday | 7 AM, 11 AM, 2:00 PM |
| 6. | Saturday | 9:00 AM |
| 7. | Sunday | 1 AM to 7 AM, 6 PM to 8 PM |
All these timings are listed based on research from Hootsuite, Later, Influencer Marketing Hub, Sprout Social, and Search Engine Journal.
However, when your account will start growing with more Instagram followers, it's a wise decision to schedule your targeted audience's activity patterns.
2. Weekend posting times
In the USA, the weekend mood starts from Friday afternoon to Sunday afternoon or early night. As per the table, you may notice, Saturday shows the lowest average engagement compared to other weeks.
But on Sunday, you notice a significant amount of user engagement. Between 1-7 AM it remains consistent and drops off as the day goes on. But at 11 PM the engagement back into action.
B. The influence of user activity patterns on engagement
Every business pattern is different, but all businesses aim to build as much engagement as possible on their IG account. Traditional Instagram engagement metrics are likes and comments. Other metrics are views, shares, and DMs (direct messages).
IGTV, Reels, and Instagram stories are great sources of building engagement. If you want to gain more Instagram followers and boost your business, create your engagement marketing plan.
C. Factors to consider when determining your optimal posting times
The different resources highlight different posting schedules on Instagram. But these time zones depend on several factors, including:
Audience size,
Engagement level,
Location,
Audience engagement rate, etc.
If you want to figure out your own optimal posting times, you need to go through these factors. The Instagram algorithm tracks every interaction of users. So, focus on creating high-quality content and then schedule your posting best time.
Also, you can take note of your competitor's Instagram strategy and keep an eye on your analytics.
Time Zones and Their Impact on Instagram Engagement
As a leading social media marketplace for creators, influencers, and small businesses, posting time zones places an important role. For in-depth discussion let's dive into the next section!
A. Catering to a global audience
If you want to rank higher on the Instagram algorithm, you need to pay attention to your content posting time. That's you need to identify your follower's most active time with your posts and stories. If you don't do that your content will be invisible with other posts and stories which earn tons of engagement.
As per data from various resources, Thursdays are considered the best days to post. And between 2 PM and 3 PM are the best time to post. Along with this, Wednesdays at 11 AM and Fridays at 10 AM are also good times. However, it's ideal if you keep an eye on your Instagram analytics data.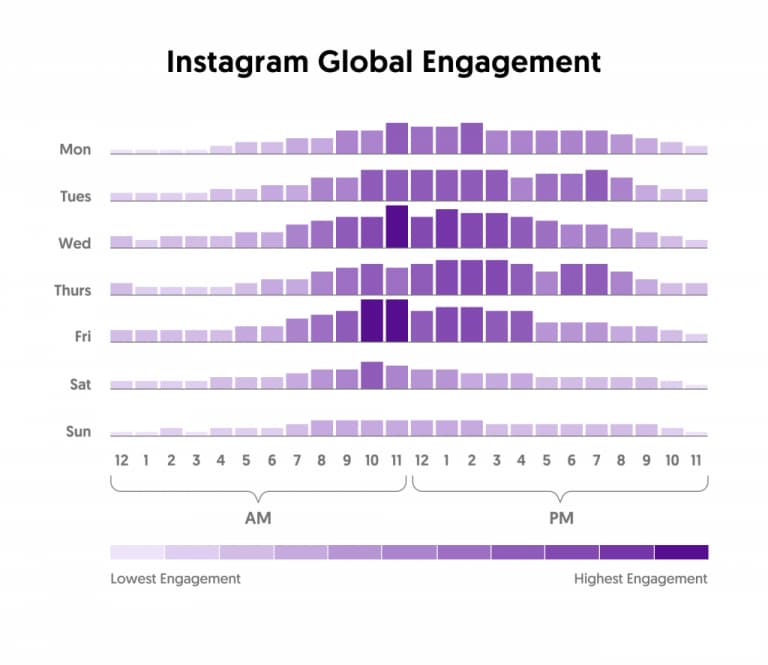 Source: Influencer Marketing Hub
B. Adjusting your posting schedule to accommodate different time zones
You can save time and post consistently by scheduling your IG posting time zones in advance. For this, you need to identify your audience's location because audience behaviors vary in different regions.
For example, California is three hours backward from New York. Let's acknowledge the best times to post in local times on different time zones based on Later:
| | |
| --- | --- |
| UK | 3 AM – 4 AM |
| Middle East | 4 AM |
| Western & Eastern Europe | 4 AM – 6 AM & 5 AM – 7 AM |
| Africa | 2 AM – 3 AM |
| Australasia | 11 PM – 12 Am |
C. Tools to help manage time zone differences
There are different tools available in the marketplace, including, Later, Hootsuite, HopperHQ, and so on. All of these help you uncover the best post time, active users' time zone, and so on. But before heading to the tools, you can go through Instagram analytics for more accurate results.
Also, we recommend creating a spreadsheet with different data, including,
Link to your Instagram post.
Posted date, week & time.
Likes, comments saves, and shares list.
Engagement & reach list.
The Role of Content Quality and Consistency
Instagram content quality and consistency both play an essential role in maximizing Instagram's reach along with sales. As you know, IG users value high-quality content that shows off your brand's story and product/service uniqueness with a beautiful aesthetic. For more details, let's dive into the section below.
A. Why high-quality content is essential
Content has the power to engage audiences by answering their queries and developing relationships by building trust, improving conversions, generating leads, etc. It creates positive impressions of your brand. Also, quality content helps you –
More and better leads – creative and original content with relevant CTA (call-to-action) helps to earn effective leads to your account.
Increase brand visibility – The more authentic content you serve, the more your SEO will be strong that help you rank higher in search engines.
Position your business authority – By providing high-quality content, your audience gets the confidence to rely on your business or brand.
B. Balancing quality with consistent posting frequency
If you want to maintain your content quality, consistency requires planning. Suppose, you can post 1-2 times a day and notice the ratio it works better for you or not. However, the frequency of your posts on Instagram mainly depends on your business goals and target audience.
You can use a content calendar to plan your posting consistency frequency. Some research shows that you can post multiple times a day or several times a week.
C. How content consistency affects the algorithm
Content consistency helps you to maintain healthy engagement growth. Somehow if you break your content consistency, your active followers will lose interest and may switch to other accounts. That means it's crucial to maintain a flow of content consistency.
Instagram values eye-catchy visuals and creative content. If you want to engage with more authentic and active Instagram audiences, you need to focus on this factor.
Tailoring Posting Times to Your Specific Audience
By figuring out how often you post on Instagram is the main thing. For this, you need to focus on –
A. Understanding your audience demographics
Instagram's audience demographic provides actionable and important information that helps you to boost your business growth. It mainly defines your Instagram targeting. Here you can see some core statistics of your existing followers, like age range, gender, and location.
By combining this data with your buyer personas and the information from competitor research, you can get a clear picture of your target audience's interests, active time, and so on.
B. Analyzing audience engagement patterns
Reels, stories, posts, videos, and other media engagement rates help you to find out your specific audience data. For analyzing your Instagram engagement pattern for a post, divide your total number of likes and comments by your follower count. After that, multiply by 100.
C. Customizing your posting schedule for maximum impact
Instagram posting schedules help you to keep your content calendar organized, serve unique content, save time, and so on. Here are some tips on how you can customize and schedule your own posting time.
Post at your best time by utilizing your follower's activity and engagement rate.
Using relevant hashtags that suit your niche helps you to customize your posting schedule.
From visuals to Instagram SEO keywords, you need better planning.
Monitoring and Adapting Your Instagram Posting Schedule
There are different hacks to monitor and identify your Instagram posting schedule, like –
A. Tracking your engagement metrics
One of the most important and key indicators to schedule posting time is Instagram engagement metrics. When and how well does your audience respond to your content? Are your posts receive comments, likes, shares, and saves?
Instagram engagement rate shows all these factors. And with these factors, you can identify and schedule your Instagram posting time frame.
B. Using Instagram Insights to fine-tune your schedule
Instagram insights allow users to see their profiles and post-related analytics. Data and analytics help you to identify posts at a certain time of day, audience targets, content new formats, and so on.
But to use Instagram insights, a business profile is a must thing. If you have a personal account, you can switch to a business profile.
C. Adapting to changes in audience behavior and platform updates
You can't offer the right content and find out the best time for posting without knowing your audience's preferences, motives, and requirements. Also, to keep yourself updated and follow the trends, you need to keep an eye on platform updates.
If you want to grow your Instagram business, focus on these factors and provide the best quality content to evoke your audiences. In the end, followers' satisfaction and engagement help you to fulfill your end goal.
Conclusion
Instagram is an incredible social media platform with lots of creators, businesses, and influencers. Here content alone can't fuel your marketing growth. Leveraging your best times to post on Instagram, maintaining consistency, and scheduling in advance is the main thing.
We hope, by embracing posting data time and finalizing your own, you will be able to beat the Instagram algorithm.