Last Updated on April 8, 2023 by Diana
As per statistics, India has 229 million Instagram users and has won the largest Instagram popularity base worldwide. The ratio highlights the overwhelming challenge of growing your Instagram page follower and likes in India.
Contents
To stay ahead of the game and be the winner, we've enlisted Instagram expert hacks and popular apps. Are you stuck at a few followers and likes for a couple of months? No worries!
Check out the article: how to get Indian followers on Instagram for free now!
Tips for Gaining More Indian Followers and Likes
Instagram followers are not just a number – they're key to boosting traffic and increasing sales by achieving your Instagram goals. Like other IG users, influencers, or businesses, you might be looking for ways like:
How to get Indian followers on Instagram? Or,
How to get Indian Instagram followers fast?
From increasing followers and likes to posting high-quality content, all the tips we've mentioned for Indian people below are tried and tested. Let's get started!
Optimize Your Instagram Profile
Your Instagram profile is often the first touch point for new visitors, business profile visits, and others. This section helps users to discover who you are or your brand identity, what you offer, etc.
● Username and Profile Picture
Provide your brand name or search-friendly username. You can shorten it to include audience-recognized variations, like @coldstone (Cold Stone Creamery's profile), if it's too long. Also, post only well-composed images and maintain the logo size for your brand.
Note: Avoid adding watermarks and logos on your personal images. For branding, show product images, including logos, like bag photos with your store's or brand's name.
● Bio and Call-to-Action
Add up to 150 characters of informative, short, and sweet bio to convey your brand identity and explain why new visitors follow you. Check out the HUDA BEAUTY bio as an example to speak directly to your target audience via targeted keywords.
Example of adding CTAs at the end of the post or a question to boost engagement, like:
Save time & start following!
Learn more!
Follow us for an exclusive coupon code, event, or contest!
A website link or customizable link (only one external link).
Post Relevant and Engaging Content
Indian Instagram content strategy is the most powerful way to get authentic users in your account.
● Post Relevant and Engaging Content
Plan your brand voice, captions, or niche-based unique content ideas considering target audience needs. User-generated content (UGC), a consistent voice with photos, videos, and comments, entices followers to see and react to it.
Note: Include keywords in captions that help to appear in search results.
● Experiment with Trending Content Formats
You can mix content types to gain more IG followers and connect with a wider range of communities. Also, try short-form videos like TikTok or go with trendy content formats, like:
Reviews,
Audio,
Re-sharing UGC with unique captions, etc.
● Analyze High-performing ones
For planning content or trendy formats, you can go through your competitor's posts that grab Indian audiences' attention the most. Also, you get inspirational quotes, informative carousel posts, text and imagery combinations, and on-trend meme formats that may reach thousands of people.
●Schedule Instagram posts
Using a calendar, you can find out the best time to post on Instagram and when your audience is most active. As per analytics, you can post between 3-7 times per week, which helps bring new Instagram followers.
Leverage Instagram Stories and Reels
Instagram reels and stories are still one of the most effective ways for Indian Instagram audiences targeting. To achieve your goal, you can –
● Use engaging visuals and interactive features
Besides engaging content, you can try Instagram Grid which offers interactive visuals to your followers. Besides, you can use eye-catchy and high-quality images and videos. Also, try trendy and effective Instagram features, like – sharing video clips, polls, pinned comments, filters, questions, chat stickers, etc.
● Share behind-the-scenes content
Users love to explore behind-the-scenes content or footage. For this, you can share the overall planning of an event, or the launching product can make it fun. It attaches and gives them a feeling that they are included.
● Highlight your best Stories
Though the stories disappear after 24 hours, you can keep them by using the highlights feature on your profile. Also, you can showcase current offers and resources by –
Creating trailers,
Organizing stories into themes (like travel vlogs),
Explaining products via photos and videos.
● Utilize trending audio and topics for Reels
Like TikTok's, Reels feed serves high-interest content for both users you follow and don't. Also, it has audio, effects, and creative tools. For the best results:
You can use keywords and hashtags in your Reel captions to describe your video content.
Add trending sounds on Instagram Reels.
Keep Reels short and snappy to get repeat views.
Note: You need to balance education (how-to-videos) and entertainment in reels.
Utilize Hashtags and Geotags
Hashtags and geotags are tried and tested ways that add value to your Indian Instagram marketing strategies. So which hashtags should you use?
● Popular Indian Hashtags
You can create your own branded hashtags to fuel the search results. But be proactive with industry-specific and most-used hashtags relevant to your customers/audiences, such as – #insta, #mumbai, #indianfood, #indianwear, #indiaclicks, etc.
Note: You can include up to 30 hashtags per IG post. Avoid hashtags like #likeforlike or #tagsfor likes, which temporarily boost followers.
● Geotagging Locations in India
Besides hashtags, you can use geotags – the city you're in or the venue you've taken photos or videos to boost local discovery. Locations have both their own Instagram feed and story. That's why people can catch your account when searching for nearby locations.
Leverage Indian Festivals and Cultural Events
Thinking about how to get Indian Instagram followers fast? You can try Instagram Live to run a successful marketing strategy. It can be Indian festivals or cultural events which allow others to connect and engage with you and other people at the event. When you start a live video stream, followers are notified to check it out.
Note: You can upload it to your story for up to 24 hours and add band hashtags for more followers and likes.
Collaborate with Indian Influencers and Users
As per statistics, 60% of consumers follow a brand on IG when a trusted or popular influencer promotes it. That's why you can partner with niche-relevant Indian Instagram influencers. After that, you achieve higher engagement rates from their fan followers to new audiences who visit your account.
Utilizing Instagram Growth Tools [fast way]
You can get many Instagrammers in India by creating content and uploading eye-catching photos and videos. But the question is: how to grow Instagram faster and more securely?
Of course, by boosting the exposure of your account in a natural and organic process, you can get active Indian users. Among many other Instagram followers and likes apps, Real Followers UP + is the most popular, which helps you to reach in front of more than 800K+ Indian Instagrammers.
What is Real Followers UP + and Why do you use it?
Real Followers UP + is a free, safe, and bots-free app that offers real-time insights with active followers and likes to your account. This app lets you quickly and authentically increase your Indian Instagram account. All you need to do is install it on your device.
After installation, you get free coins. For more coins, you need to perform simple tasks like following other real Indian Instagram IG accounts and liking their posts. Also, you can exchange coins with real Instagram followers & likes.
What's more? Let's explore its benefits below:
User-friendly, easy-to-navigate, and well-designed app.
Get 1K, 10K, or more free & real Indian followers.
No human verification, survey, or password is required for installation.
Ads & Bots-free app.
Secure your personal information from being leaked.
Cost-effective & 100% instant followers in your account.
Want to install Real Followers UP + now? The steps are pretty easy to follow.

Step 1: Install the Real Followers UP + app for your Android phone.
Step 2: Sign up with your email address and log in.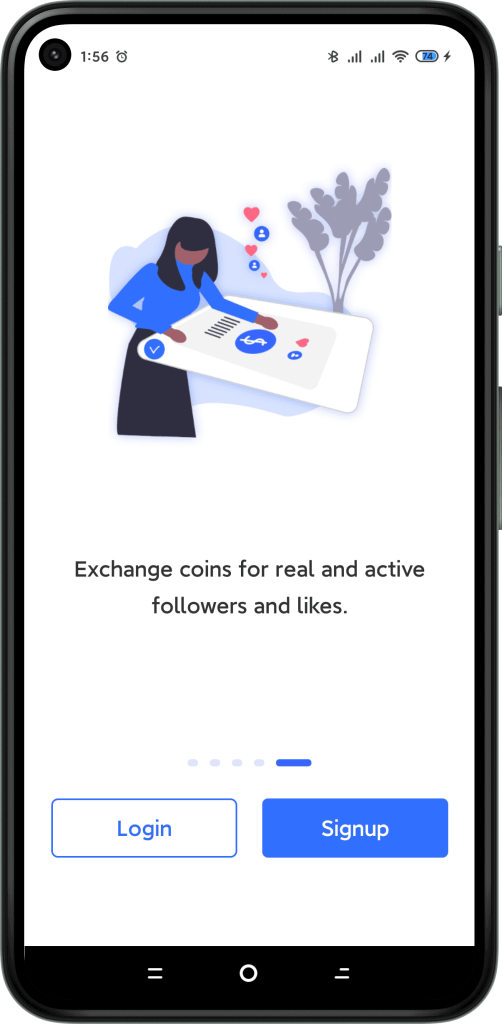 Step 3: Add your Instagram username to get access the app and get 200 coins instantly.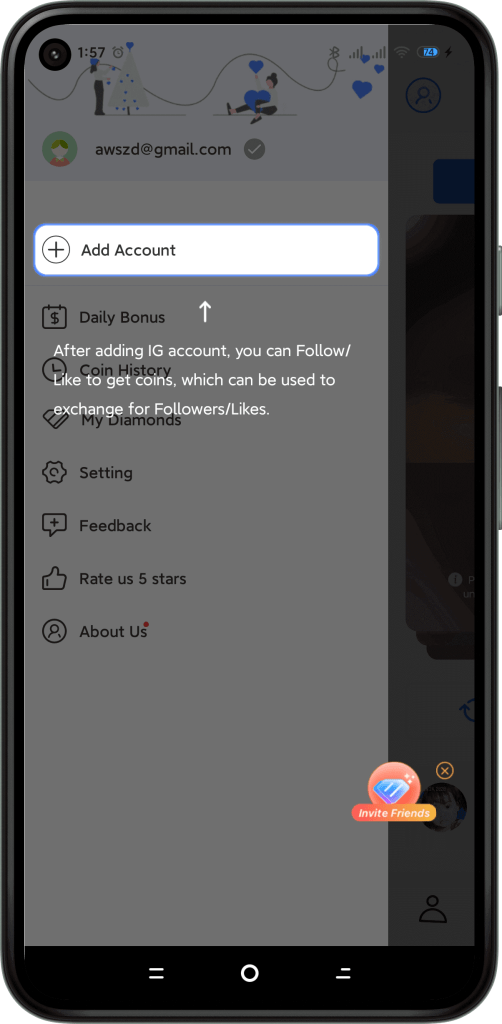 Step 4: After signing in you will get plenty of new Indian followers into your account. Only you need to follow/like.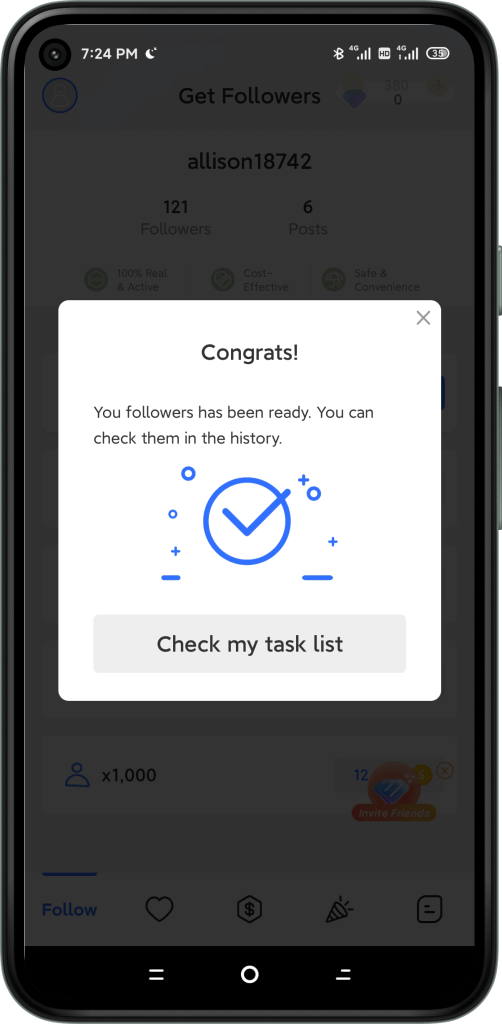 Main features of Real Followers UP +:
Real and Authentic followers/likes: Don't need to worry about thinking of Instagram fake followers. Without any bots, it provides you with real Indian followers and likes that enrich your Instagram growth.
Safe and Secure: Real Followers UP + Instagram follower/likes app is a virus-free platform with advanced encryption technology that keep your data safe. No leak, no hack, and no password are required.
Banned Risk-free: It prohibits fake Instagram accounts if, once detected, it is banned instantly. That means without any penalty and violating Instagram algorithm rules, you increase your followers/likes in your account.
Cost-effective and Instant 24/7 support: After installation, you get extra coins and provide specialized support whenever you need any help.
Top 5 Alternatives to Real Followers UP + for Indian Instagram Followers and Likes
There are many types of IG followers sites and apps to get more Indian followers on Instagram. Taking advantage of these tools, you get various techniques, followers, and likes.
Apart from Real Followers UP +, here we've enlisted the top 5 popular tools that work great to get free Indian Instagram followers and likes to your account.
Let's take a look at the best ways to increase Indian Instagram followers below:
Site/App
Real Followers/Likes
Best For
Features
Availability
SocialMax
Yes
Best online Instagram followers application
● Get precise Instagram followers and likes instantly.
● Risk-free boost your account and get fame instantly.
Android
Follower Reporter
Yes
Best Instagram followers and Likes app
● IG account insights
● Latest & hot hashtags.
● Real & organic followers/likes.
Android
INSUP
Yes
Best Instagram followers app for iOS
● Easy to get more active and real followers and likes.
● Help to grow your IG account organically.
● No privacy disclosure.
iOS
INSBOOSTER
Yes
Best for getting instant Instagram followers and likes
● 100% secure & no privacy leak.
● Improve IG engagement with fast and instant followers and likes.
iOS
InsTrack Analyzer
Yes
Best for Instagram Analyze
● Real-time & updated IG analytics.
● Hottest post/story suggestion.
● Follower data tracking (new/hidden/ghost).
iOS
Conclusion
In India, Instagram is the most popular and used social media worldwide. So, daily it becomes a challenge for Indian users to grow authentic Instagram followers and likes that stand out in their accounts.
Utilizing the tools Real Followers UP + or others and strategies that we mentioned in how to get Indian followers on Instagram free will help you to achieve success.
What are you waiting for? Just try them out!