Last Updated on July 7, 2023 by Diana
Instagram is one of the most effective and popular social media platforms for businesses, brands, and influencers. If you want to succeed in your marketing game, Instagram's multiple accounts help you to fulfill your goal.
How you can drive customers, manage, or open multiple Instagram accounts? In this article, we'll cover all hacks and secure third-party apps that help you to broaden your business growth and follower count.
Let's get started!
Contents
The Basics of Instagram Accounts
A. What an Instagram account is
As we know that Instagram is a social networking app where you can share photos, videos, and engaging content to attract more potential IG users. The app is available on iPhone and Android. There are three types of Instagram accounts: personal, business, and creator.
The Instagram account refers to a user (brand or individual) profile like yours on this social media platform. You can view, comment, post, and engage with other collaborators or influencers here.
Curious to explore: why do brands or celebrities use multiple Instagram accounts? Let's look at the purpose and benefits in the next section!
B. Purpose and benefits of having multiple Instagram accounts
From creating a successful Instagram marketing strategy to growing follower counts, multiple IG accounts play an important role. Also, it helps to –
1. Separate your personal & professional space
If you have a business or plan to start a new one, it's important to balance your professional and personal life. Also, your potential customers and followers don't want to know how your weekend goes. Their main concern is to know more about your services or brands.
2. Build different product lines or interests
You can slot your audience's requirements by country, specific interests, and others. By doing this, you get more analytical data and access to grow your Instagram follower base.
3. Customize your presence for different local audiences
Audiences in different locations have different demographics, content, and product preferences. That's why big brands emphasize creating multiple Instagram accounts to attract location-based followers.
Setting Up Multiple Instagram Accounts
A. Step-by-step guide on how to create multiple Instagram accounts
Step 1: Sign in to your Instagram profile page. Tap the hamburger icon & then settings.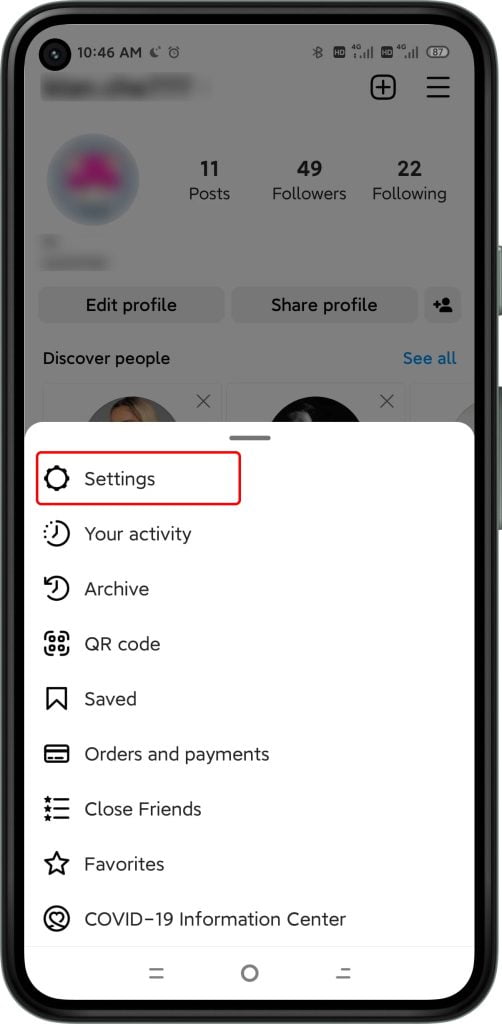 Step 2: After that click the "Add account" option.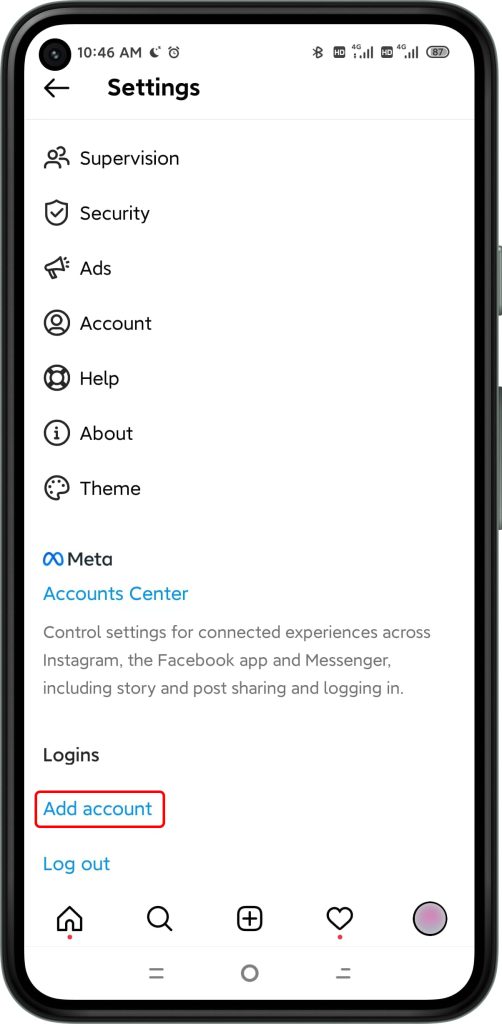 Step 3: Select "Create New Account".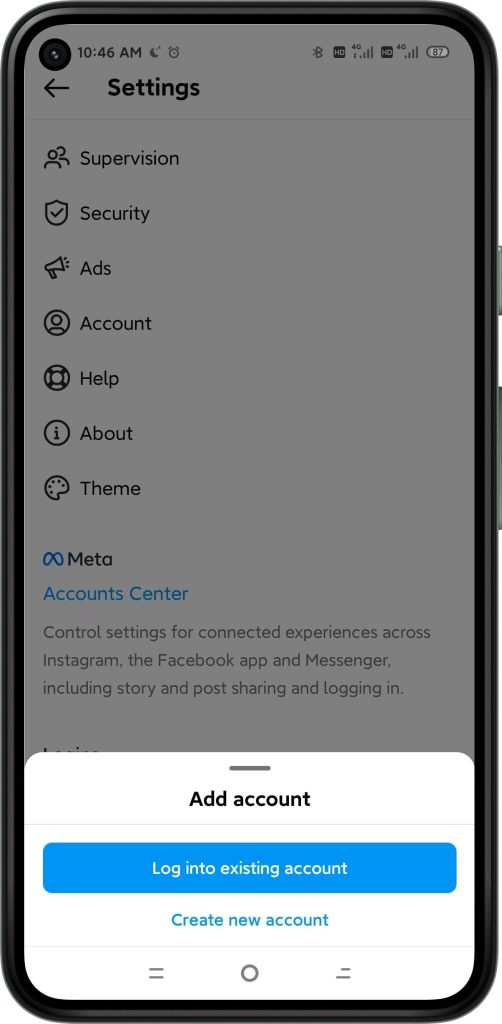 Step 4: Now choose a new username & password for your account.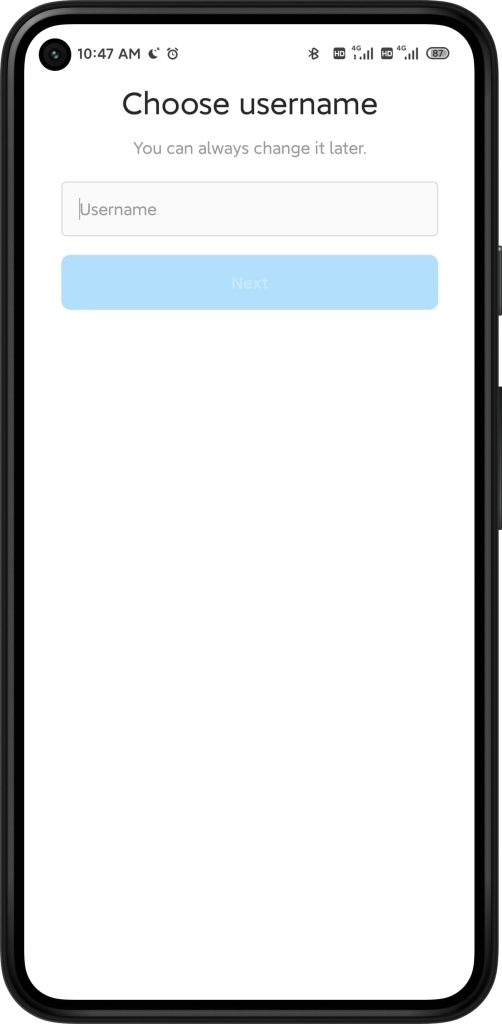 Step 5: Add a new phone number or email address & then click the "Next" button.
Step 6: After that, click Complete signup.
Now you're all set and enrich your new IG account. After adding a new account to your IG app, you will receive notifications from all profiles. However, you can manually turn off notifications.
B. Tips for setting up unique and engaging Instagram accounts
Who doesn't want to increase Instagram engagement? Let's try some expert-suggested tips for setting up unique and engaging IG accounts!
Create valuable content – Try to offer eye-catchy and unique content per IG accounts to categorize your multiple accounts.
Write strong captions – Pay attention to IG captions (up to 2,200 characters long) per account and highlight your brand's uniqueness.
Answer DMs & comments – Build strong relationships and grow your community by replying, answering, commenting, etc.
Use the hashtag and location tags – For making highly searchable and top feed posts, add niche-friendly hashtags. Also, you can gain new followers in your area by using geotags.
Get creative with IG stories & Reels – One of the most easiest and notable ways is to leverage the advantages of IG Reels, stories, etc. Also, you can try to repost user-generated content from other collaborators, brands, and so on.
Managing Multiple Instagram Accounts
A. Detailed guide on how to switch between Instagram accounts
After opening multiple IG accounts, you may think about how to switch between them. Let's check out multiple Instagram accounts switching steps below:
First, log in to your Instagram profile and tap your username in the top left.
Here, a pop-up window will open showing multiple logged accounts of yours.
After that, choose which account you want to switch or use.
Now, you can post, comment, like, share, and engages as much as you like.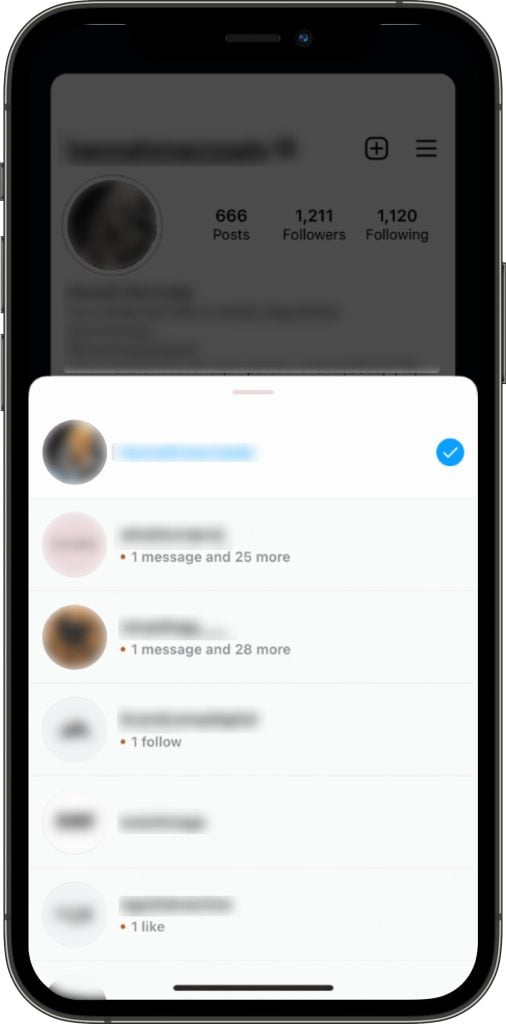 Note: If you want to switch to another account, tap your username and select the account you want to use.
B. How to manage notifications for multiple Instagram accounts
You might have multiple Instagram accounts and face several notifications from different profiles in a single day. However, you can turn on your primary account to manage this situation.
As per the Instagram help center, we've highlighted all possible ways below:
First, log in to your IG account & tap the bottom right profile picture. Here, a pop-up window will open showing all your IG accounts.
Now, select the account for which notifications you want to manage or off.
After that, tap the profile picture that appeared in the bottom right & click the three lines top right.
Select the "Settings" option & tap the "Notifications" option.
Now, you can turn on the "Pause All" toggle bar.
Note: The option helps you to maintain notifications for up to 8 hours.
Also, you can select "Posts, Stories, and Comments" or others to manually manage notifications on particular options.
Check out the video for details.
C. Tips for posting and engaging with followers on multiple Instagram accounts
There are countless popular Instagram features, hacks, search options, and settings that take your Instagram marketing game to the next level. Let's dive into those trendy features together!
Reels features
You can share Reels up to 60 seconds long and search them by audio or song. As a creator, you can use the "remix" feature to create a unique content mix, like reactions.
Stories feature
Take advantage of Instagram story highlights that last up to 24 hours on your profile. Also, you can add stickers, create polls, and use AR filters to make eye-catchy visuals.
Shopping features
From tagging products to adding a checkout option, you can attract more potential audiences to your profile.
Video features
You can enable live streams or use IGTV to give users the ability to share your videos to their profiles or tag others.
Design features
For making interactive accounts, you can add special fonts, characters, filters, and other aesthetics.
However, apart from these tactics, focus on Instagram SEO and business features to increase your reach.
Using Third-Party Apps to Manage Multiple Instagram Accounts
Overview of popular third-party apps for managing Instagram accounts
Browser
Price: Starter (Free up to 10 browser profiles), Entrepreneur ($29.99), Professional ($79.99), and Multinational ($149.99)
It is one of the most popular anti-detect browsers with a built-in capacity that allows you to manage multiple Instagram accounts within one single interface. Also, you get each user profile or account browser fingerprint to identify your device and match it with yours.
Want to operate multiple IG accounts for clients? You can do that seamlessly. However, you can try different packages to work as a team and fulfill your demands.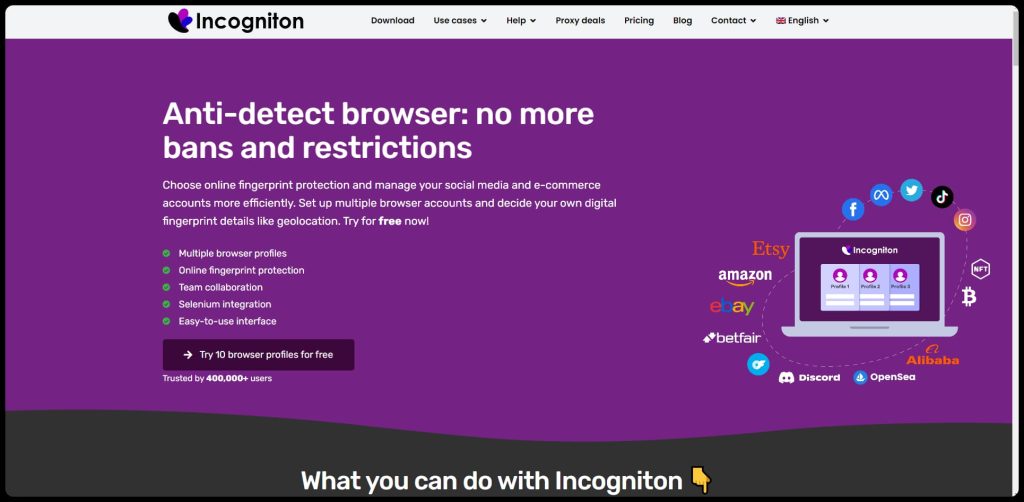 Features
Multiply your reach & share profiles (as teams)
Easy-to-use user interface
Secure & ban-free
Automate browser tasks
Sync your account data across devices
Price: Monthly ($47) and Yearly ($490)
Session Splitter is another industry-leading anti-detect browser for multiple Instagram account management. Like Incogniton, it also provides fingerprint security for each account. You can get Bypass restrictions or limitations imposed by different websites.
That means you will not experience any web tracking or security systems hacking. In short, it eliminates multiple computer uses and gives the highest level of anonymity. Also, you can disable 3D APIs (WebGL and Pepper 3D), and change geolocation, timezone, etc.
Features
Prevent IP leaks & disable WebRTC
Allow multiple browser profiles
Team collaboration, professional-level automation, and so on
Interactive user interface
Proxy authentication, tab session manager, block ads, etc.
Price: Pricing starts at $100/month light version, Pro $500/6 month, and Premium $900/12 months.
Like other anti-detect browsers, Linken Sphere comes with a substitution of prints (GPU, Canvas, Fonts, Plugins, Ubercookies, etc) and provides fingerprint protection systems. By forming a unique user profile, the browser protects you from hacking, identification, etc.
However, you can set Useragent, HTTP headers, js.navigator, and many other advanced configurations. Each tab allows different configurations and network connections (SSH tunnel, TOR or TOR + SSH, etc.).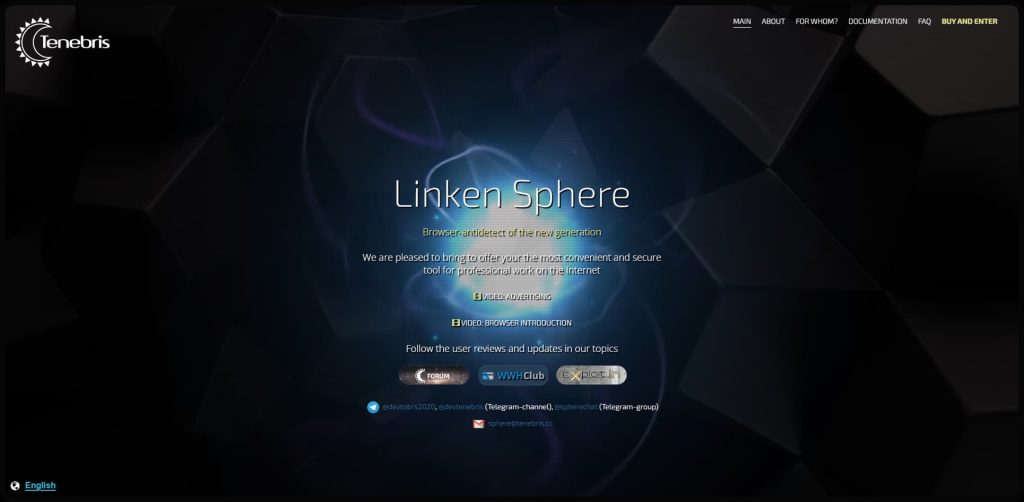 Features
Fingerprint protection
Prohibit buggy proxies
Allows to use geolocation, system time, user agent, and language
Works in OTR mode
Allows TOR proxy
Price: Free trial is available
With GoLogin, you can effectively create and run multiple Instagram, Amazon, eBay, TikTok, and other social media accounts without any ban risks. Here you explore browser identity management platforms that help to hide your confidential data. You can also use TOR Proxy in this browser.
However, GoLogin provides free proxies worldwide and there are no security issues you face. Here you can create different profiles that don't overlap with each other.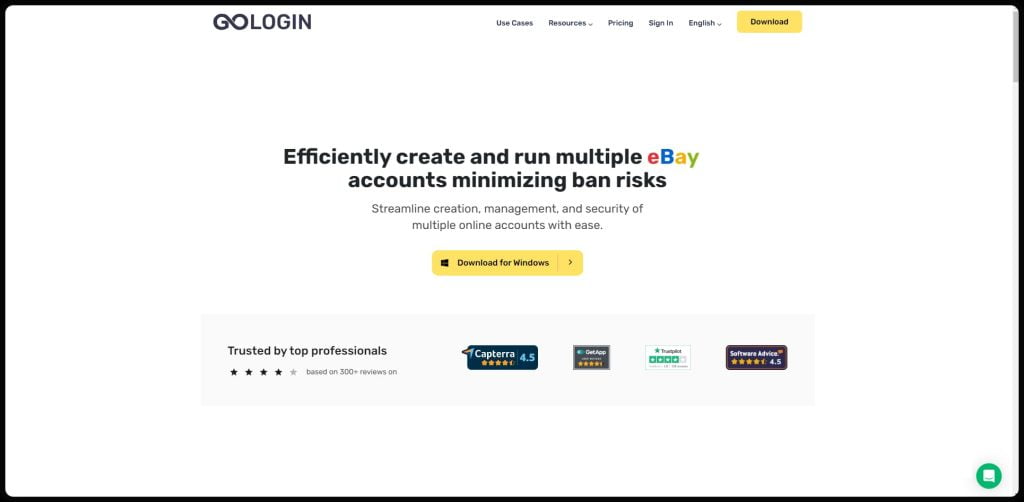 Features
Proxy insertion
Export cookies
Profile transfer & pin
Android fingerprint support
Save & restore sessions
Price: Free
Another anti-detect browser is ClonBrowser which securely manages different social media accounts like Facebook, TikTok, Web3, and other 100+ platforms. No privacy leakage, tracked and linked. Support standard HTTP/HTTPS, SSH, and Socks5.
By using this browser you can cut extra costs and increase efficiency. However, massive automation templates are available in this browser.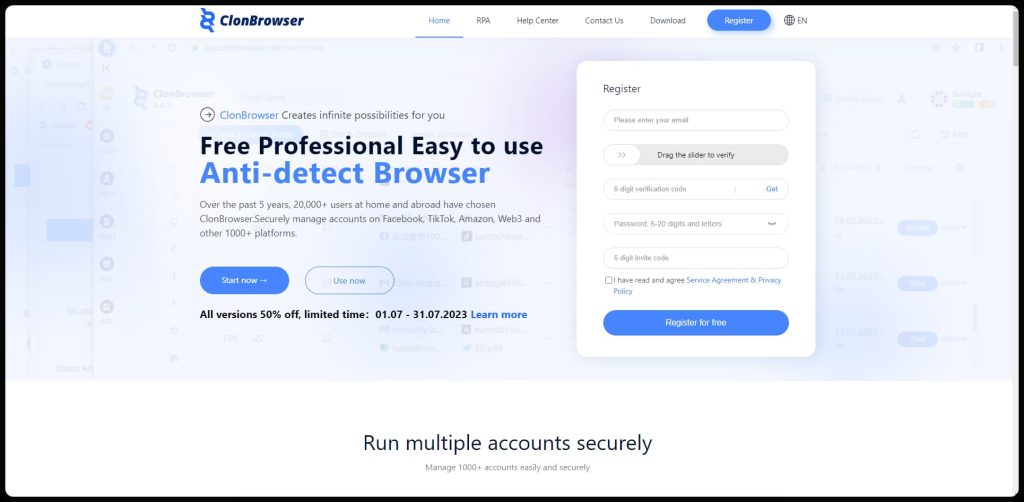 Features
30+ advanced fingerprint controls
Sync option across all devices
Create, edit, and delete configurations
Cookie synchronization
Multi-protocol support (SS/Vmess/Trojan)
RPA automation
Saas
Hootsuite (Web, iOS, Android)
Price: 30-day free trial, Professional (€99/month), Team (€249/month), and Business (€762/month)
Are you searching for a powerful Instagram marketing tool where you get all trendy features like post time, content plan, schedule, and publish automatically? With Hootsuite, you can get real-time analytics and take control of customer experience. Also, you can take control over 35 additional social media platforms.
However, marketers like you can optimize their product images and videos with different filters, video content, etc. The app allows users to utilize your content with proper IG hashtags.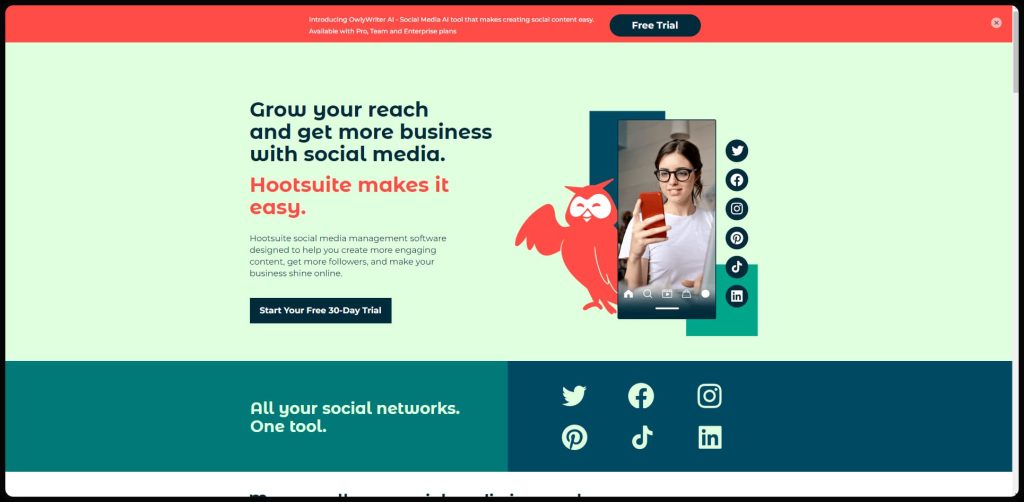 Features
Workflows
Inbound/outbound tagging
Post scheduling
Access to messages
Social ads analytics & reporting
Buffer (Web, iOS, Android)
Price: Free (allow 3 channels), Essentials ($6/month), Team ($12/month), and Agency ($120/month)
Buffer is another most-demanding Instagram marketing tool that has been tested and trusted worldwide. You can use it to schedule and plan your social media posts, i.e., Twitter, Instagram, Facebook, etc. With a premium plan, you can use an Instagram stories schedule or embed a shoppable IG grid on your website.
Like web development software, Buffer provides a user dashboard so that you can focus on your multiple Instagram accounts in one place. Also, you get detailed analytics of your posts' performance.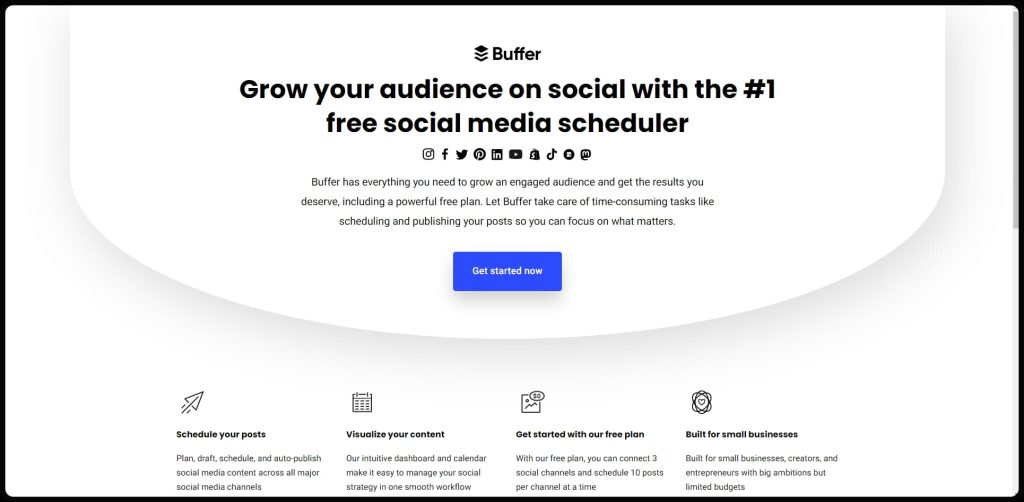 Features
AI assistant
Landing page builder
IG accounts analytic reports
Engagement tools
Custom access
Later (Web, iOS, Android)
Price: Growth $40/month, Advanced $80/month, and Scale $200/month
From global brands to small businesses, Later is the most trusted and popular social media management platform. With this tool, you can plan, analyze, schedule, and publish content in advance. This app allows you to explore trendy hashtags, share UGC content, drive traffic to your online shop, etc.
Also, you can measure your progress via Later Analytics and get insights (competitor & audience). From suggesting the best time to post to user tagging, you get unlimited media storage.
Note: Later offers Instagram feed previews before publishing and a handy content calendar.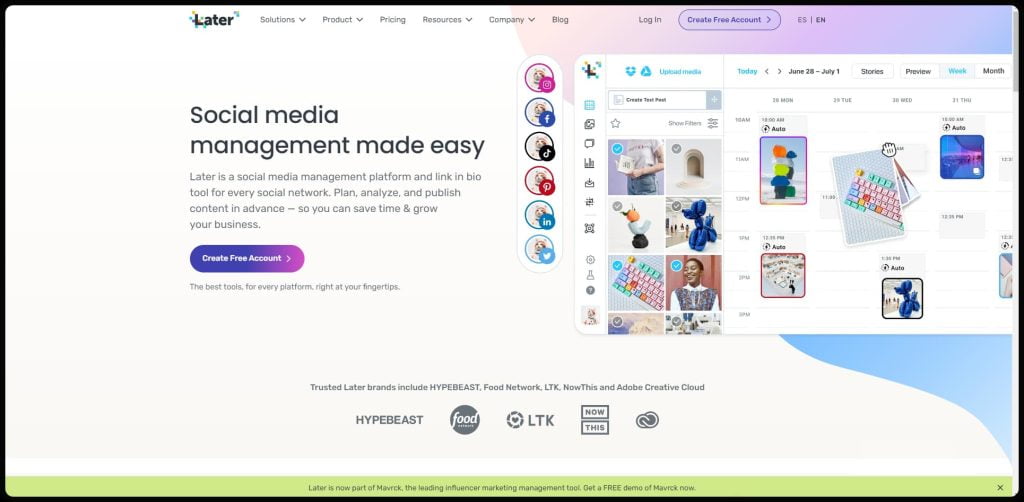 Features
Customizable Linkin. bio page.
Creators and brands collaboration tool.
Real-life analytics.
Team and brand management tools.
Live chat support.
Price: Standard $249 per month, Professional $399 per month, Advanced $499 per month
Sprout Social is an all-in-one social media management platform that unlocks and transforms your social marketing strategy. It is awarded as a top-tier software review site. However, you can perform several tasks like engagement publishing, scheduling, analyzing, listening, etc.
If you want to fulfill your Instagram marketing goal, this tool is the best choice to connect with different social media platforms (Facebook, Twitter, etc.). AI-driven technology, built-in intuitive workflows, and upgraded business strategy make it more popular.
Features
Analyze Instagram posts.
Help in post-scheduling, monitoring hashtags, and boosting online presence.
Monitor social networking via desktop web browsers or mobile apps.
Audience discovery.
Trend identification, competitor comparison, campaign analysis, etc.
Planoly (iOS, Android)
Price: Starter $11.25/month, Growth $20/month, and Professional $36.50/month
Are you searching for a tool that connects you with Instagram, Facebook, Twitter, and others? Planoly is a popular and trusted third-party Instagram marketing app with multiple team collaborations and helps keep your plan organized.
That's why brands, businesses, and influencers love to use this tool worldwide. It is an all-in-one solution where you can visually draft, plan, schedule, manage, and publish content.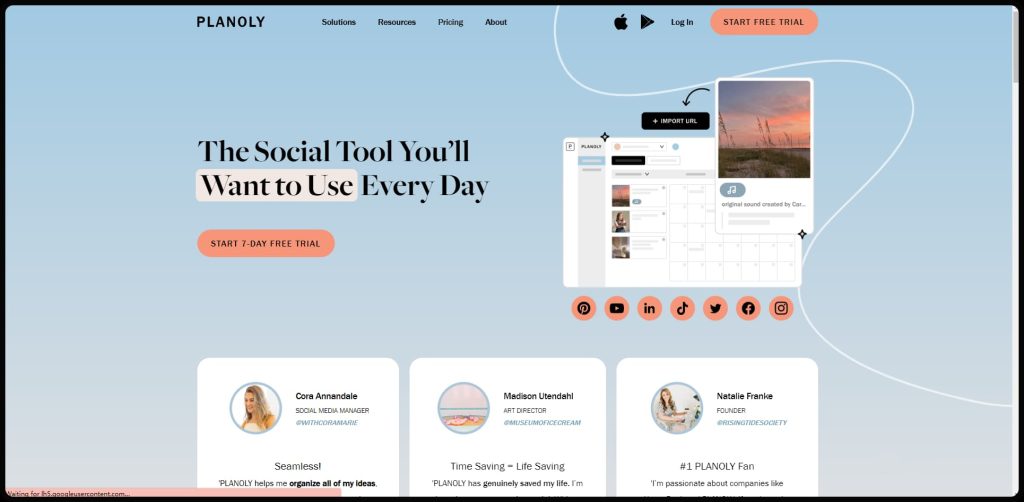 Features
Provide trendy content ideas.
Engaging captions and customization options on different social media platforms.
Collaborate with clients and teammates.
The auto-post feature is available.
User-friendly interface and effective tool.
B. Pros and cons of using third-party apps
| | | |
| --- | --- | --- |
| Highlights | Pros | Cons |
| 1. Save time & cost | Help to cut extra hiring costs & benefits to plan, schedule, manage interactions, etc. | Some third-party apps are so expensive. |
| 2. Boost brand awareness | Automatic post publishing and creation by maintaining the brand's voice boosts the brand's growth. | Sometimes, you may face uncertain update issues and bugs. |
| 3. Data privacy | Popular apps like Hootsuite, Buffer, Later, and others provide extra security. | Unauthorized third-party apps risk your profile ban and hack essential data too. |
| 4. Team collaboration | You can collaborate with clients and teams on a particular project. | |
| 5. Promote trendy Instagram marketing hacks | Provide niche-friendly hashtags suggestions, captions ideas, visual aesthetics, and others. | |
C. Step-by-step guide on how to use Saas apps to manage multiple Instagram accounts
Hootsuite
Step 1: Sign up or Log in to your Hootsuite dashboard.
Step 2: Click the top left corner profile photo and select the "Social Accounts" option.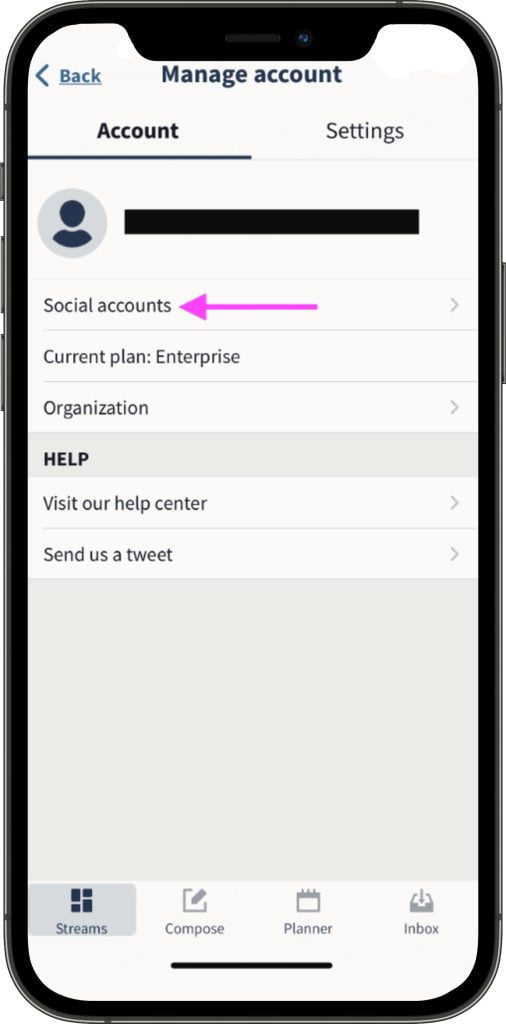 Step 3: Tap the "+" button top right corner to add multiple IG accounts
Step 4: Log in through Facebook if you choose an Instagram business account.
Step 5: Repeat the steps for adding each IG account to Hootsuite.
Buffer
Step 1: Install Buffer Android or iOS app.
Step 2: After creating an account tap the "Connect a New Channel" and select the Instagram option.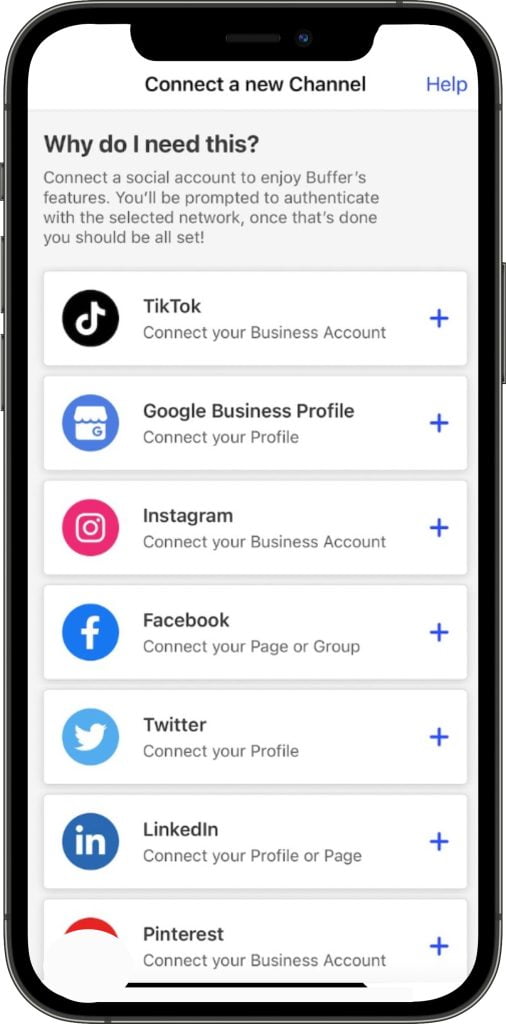 Step 3: After that, log in to your IG account. For adding multiple channels, tap the channel menu (3 horizontal lines) top right corner and select "Add a new channel".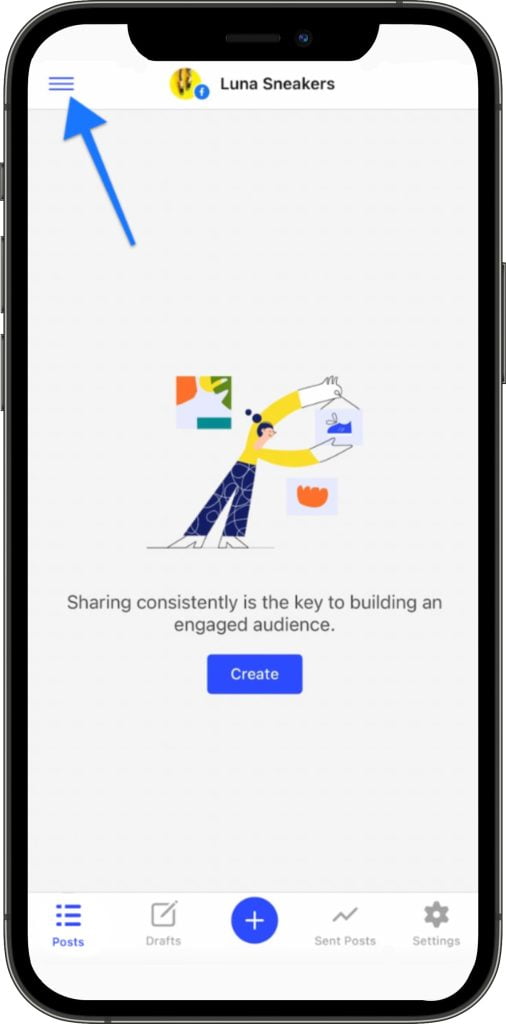 Later
Step 1: Install Later's Android or iOS app and tap "Account" at the bottom right.
Step 2: After that, tap Social Sets and Connect to access the next Instagram or other social profile.
Step 3: Follow the Later login prompts for your profile authentication.
Sprout Social
Step 1: Sign in or Log in to your Sprout Social account.
Step 2: For creating multiple profiles click the "Add profile" button top right.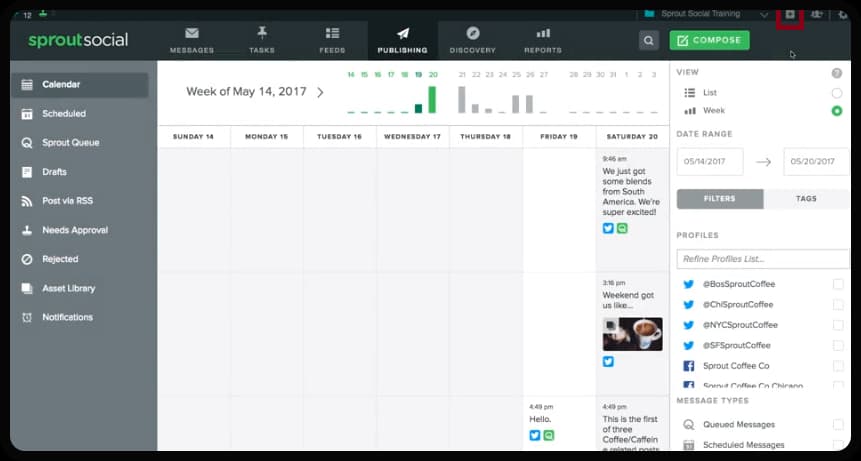 Step 3: Select Instagram social media icon to add your multiple IG profiles and tab the "Add your Instagram profile" bottom right.
Planoly
Step 1: First, install the Planoly app on your device and sign up by filling in the Username, Email address, and password.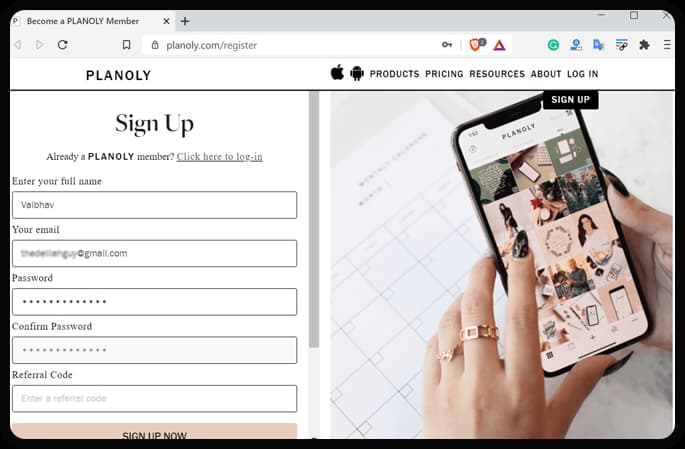 Step 2: After that link with your IG account by selecting "Link Instagram". After that click the "Link Via Instagram" button. You will redirect to IG's authentication page.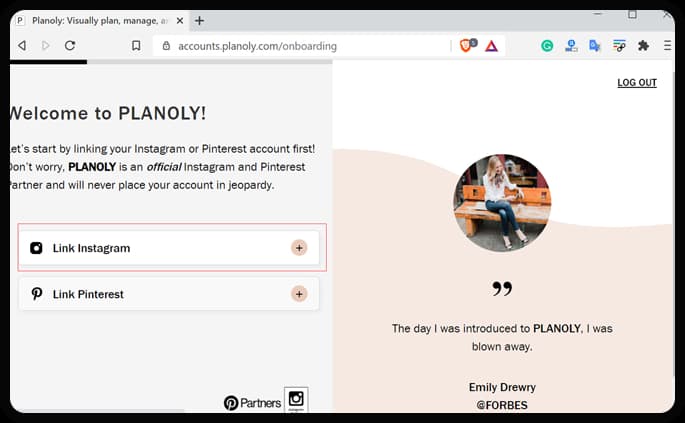 Step 3: Select a suitable description and allow Planoly to create a new IG profile. You can choose multiple options (freelancer, publisher, service, etc) or can personalize your experience.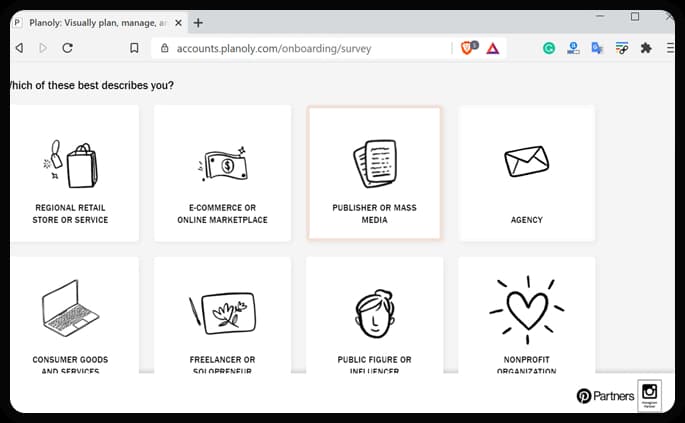 Best Practices for Managing Multiple Instagram Accounts
A. Tips for maintaining consistency across multiple Instagram accounts
A consistent brand gives strong vibes among its customers, like, they're reliable, trustworthy, and offer a high-quality experience. Let's check some proven and tested tips for managing consistency across multiple IG accounts!
Create an effective social media strategy: Develop a guide that outlines your business or brand's voice, goals, visual aesthetics, target audience, and so on.
Develop/plan content & posting time: You need to create unique content and plan peak hours to maximize engagement.
Engage consistently: Comments, reply messages, and mentions provide the same level of engagement with your followers worldwide.
Monitor & Analyze performance: Keep yourself updated by tracking and analyzing your social media metrics.
Highlight local events: Showcase local events or campaigns by maintaining your brand voice.
Pro Tip: You can take advantage of Instagram marketing tools where you get audience insights, the best time to post, etc.
B. Strategies for growing followers on multiple Instagram accounts
If you want to build your Instagram marketing strategy and earn more potential followers in the right way, follow our best tips below!
First set up your multiple IG account by defining account purposes, brand tone, and others. For this, you need to go through your IG bio (search-friendly username), professional profile picture, and bio link to encourage meaningful interactions.
If you want to stick with your posting schedule, content idea, posting time, and other setups it's wise to use a content calendar.
Engage with brand ambassadors, creators, and influencers
Partnering with influencers helps to grow your audience. Also, you can attract the eyeballs of their fan followers.
Leverage the advantage of posting similar content across different social media platforms like Facebook, Twitter, TikTok, etc. It could be a short-form video, a lengthy tutorial, and anything.
Fake ones damage your Instagram account growth and demotivate your potential followers. So, pay attention to buying IG followers through third-party apps.
Note: If you plan to enrich your followers count, try GetFollwerUp secure and ban-free apps like IGSights, Follower Reporter, etc.
C. Advice on handling potential challenges when managing multiple Instagram accounts
When you deal with multiple business profiles, it's crucial to keep an eye on potential challenges to maintain engagement and consistency. Let's check out below:
Wrong postings to the wrong account
The most common and major challenge you face is to slot postings per account. It damages both brand's reputation and collaboration with influencers. So, it's important to keep a tight view of every content type and account.
Different best practices & posting times
From B2B businesses to restaurant owners, everyone's goal is to increase business growth, higher engagement rates, and revenues. So, finding out the best times for each niche consumer and client is more challenging. It's wise to use Instagram insights to see the target audience's active time and other demographics.
You may struggle with a flurry of messages when you deal with several Instagram accounts which demotivate your audiences and lead to lost inquiries. You can use third-party apps to deal with these uncertain issues.
While you analyze Instagram analytics data for measuring account growth, it may lead you to a hectic task. That's why plan your marketing strategy, like which account you use to sell products.
Case Studies of Successful Management of Multiple Instagram Accounts
A. Showcase of brands or individuals who have successfully managed multiple Instagram accounts
It is one of the most popular cosmetics brands on Instagram with 21.5M followers. They run multiple IG accounts, i.e., @sephora_india, @sephoraitalia, @sephoracanada, and many others. Their main goal is to cater region based customers' needs by emphasizing the local style.
It is the most demanding coffee worldwide with 18M active followers on Instagram and other social media. They also run multiple IG accounts, like @starbucksindia, @starbucksthailand, @starbucksjobs, and so on. Every account's goal is different, i.e., Starbucks Jobs highlights employment opportunities, education support, etc.
B. Lessons learned from these case studies
Sephora
Uses different accounts to maintain consistency, engagement, and reach among its audiences per niche worldwide. Also, to create a unique strategy for different accounts, they figure out the best types of posts and the times of day that get the most visibility.
Starbucks
They run different accounts to separate their employer brand efforts, job opportunities, and other activities from their marketing efforts. Every account fulfills different and particular audiences' interests by posting unique content.
Conclusion
Now that you've enough resources and apps to manage multiple Instagram accounts, it's time to boost your brand by opening yours. Have any more suggestions, experiences, or questions about Instagram's multiple accounts? Feel to share in the comment sections. For more Instagram account management follow or subscribe use.
FAQ
1. What are the benefits of having multiple Instagram accounts?
Having multiple Instagram accounts, you can earn more visibility, follower engagement, collaborate with other brands, influencers, and many others.
2. How can I switch between my multiple Instagram accounts?
You can switch your multiple Instagram accounts via your IG username. When you tab your username it opens up multiple logged-in accounts and you can select any to use.
3. Are there any third-party apps that can help manage multiple Instagram accounts?
Yes. There are secure browsers (Incogniton, GoLogin, etc.) and third-party apps (Buffer, Hootsuite, etc.) that help to manage multiple IG accounts in one place. For in-depth details and other popular apps, you can check out our listings.
4. What are some best practices for managing multiple Instagram accounts?
The best practices for managing multiple Instagram accounts are:
● Schedule & plan your posts,
● Be specific between brands & personal,
● Set goals for each individual account,
● Take advantage of Instagram marketing or social media management tools,
● Switch accounts whenever necessary,
● Make a proper Instagram marketing strategy, and so on.
5. Can you provide examples of the successful management of multiple Instagram accounts?
Nike Women, Nike Basketball, Nike Running, and many others of subaccounts they run on Instagram. In fact, their goal is to share specific interests and content with particular niche audiences.