Last Updated on July 18, 2023 by Diana
Instagram is one of the most popular and giant social media platforms where you find out lots of brands and creators. As an Instagram marketer, your goal is to drive more followers and generate sales by improving brand awareness.
Like others, you may also look for ways or tools to achieve the best Instagram marketing performance. In the hope of helping you, we will introduce you to the top 12 best Chrome extensions for Instagram marketing in 2023 that help to promote your business.
Contents
Understanding Chrome Extensions for Instagram Marketing
Google Chrome extensions are programs built on web technologies, like HTML, CSS, and JavaScript which help users to customize their browsing experience. It allows you to explore new features and give you the ability to modify the existing functionalities of the program to make it more convenient.
However, these software or applications run independently and are secure to use. You can get Instagram or other social media marketing extensions from the Google Chrome web browser.
How these extensions can be used for Instagram marketing
Who doesn't want to connect with a large audience, increase brand awareness, and boost sales? Like others, your goal is to promote your brand on Instagram to supercharge your e-commerce business.
Let's look at some hacks below on how you can use these extensions:
Use extensions to schedule your posts, photos, and videos so that you get enough time to provide high-quality content.
You can use extensions to find out niche-friendly influencers.
If you collaborate with IG influencers for more reach, extensions help you to analyze and monitor their overall engagement rate.
You can audit influencer collaboration with other brands.
Extensions are helpful for analyzing your target audience so that you can build a strong relationship with them and find out what they're interested in.
You can use extensions to download content, videos, and photos so that you can repost or share them on other platforms for marketing purposes.
You can auto-reply or schedule DMs.
Importance of using the right Chrome Extensions for Instagram Marketing
Instagram Chrome extensions are great for supercharging your IG marketing. Also, it helps in many ways, including –
Save time – Automated tasks like scheduling postings, DMs, and analyzing audience, Chrome IG extensions provide all information instantly.
More reach and engagement – Improve your IG marketing results by increasing reach, engagement, and conversions.
Provide competitor insights – You can get your competitor valuable insights, like which posts or photos earn more engagement.
Multiple account management – With these extensions, you can manage multiple social media accounts in one place.
Collaboration – If you want to work with brands or plan to collaborate with influencers to promote your brand, IG extensions help to find out niche-like creators.
The 12 Best Chrome Extensions for Instagram Marketing in 2023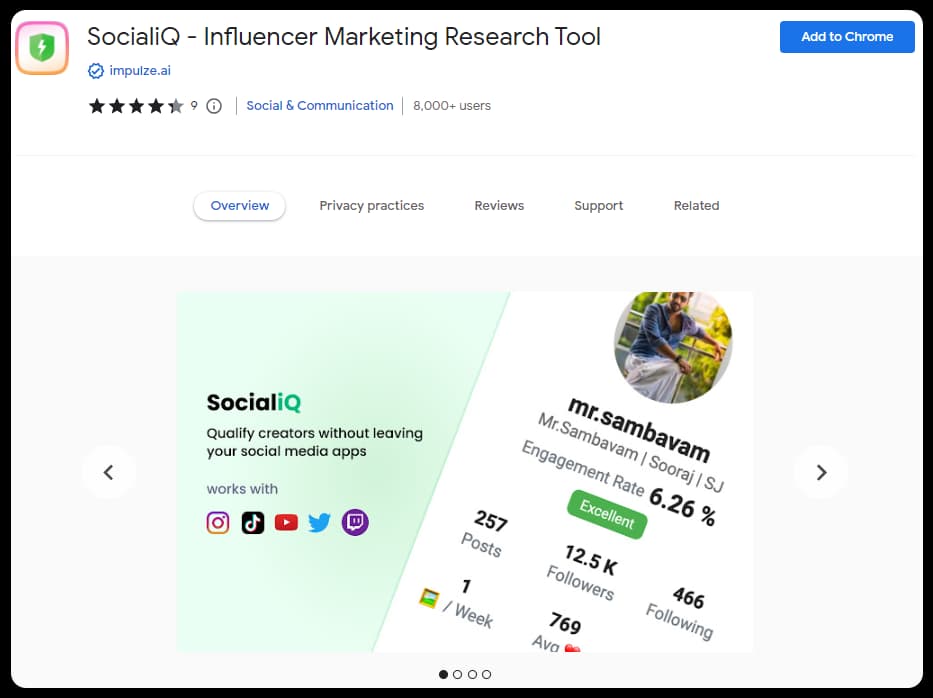 One of the most popular and free IG influencer marketing research tools is SocialiQ by impulze.ai. With this Chrome extension, you can analyze influencers' profiles and maintain or organize influencer marketing campaigns. If you want to save any post, track, download stories, or audit marketing success, you can do it.
In general, you can build your strong marketing database (audience size, engagement rate, average likes, and comments) and analyze the IG metrics simultaneously. The extension is best for all sizes of businesses, freelance marketers, creators, and digital marketing agencies.
Features
Provide influencer profile insights (contact details and other relevant information).
Real-time ROI measurement.
Offer over 30 filters, including creator details, engagement rate, and audience demographics (age, language, location, etc).
Set campaigns and measure the success with CPC, CPE, engagement, and more.
Unlimited profile download opportunities (paid version only).
How it aids in Instagram marketing
Help to create a niche-friendly influencer database.
You can audit through insights (mentions, hashtags, related profiles, likes, shares, and many more).
Allow you to create a content library aggregating content from different social media platforms.
You can monitor and view posts of an influencer account, engagement rate of videos, and posts.
Works for TikTok, Twitter, YouTube, Twitch, and Instagram.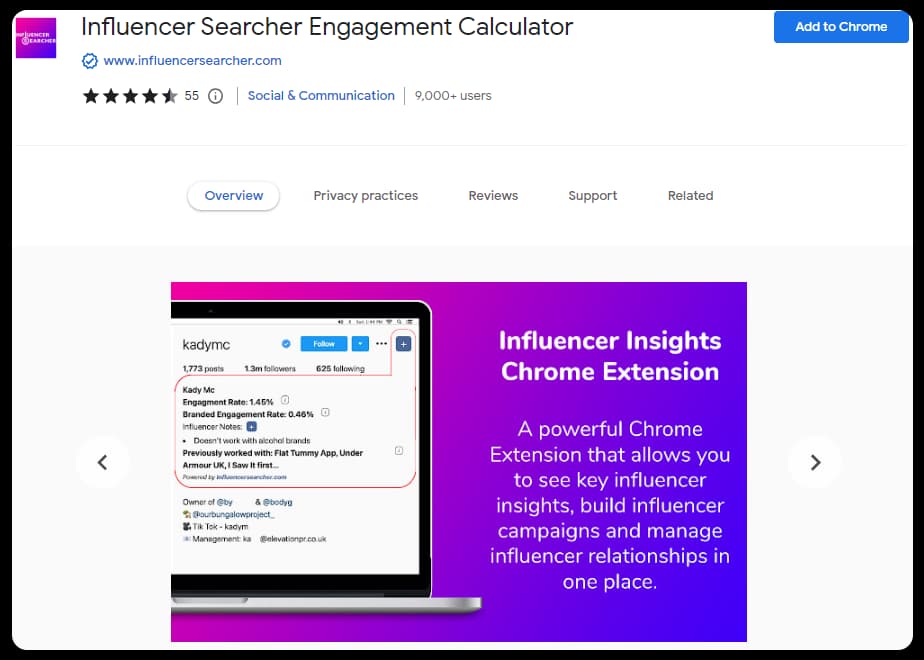 Want to collaborate with influencers to boost your business or service? Influencer searcher Chrome extension simplifies influencer identification and automates overall outreach. It is the best and most demanding tool for organizing and collaborating with micro or macro-size influencers at scale.
The tool is available for iOS, Android, Windows, macOS, and other devices. You get an opportunity to work with Instagram and TikTok influencers. However, it allows you to go through recent posts likes, and comments (up to 6 for Instagram/ 30 for TikTok).
Features
Collaborate with over 50K influencers in different niches (gaming, fashion, beauty, etc).
Database creation and monitoring influencer marketing overall engagement rate (prior brand collaboration).
Risk-free and no credit card info is required.
Create groups and share/feedback (coming soon).
How it aids in Instagram marketing
If an influencer work with brands, you can see their engagement rate with those brands.
Help you to get deeper influencer insights and their potential to drive followers for your business.
Help to build influencer campaigns and audit influencers' every action in one place.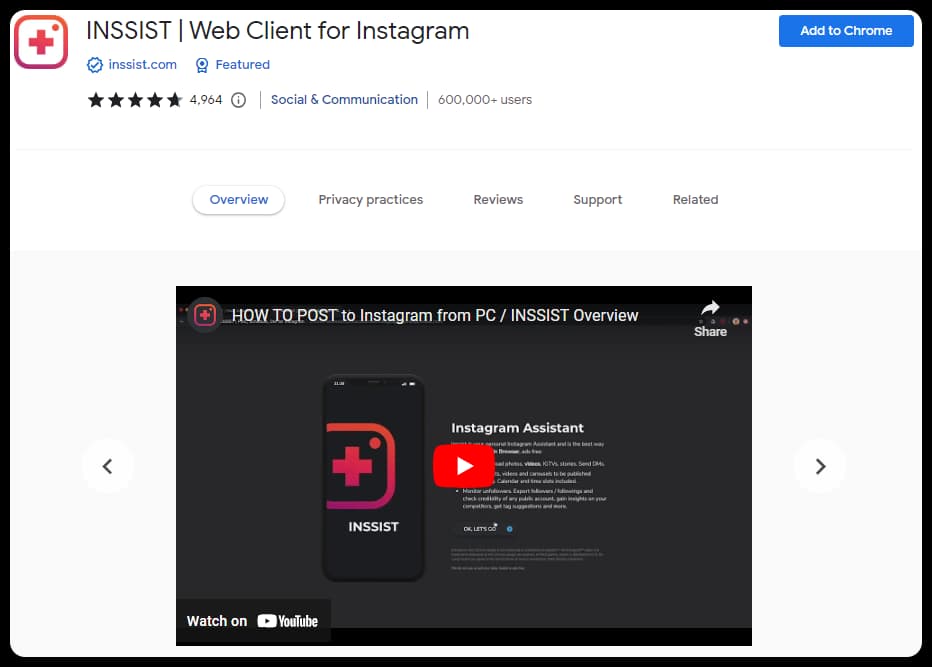 Are you searching for the best Chrome extensions for managing your IG business or brand? With INSSIST, you get lots of advanced features of Instagram without any limits. From scheduling posts, Reels, photos, and carousels to publishing, there are no device boundaries (mobile & PC).
It is known for its instant download and quality. However, its advanced features are available on PC and Mac. With this tool, you get clickable links in comments and a dark theme option is available.
Features
Allow to publish posts, stories, IGTVs, and Reels.
Schedule posts in a calendar or grid or help to pre-plan.
Allow you to manage your hashtag collections and hashtag metrics.
CSV-powered scheduling.
Support multi-account.
Carousels post and schedule opportunities.
How it aids in Instagram marketing
With this extension, you can upload videos from your Desktop without sharing your IG password.
Don't need to use 3rd party app.
Ensure published photos maintain high resolution and quality.
Without mobile app notifications, you can schedule carousels for auto-posting.
The ads-free tool is secure from data hacking.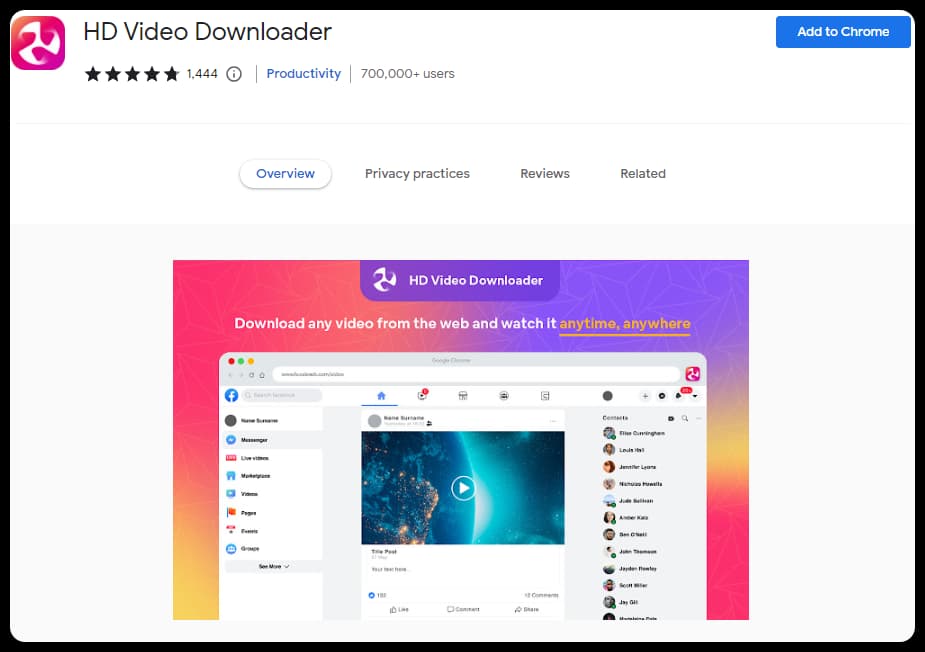 Download your favorite videos, lessons, or tutorials from any website fastly with an HD video downloader. Not only videos, you can download music too without sharing any personal information. The most unique part is, the tool can detect M3U8 files and TS files.
You can choose the video quality, and check the size, and format before downloading. This video downloader is completely free. All you need to select and click the video extension icon to start downloading. For more advanced features, you can try Video Downloader Pro.
Features
Free, fast, and secure to use.
HLS and m3u8 live download.
The preview option (m3u8) is available before downloading.
No registration is required.
High-quality video resolution.
Allow to download video from mainstream websites, including GB, Vimeo, Twitter, Dailymotion, Instagram, etc.
How it aids in Instagram marketing
Seamless video streaming and can enjoy those offline.
Allow to share videos on social media, like Instagram and friends.
HD video downloader helps you to collect your loved and interesting video files for free.
Allow you to gather tutorials, lessons, or video exercises.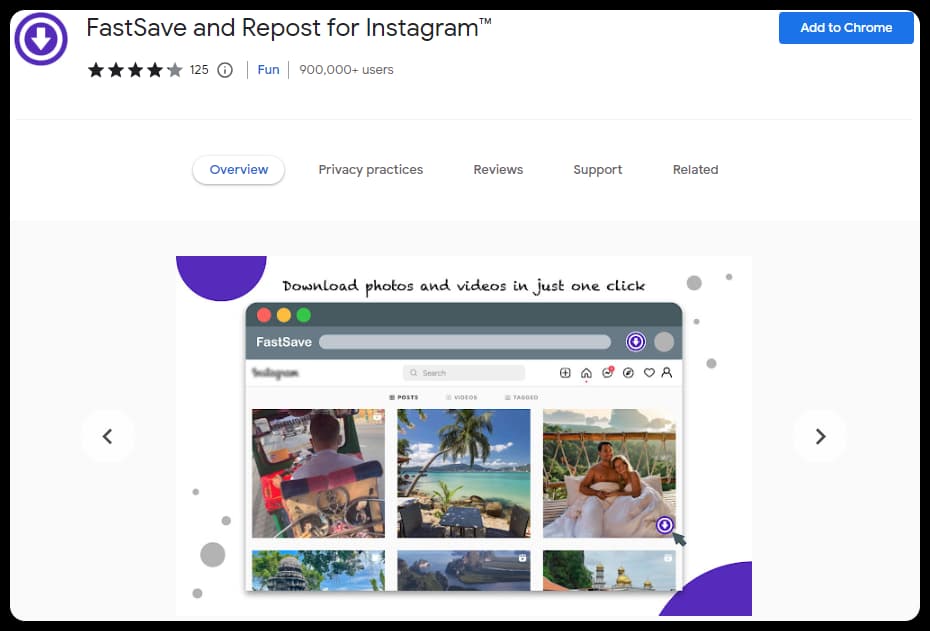 Who doesn't want to boost their new product line or increase their IG followers count for more sales? With FastSave, you can download videos and images from Instagram at any time. 100%free for all types of users and the most loved app with more than 10 million downloads.
However, you can download your favorite ones from different social media platforms and websites. All you need to maintain aspect ratios 16:9 landscape, 1:1 square, and 4:5 vertical format for reposting. Also, ensure you repost your videos or photos within a minimum resolution of 600×315 for landscape, 600×600 for square, and 600×750 for vertical.
Note: Don't exceed 60 seconds in length and do not be larger than 4GB for reposting videos and photos.
Features
Save videos, photos, stories, IGTV, and Reels from Instagram to your device (Desktop & Phone).
Without watermarks allow you to repost IG photos and videos.
Download IG Reels, stories, photos, and videos instantly by maintaining quality.
No risk of getting banned and hacking your personal information.
How it aids in Instagram marketing
Help you to promote your brand, user-generated content (UGC), and popular product items photos.
Diversity your profile, boost more followers and leverage new marketing strategies through this tool.
You can post multiple photos, videos, or mixed content by getting ideas from your competitors.
Support you to download singular videos and carousels multiple videos.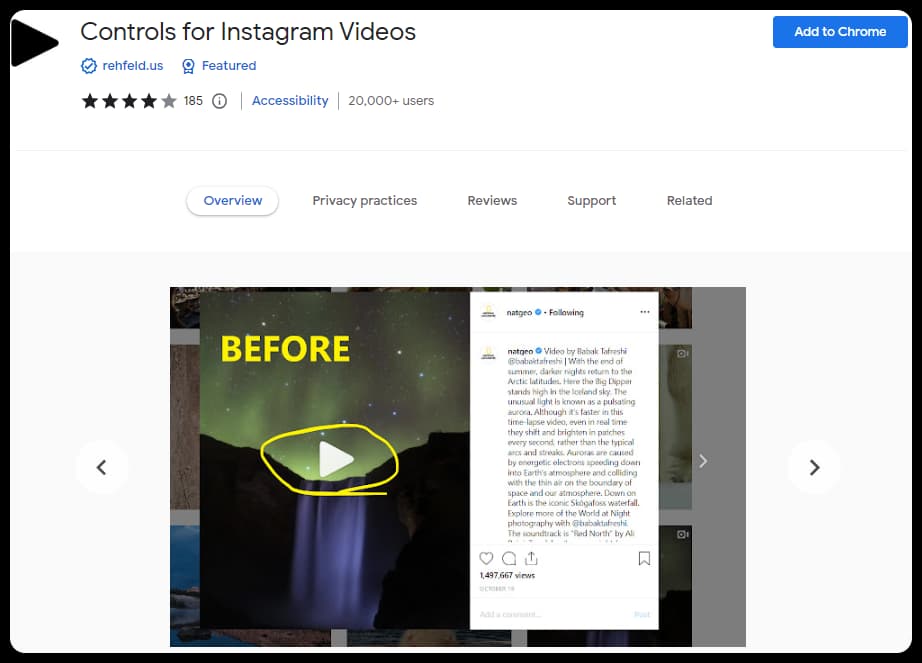 From showcasing your unique product and fulfilling users' demands, videos play an important role. Controls for Instagram videos is one of the most popular Chrome extensions that help you to increase video quality on Instagram. Also, you explore standard video playback controls, including –
HTML 5 video player,
A volume control,
A play/pause control,
Picture-in-picture button,
Fullscreen video button, and
Download button.
This extension tool run and work on all web pages that embed Instagram videos. However, you can control playback speed via hotkey.
Features
Configurable hotkeys control volume and video speed.
Upgrade to manifest V3 but it will not affect any functionality.
Pause the video when scrolling the home page.
Automatically resize video for stories to maintain quality and show off comment/like buttons.
Allow to set video playback speed.
How it aids in Instagram marketing
Help in better reach and discovery by offering high-quality videos.
Help you to make and add all necessary functionalities to your Instagram video content.
Improve compatibility when you work on different sites and social media.
By setting up video playback speed, you get control to show your best video content to your audiences.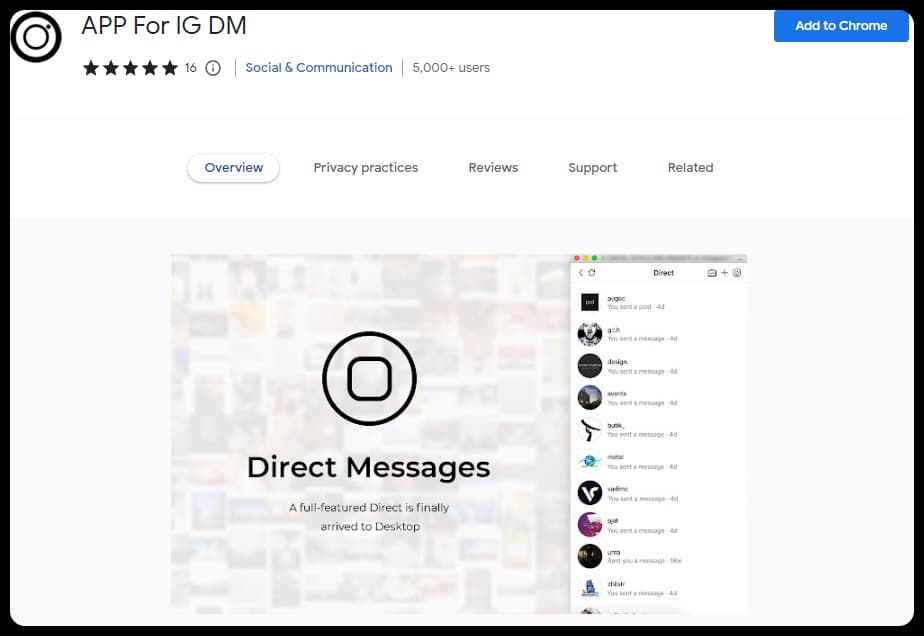 One of the most useful and effective Instagram DM apps is IG DM which allow you to auto-reply to new follower or liker. You also experience customized options. From direct messages to reply and download options, this app helps you to build a strong brand.
With just one click, you can connect with a popular social network, Instagram where you can share your posts, view feed news, and send DMs. Excellent and user-friendly UI attracts most IG users to use this app for communicating with their loved ones.
Features
Full IG mobile web look and feel in one app.
Instagram DM to your friends, brands, or others.
Auto direct message reply to new Instagram followers and likers.
Give you access to multiple accounts.
Download IG photos, videos, stories, and DM from Instagram.
How it aids in Instagram marketing
Allow you to share and exchange text, photos, Reels, stories, and posts with one or more friends.
Help you to collaborate and connect with niche-friendly influencers, brands, creators, and other businesses.
You can share all types of content through these DMs, like videos, audio, GIFs, stickers, etc.
Auto replies help to build relationships with your target audiences.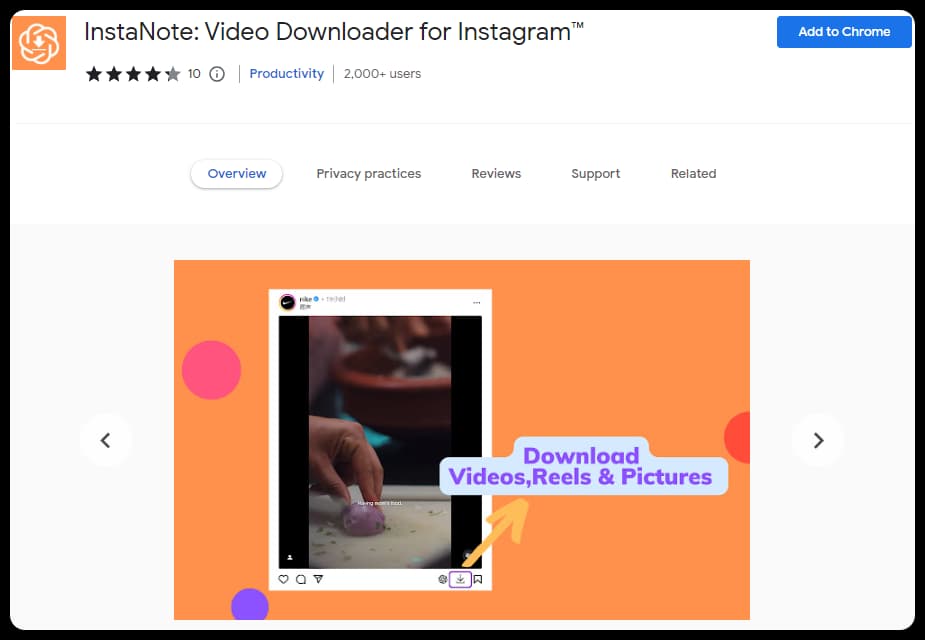 Another best video downloader that allows businesses or influencers to download photos, Reels, videos, and stories on Instagram. With this app, you can save your favorite content at any time and go through it anywhere.
If you want to acknowledge the summaries or find out the most important information, the InstaNote extension provides short video summaries. However, with ChatGPT you can explore different things, like a response on various topics, i.e., conversations and creative writing.
Features
Easy to use, like saving Instagram videos, Reels, and photos.
A high-quality video and photo download option is available.
Provide Instagram video summaries without completing the video.
Allow to save videos and photos.
Safe and hack-free.
How it aids in Instagram marketing
Creators and brands use the InstaNote extension to download all Instagram videos and photos to use further.
Save time by providing a quick summary to understand the video's topic and information.
Allow you to review videos at any time and protect your privacy from network outages.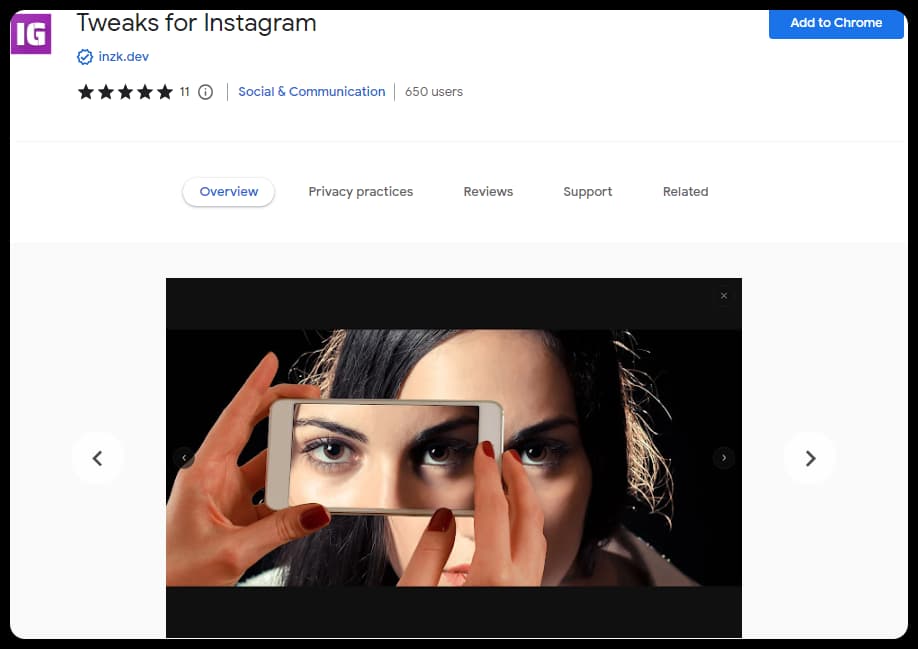 Want to view full-size images and videos on Instagram? Or, do you want to download all IG images in a post? Tweaks Chrome extension allows you to fulfill your IG marketing goal. However, you can use this tool on your smartphone or desktop browser.
Features
Allow you to view full-size Instagram images and videos.
Download all media items from an IG post.
No risk and an IG ban.
Easy to use and works on IG posts, Explore pages, etc.
How it aids in Instagram marketing
Help you to view original full-size photos and videos on instagram.
With this app, you will not be able to miss any important information.
Available on Instagram Posts, Reels, tagged, and Explore pages.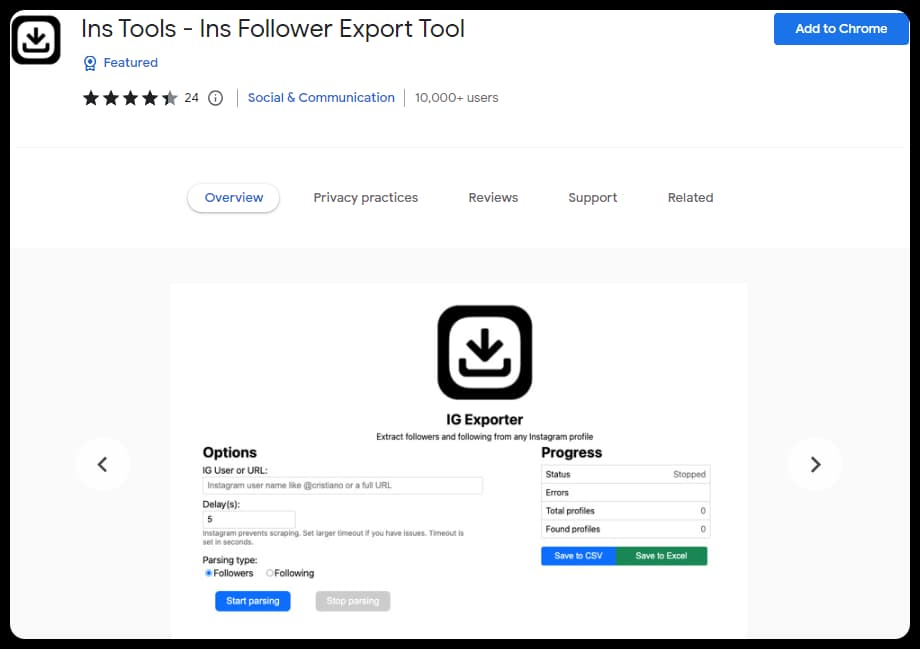 One of the best Instagram Chrome extensions is the Ins Follower Export tool which is developed by an experienced and professional team. You can export followers and following data from IG to CSV. The tool is completely free and you can process all data in your local computer securely.
From Instagram marketers to digital investigators, it helps to extract information from public IG profiles without notifying them. Also, you can convert file formats and export in one second.
Features
Export up to 50K IG followers and followings data with just one click.
Allow CSV and Excel file formats.
24/7 customer support.
Secure, easy to use, and convenient for Instagram users.
No IG password and no IG user information are required.
How it aids in Instagram marketing
Enhance your Instagram engagement, reach, and boost more sales after analyzing the user data list.
Help to broaden your followers and increase the percentage of online (influencer, brand, and creators) partnerships.
Help you to get IG users and your niche-friendly audience data so that you can compare who unfollows you.
The interactive UI interface save time to use and export files instantly.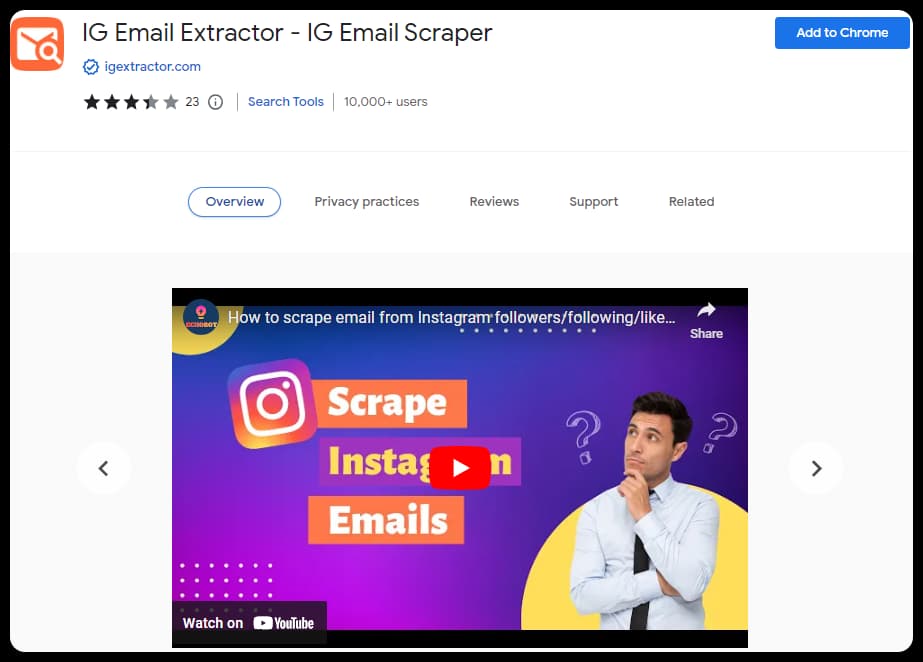 It is a smart business lead tool that allows you to extract Instagram users, hashtags, likers, commenters, and location emails. IG email scraper is easy to use and helps you to extract public email addresses from the IG platform.
With this tool, you can export data in Excel, CSV, and JSON file formats. There is no credit card required to use this tool. This Google Chrome extension tool is helpful to expand your business leads on Instagram.
Features
Get IG followers and followings data instantly.
Provide publisher data from any hashtag and location.
Get likes and commenters' data of any post from Instagram.
Scrape Instagram users' custom data list.
Extract different profile data, i.e., emails, biography, followers, followings, phone numbers, addresses, etc.
Eliminate duplicate email data.
How it aids in Instagram marketing
Useful to download large amounts of data at once.
Handle errors for 403, 429, and 400 error messages automatically.
Help you to generate more leads, check duplicate data, and validate contacts.
The extracting data help businesses or merchant retarget customers by offering promotions, discounts, advertising, etc.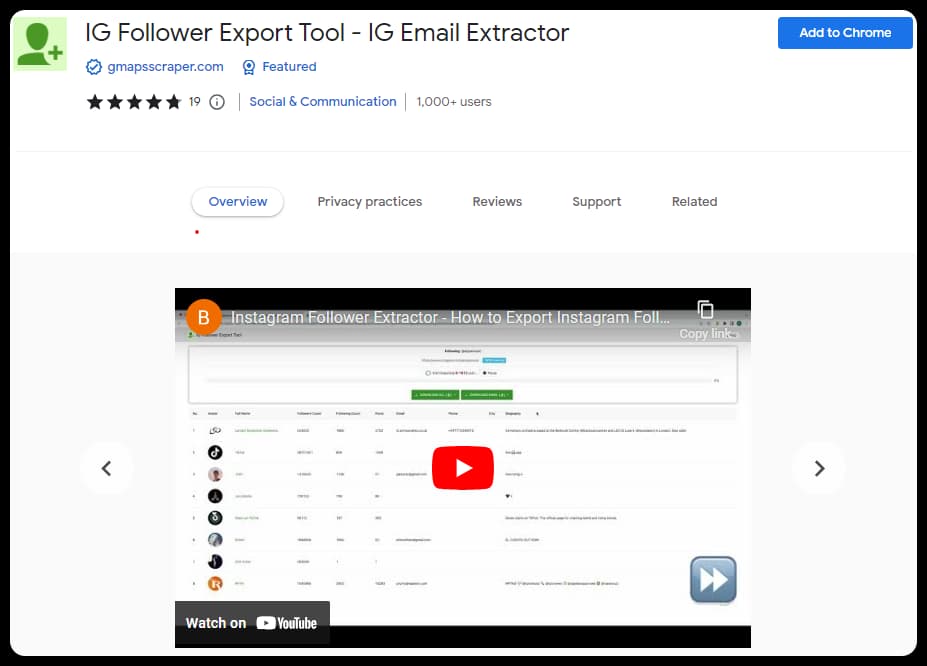 Last but not least, Instagram follower export tool is a highly effective Google Chrome extension. It allows you to extract Instagram followers and following, like Emails. All you need to sign in to our IG account after downloading the tool and click the export button for extracting data.
All in all, you get useful outputs that are processed through Paliscope YOSE to maintain quality visual intelligence. After getting those data, you can boost your IG profile or business instantly.
Note: The IG scraper is an independent Google Chrome extension tool, but avoid overusing it to eliminate IG blockings.
Features
Allow you to export the followers list from IG to XLSX, CSV.
Allow you to extract IG user profile, i.e., follower and following count, biography, posts, public email, phone number, external link, etc.
You can extract user profiles from the private accounts who follow you or you are followed.
Download data anytime and store extracted data in local storage.
How it aids in instagram marketing?
A risk-free IG follower export tool requires very minimum permission and no data passes through its web servers.
Easy-use tools help you to get to know your followers deeply and protect your following from IG policy changes.
A free account allows you to export up to 500 Instagram followers or following data at a time.
Through a paid account you can export up to 50,000 instagram followers or followings data.
How to Choose the Right Chrome Extensions for Your Instagram Marketing Needs
Factors to consider when choosing Chrome Extensions for Instagram Marketing
When choosing the right Google Chrome extensions to boost your brand or e-commerce store, there are many factors that need to consider, including –
Features – Before choosing one, you need to go through features and specific functionalities that benefit your e-commerce business. Also, take a look at their customer support and social media marketing needs.
Pricing – Some Chrome extensions come with free, premium, or upgraded versions that offer additional support and advanced features. Before buying or installing one, consider the value that fits your budget.
Security – Check out that the extension will require any special permissions or access to your data. Ensure that it comes from a reputable developer.
Ratings & reviews – Go through user ratings and reviews, like specific benefits and compatibility to ensure effectiveness.
Ease of use – Consider ease of use and simple user interface when selecting Chrome extensions. Go for intuitive interfaces, clear instructions, and policies that will save you time and effort.
Tips on how to effectively use these extensions for maximum results
Choose the right one that suits your needs – As a business owner or brand want to increase your sales. In this case, you need to choose one that helps you with analytics, scheduling, and others. If you're a personal user, you need to focus on saving and downloading posts, or finding new influencers.
Experiment with advanced or different features – It's a more effective way to experiment with different settings so that you can find the best one.
Keep an eye on updates – The IG Chrome extension developers constantly update versions to fix bugs and provide advanced features.
Conclusion
There is no doubt that IG extensions are a must-have to save time, enhance your productivity, and more. Here we've mentioned the top 13 best Chrome extensions for Instagram marketing in 2023 to get ahead of the social media competition.
Feel free to share your favorite Chrome extensions, using experiences, and how they have helped in your IG marketing efforts.