Last Updated on June 15, 2023 by Diana
Want to build your unique brand identity among 250 million or more existing Instagram marketers? A beautiful Instagram aesthetic is as important as posting individual eye-catching photos. With photo editing apps for Instagram, you can highlight your creativity and product quality.
Not sure where to start and which one fulfills your niche market? In this post, we will cover the 10 best and most demanding Instagram photo editing apps along with tips to create pro-level IG posts photos!
Contents
Top Photo Editing Apps for Instagram in 2023
As you know, Instagram provides useful functionalities to help marketers gain effective IG followers. But sometimes, photo editing apps are required to take your photos to the next level.
From improving color combinations to matching with contrast and real photo tones, you explore the best photo editing apps for Instagram in 2023, including:
Canva: It is one of the best photo editing apps with customizable templates, unique designs, unlimited graphics, fonts, and editing tools for Instagram stories.
Designer: It is a Microsoft-developed photo editing app that comes with writing assistance, automatic layout suggestions, captions, and hashtags along with other essential editing tools.
Adobe Express: With Adobe Express, you can stand out with amazing images. Drag, drop, edit video, combine clips, fonts, generative AI tools, background removal, and many more.
Adobe Photoshop: All-in-one photo editing app full of creative elements like text prompts, generative fill, retouching & remix, Instagram gorgeous graphics, etc.
Pixlr: From professionally crafted designs to amazing Instagram profile pictures, product images, animations, and more in just one click.
Fotor: Another best online photo editor comes with tons of great tools, i.e., effect, filter, enhancer, crop, resize, background remover, curve, clone, and others to make powerful images.
VSCO: Trusted photo and video editor with professional quality tools (presets, collage maker, filters, etc.) and a creative community.
Snapseed: One of the most powerful tools for Instagram users that come with ambiance, selective adjust, brush tool, and others to create a consistent aesthetic.
Stencil: Most demanding photo editor app that helps you to create social media graphics, compelling ads, Instagram feeds, Reels, and more.
Skylum Luminar: Its award-winning interface, AI photo enhancement tools, layers support, facial features, and other elements help you to unleash your creative potential.
Detailed Review of Each App
Here we've enlisted pro-level Instagram influencers, creators, and top brands' favorite photo editing apps.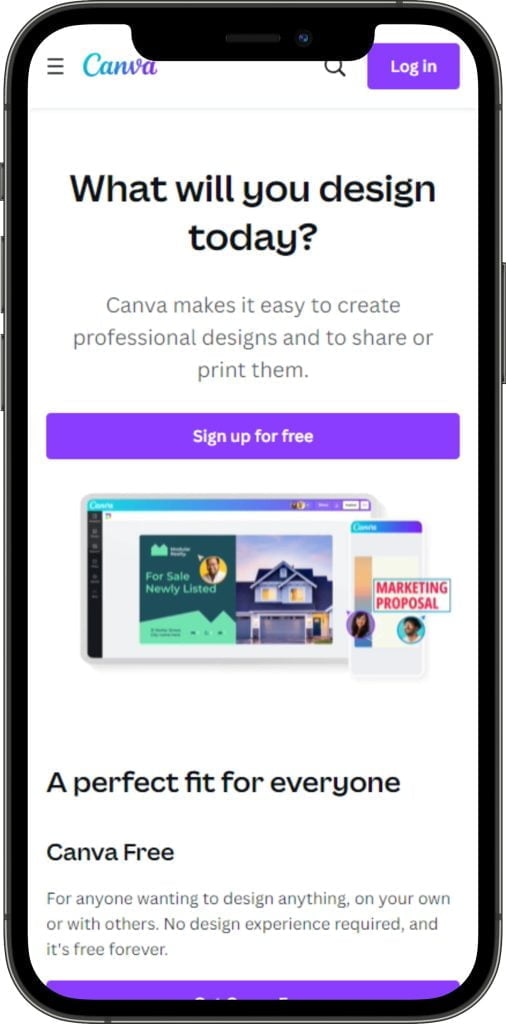 Canva is a user-friendly and perfect-fit graphic design app for everyone with templates, image design, and editing features. You can create visually appealing Instagram posts, stories, and Reels to grab the attention of your audiences.
For this, you don't need any prior designing skills. Also, you can share and download (JPG, PNG, GIF, PDF print, etc.) social graphics. It offers 5GB (for free version) to 1TB (premium version) cloud storage.
Word layouts, resizing options, and funky fonts are the best thing to create Instagram memes, quotes, etc. From Instagram influencers to marketers, everyone loves this app for its versatile and high-quality design options.
Features
Thousands of professional and ready-made templates, images, stickers, etc.
Easy drag-and-drop customizations.
AI-powered design tools.
24/7 customer support.
Photo collages, filters, contrast, blur, and more.
Different background ideas (textured, monochrome, etc.).
Usability
The app is available on Android and iOS.
Pricing
Canva is free. But for premium features access, you need to pay $54.99/year for one person and $84.90/year for 5 people.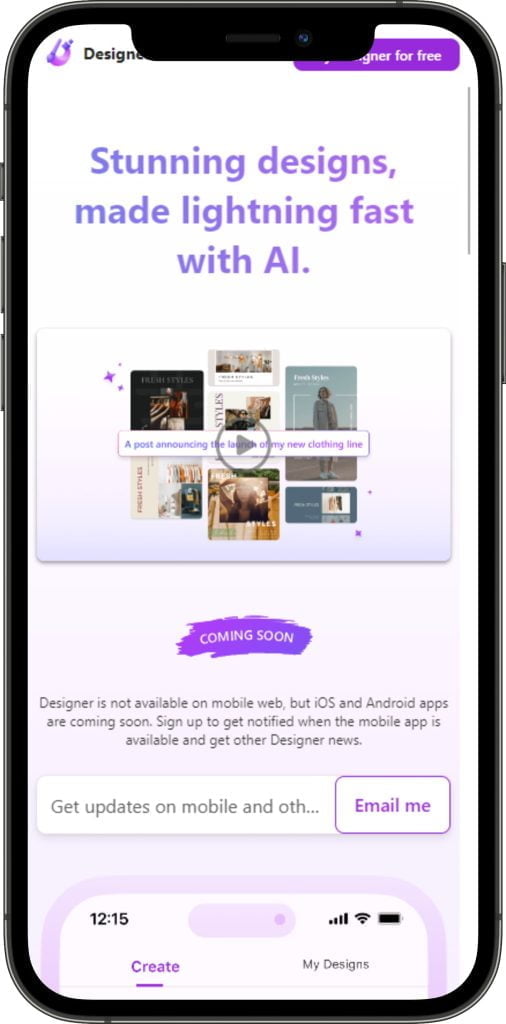 Microsoft Designer is an AI-generated and Edge web-based graphic design tool that Microsoft develops. Its user interface is a mixed version of Photoshop, Microsoft, Publisher, and Canva. You can generate post-related or product-oriented captions and hashtags for your Instagram posts.
With text prompts, you can create your own design and publish it on different social platforms (Facebook, Twitter, or Pinterest). Also, you can add images from your device and can customize them as per your business/service requirements.
From formatting to styling, it automatically fixes issues and suggests you matching design themes. Also, it offers additional AI-powered creative design tools to compete with your niche competitors.
Note: You must have a Microsoft account to access this app.
Features
Up to 20 different social media layout sizes (Instagram, Facebook, and LinkedIn).
Animated background, text transitions, image formation via texts, and so on.
Writing assistance and automatic layout suggestions.
Advanced AI tools (replace, erase, and fill) are coming soon.
Templates, brand kit, visuals, and professional text fonts.
Usability
Microsoft Designer is available for iOS and Android (is in the development phase).
Pricing
Microsoft Designer Preview is free. But to get access to advanced features and post preview, you need to buy Microsoft 365 subscription.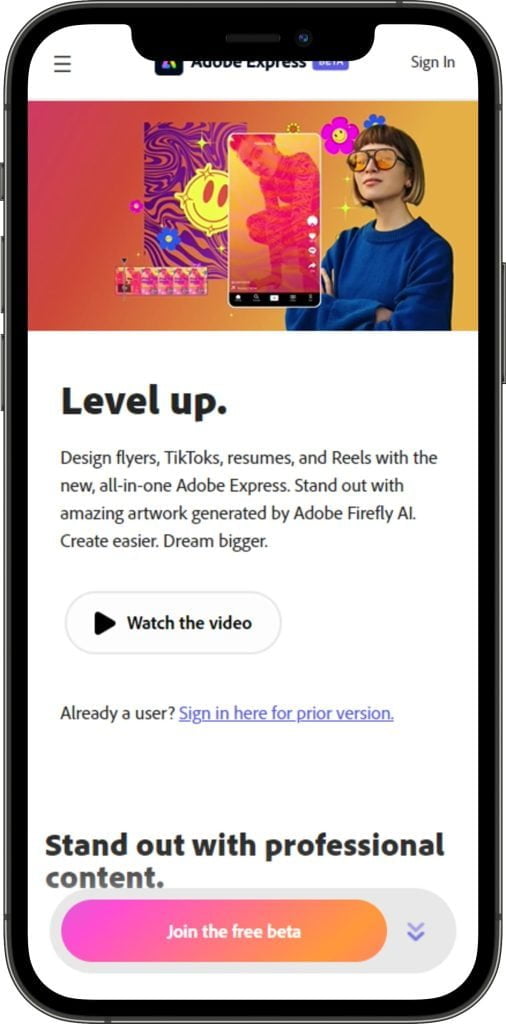 Want to create video-based Instagram stories or upload professional and eye-catchy images that instantly grab your audience's attention? Adobe Creative Cloud Express is the best Instagram graphic design tool that introduces you to new design technology.
With this photo editing partner, you get different editing options for videos, combining photos, sounds, effects, fonts, and more. From adding watermarks to creating collages, touch up, crops, and filters, you can make Instagram-ready images.
However, you can add objects from other photos and create a creative one for your Instagram posts. Also, you design your brand logos, Reels, flyers, marketing videos, and others all-in-one Adobe Express.
Features
Thousands of unique templates, design assets, and Adobe fonts (curved type, grids, and font pairs).
Over 160 million royalty-free Adobe Stock collection photos (free version has limitations).
Refine cutouts, resize, crop, and graphic groups are available.
Support different image file types.
Offer 2GB (free version) and 100GB (premium one) cloud storage.
Allow transparent background for images (iOS only).
Usability
Adobe Express is available for Android and iOS.
Pricing
Adobe Express offers a free and premium plan at $9.99/month.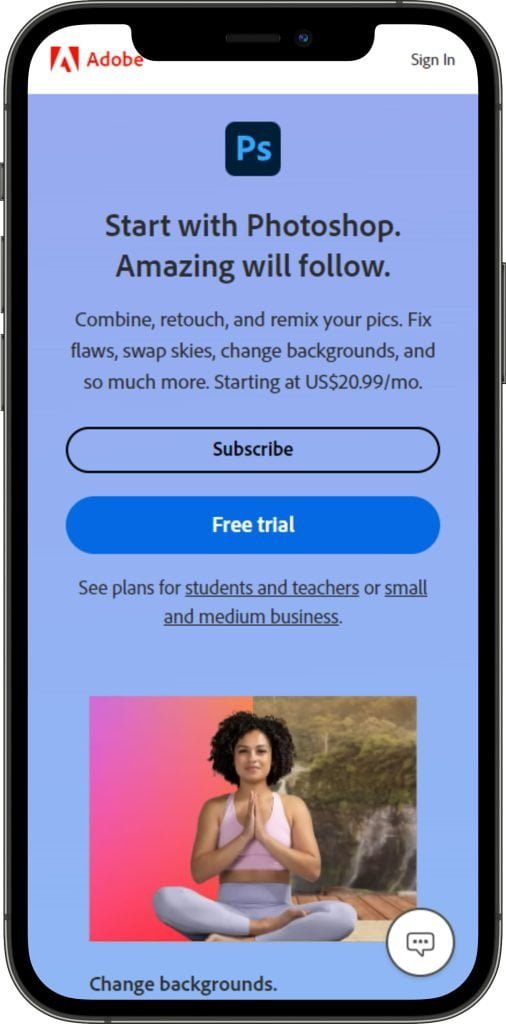 It is one of the best photo editing software which helps you to supercharge your creativity and accelerate your workflow with powerful editing features. Mind-blowing generative AI tools such as neutral filters, complex layers, gradients, shape tools, and others that professional designers love most.
The best part of this editing tool is a clear home screen with hover-over help tips for tools. From 3D designs to illustrations, graphics, logos, icons, etc., you can create all of them with Photoshop.
Want to turn views into vistas or create standout images for your Instagram posts? With Photoshop's advanced tools like text prompts and Generative Fill (beta), you can create scroll-stopping social posts.
Note: For using Adobe Photoshop requires prior image editing experience.
Features
Thousands of creative templates for social posts, flyers, banners, and more.
Image converting option is available (PNG to JPG, and more).
Help to remove unwanted objects, fix flaws with spot healing, etc.
Color combinations and inventive dimensions.
Blur, layer, swap, blend, and others.
Allow editing videos.
Offer transparent and e-commerce-friendly product background.
Usability
It has iOS, iPad, and Android versions.
Pricing
Adobe Photoshop offers a 7-day free trial, then charge $20.99/month.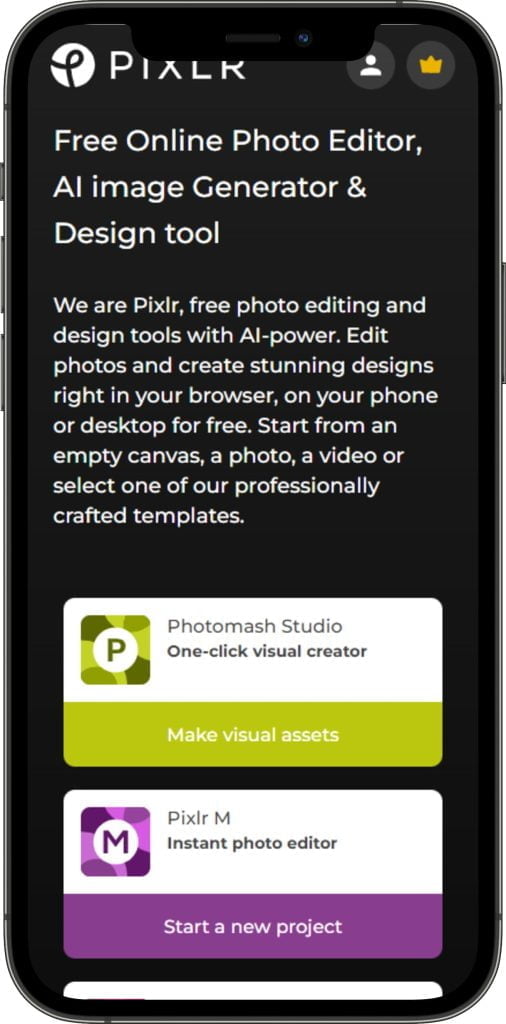 Pixlr is another AI-powered design tool with stunning editing features. With just one click, you can create amazing Instagram profile photos, product images, YouTube thumbnails, and more. Also, you can add animation to your Instagram stories and capture your audience's attention instantly.
Its AI-powered background removal feature gives you a perfect look at your brand product. From beginner to professional graphic designers use this Instagram photo editor app. Pixlr comes with two web apps, Pixlr Editor and Pixlr Apply.
However, you can add text, borders, and amazing after-effects to your Instagram feeds and other social platforms. Its double exposure tools allow you to create merged images along with adjustable transparency.
Features
Easy-to-use tools, unique templates, elements, and fonts.
Red-eye fixer, filters with effects (you can create your own), stickers, etc,
Different editing tools such as overlays, textures, blur, collage, resize, and others.
Video tutorials are also available.
Convert a photo into an ink painting or a pencil drawing in just one swipe.
Stunning and free design templates.
Pro Tip: The app allows you to adjust the brightness and sharpness of an image.
Usability
Pixlr photo editing app is available for Android and iOS.
Pricing
Pixlr is free. Its premium plan starts at $0.75/month.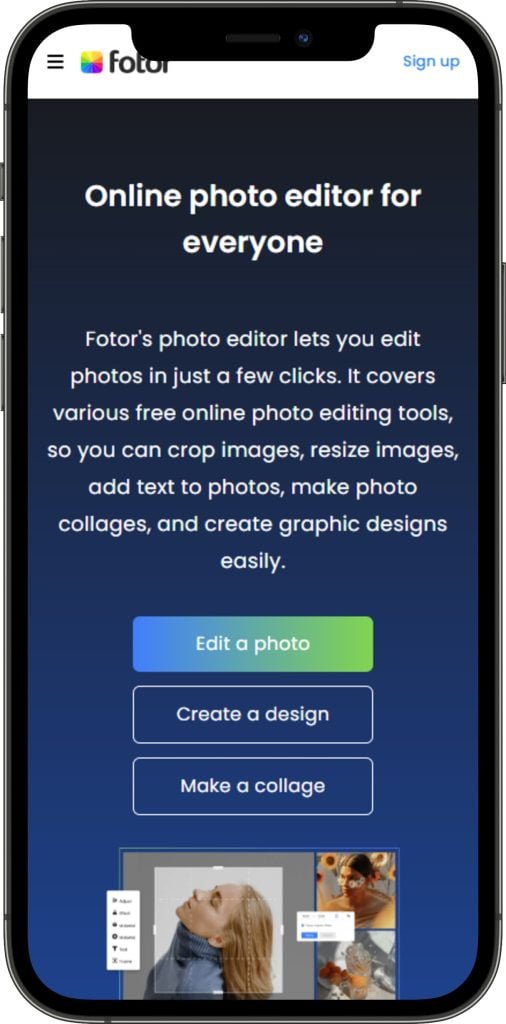 Fotor is one of the best photo editors for Instagram with numerous editing tools. You can create a collage or apply HDR effects to your Instagram post images. From retouching portraits to removing blemishes and adding exclusive filters, you can do this in just one click.
However, the app works in layers which adds a great advantage to editing and helps to avoid non-undoable mistakes. Fotor photo editor's popularity lies in its stylish photo effects, super easy use, and interactive UI. You can also add a watermark to your photos.
Note: Fotor has less steep learning curves and editing features compared to Photoshop.
Features
Photo editor tools are crop, resize, adjust, enhance, blur, curve, text, background removal, etc.
Collage tools are collage, stitching, and split.
AI cutouts, such as color splash, double exposure, and duotone.
Retouching features, like smoothing, blemish removal, wrinkle remover, reshaping, red-eye removal, clone, etc.
Remove unwanted objects.
Thousands of stunning templates for different social media platforms.
Usability
Fotor photo editor is available for Android & iOS.
Pricing
Fotor basic is free. But to unlock premium access the pricing plan starts at $3.33/month.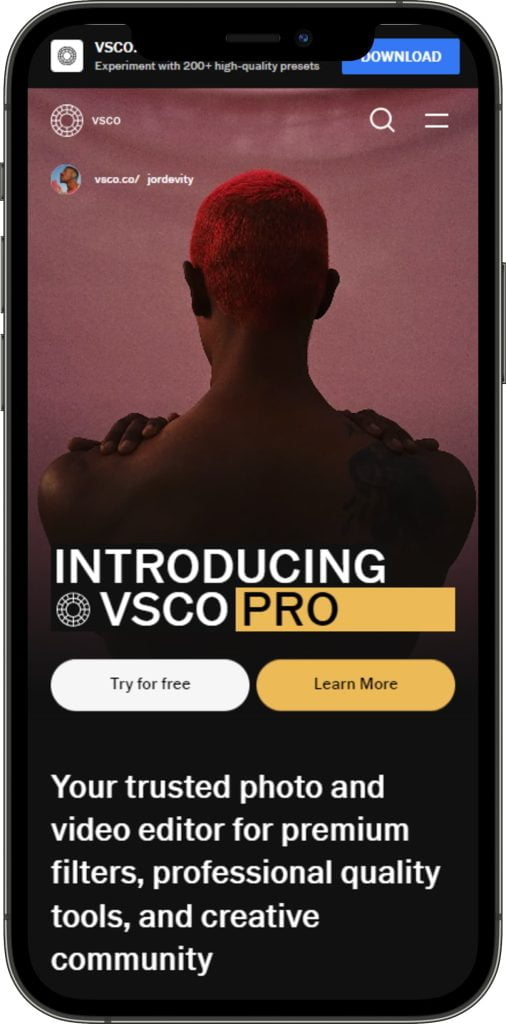 VSCO is one of the most popular Instagram photo-editing apps which is used by Instagram influencers, and creators. It's a minimalistic app with an eye-catchy and clear UI. Several filters, advanced editing tools, and pro presets (AL3) made this app more user-friendly.
However, you can follow, post, and share photos within the app just like Instagram. In general, it is an all-in-one photo and video editor that supports your professional and personal workflows. The app is ideal for food and night photography.
From outdoor to indoor, the app is the best fit for mobile photography. Do you want to add realistically film-like grain to give the image a softer touch or nostalgic look? VSCO is the best choice for you.
Note: Around 205 million Instagram posts are from the #VSCO hashtag.
Features
Easy-to-use photo editing suite.
Exposure, saturation, contrast, temperature correction, skin tone, strength, and more.
Color correction, alignment tools, presets (customizable), film effects, etc.
RGB spectrum curve tool.
High-quality filters, video, and GIF editors.
Advanced editing tools are HSL, Dodge & Burn, Grain, and more.
Multimedia collage and montage templates.
Usability
The VSCO photo editing app is available for Android and iOS.
Pricing
VSCO is free for the starter package, $29.99/yr for Plus, and $59.99/yr PRO plan (iOS only).
Snapseed is another demanding and popular photo editing app among professionals which is developed by Google. You can explore creative editing and photo-enhancing tools such as one-tap presets, several degrees of darkness, and brightness. The app is ideal for portrait photo editing.
With this app, you can do photo manipulation, face retouching, and similar adjustments which require no prior experience. You can also adjust buildings geometry, add curves to control brightness and enhance images with amazing precision.
It also offers an exceptional feature when you increase the canvas size, Snapseed automatically generates new pixels to match the areas. Want to balance between simplicity and in-depth editing? Snapseed helps you to meet your desired result.
Features
The brush tool allows you to adjust exposure, saturation, and color temperature.
Remove small blemishes or unwanted objects from images.
Pro-level photo editing tools are curves, white balance, and RAW editing.
Over 29 essential editing tools i.e., healing, brush, HDR, perspective correction, and others are available.
Precise control over brightness levels.
Add drama and vintage textures with different styles and filters in just a sec.
Usability
The app is available on Android and iOS.
Pricing
Snapseed is free.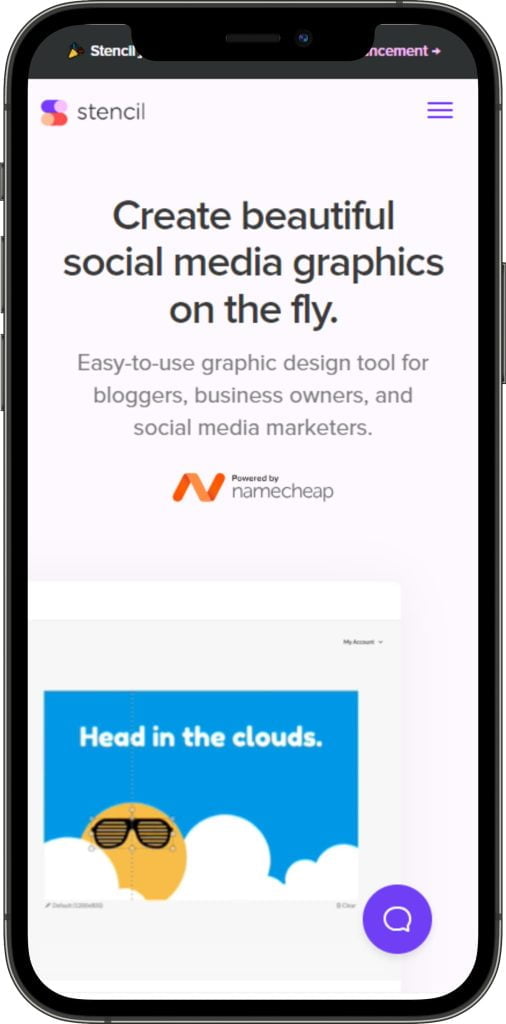 Want to create social media-friendly graphics to skyrocket your online business? Stencil graphic design tools allow bloggers, business owners, and marketers to create beautiful product images that grab audiences' attention at a glance.
It offers stunning blog headers, compelling ads, and premium support to boost your Instagram profile. From Google fonts to graphics, icons, logo/watermarks, and other essential photo editing tools, with Stencil, you experience the best thing.
Want to match your brand logo or save your favorite colors? The eyedropper tool/color picker helps you to pick colors from different canvases. Also, you can share your customizable images through Bit.ly links.
Features
Faster and easier to use.
High-resolution and stunning royalty-free photos.
140+ presets and customizable options are available.
Create, preview, and share images in seconds.
Integrate with Buffer to schedule images.
World-class and premium icons.
1,350+ premium templates.
5,700+ Google fonts.
Usability
Stencil is available for Web, Chrome, Firefox, and WordPress.
Pricing
The app is free for beginners, $9/month for premium access, and $12/month for unlimited resources.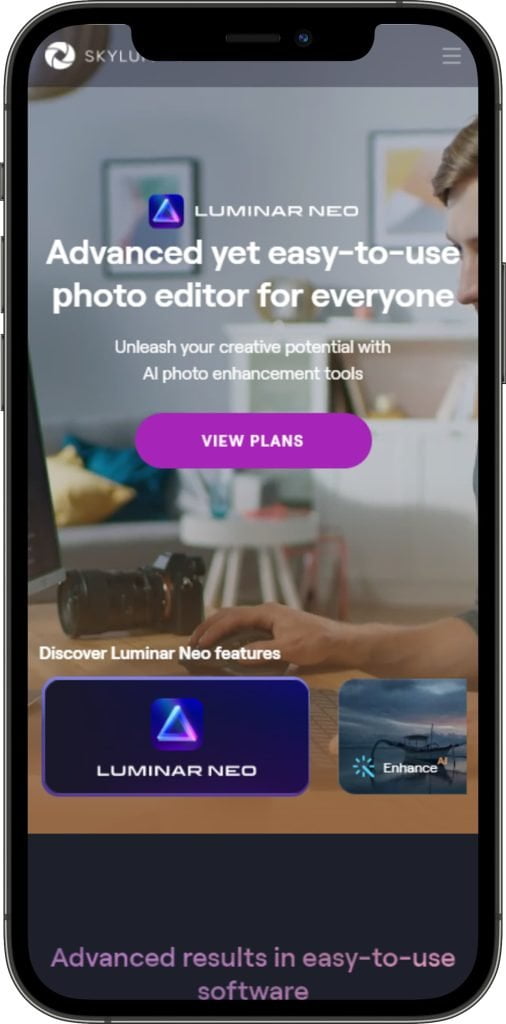 Want to capture your favorite moments and bring those images to life? With Skylum Luminar Neo a cutting-edge photo editing software, you can give words of your creative vision. Award-winning editing app is the best fit for landscape photography, portrait photography, family, wedding, and newborn photography.
Bring out your Instagram image's true colors with AI-powered tools like saturation, highlights, contrast, balance hue, and details. Also, you can make your profile photos stunning with different facial features (skin, lips, light, origin, etc.).
However, you can plug into different software to get high-resolution images without changing your workflow. From drawing street stories to removing motion blur or misfocus, Luminar helps you to capture all details.
Pro Tip: The app is useful for micro shots, still-life compositions, and multi-layered landscapes.
Features
Remove dust spots, power lines, and mask objects to relight the scene.
Colages, double exposure effects, blending, and masking modes are available.
Extension packs are background removal, HDR merge, magic light, focus stacking, etc.
Wide range of photo editing instruments including layers, masking, and local adjustments (erase, structure, color, AI enhancement, develop, black & white, etc.).
Clone tool, lens correction, batch processing, and many others.
Usability
Skylum Luminar is available for both iOS and Android.
Pricing
Skylum Luminar is a paid app that starts at $9.95/month.
How to Choose the Right Photo Editing App for Your Needs?
Who doesn't want to take their Instagram photos to the next level to get active IG followers? Here are a few ways to make your product images like pros.
Criteria to consider when selecting an app (ease of use, range of features, pricing, etc.)
Beginner to professional photographers' main focus is to capture high-quality and amazing photos to enrich their photography portfolios and social platforms. That's why you need to consider several things before choosing or buying a photo editing app, including,
Easy of use/simple UI (user interface): Simple and clear UI is acceptable to professional and hobbyist editors. Make sure all editing tools, features, and other applications are easily accessible.
Feature ranges: Instagram creators, influencers, or bloggers each have their unique artistic style and needs for editing functionalities. So, before choosing one check out photo editing essential features like saturation, balance, tone, contrast, etc.
Note: Photo editors with different features (templates, social share, icons, fonts, images, etc) help you to fulfill your image requirements.
Pricing: To enrich your Instagram profile and boost your brand, you must have a fixed budget to buy premium plans. So, it's wise to consider those factors and choose as per your requirements.
Customer support: Another important factor you need to consider is the customer support which helps you to overcome photo editing issues when you face any. For this, try to contact them before confirming one.
Camera compatibility: Last but not least. Ensure that your preferable editing app supports your camera and lenses for achieving true colors, maintaining details, and others.
Reiteration the importance of choosing the right 'Photo Editing App for Instagram' to grow followers
Whatever your business/service niche is, to beat your competitors and get active followers on Instagram, you need to provide quality rich content with images. For more details, let's go through several important factors below:
Photo editors help you to get the best image that relates your Instagram followers with reality.
Emphasize your brand tone and style.
Blur-free, high-res, and quality photos with eye-catchy filters, Instagram posts friendly fonts, icons, templates, and other features meet your target audiences' satisfaction.
Convince new Instagram visitors to rely on your products that increase sales numbers.
Build trust and loyalty that increase conversion rates.
Effective Tips for Using Photo Editing Apps to Gain Instagram Followers
Curious to create brand aesthetic images to increase your fan followers on Instagram? Let's take a closer look at effective hacks for using editing apps that attract more followers!
Use top-quality images: First, make sure your photos are captured perfectly so that you face fewer issues when editing them. After editing, pay attention to the correct size to upload on Instagram.
Note: Instagram allows 1080x1080px images. A smaller one may look washed out or bad quality.
Choose a filter (if requires): Almost many Instagram photo editors offer different filters to improve your images and attract more IG followers. With filters, you can give an image a vintage effect, black & white, and a warm tone in a photo by adjusting the scale level.
Note: Most pro-Instagram users skip filters and prefer to customize their unique visual balance.
Consider the grid: By creating a grid, you can provide your on-brand vibes, like vintage, neon, or pretty in pastel whatever it is. Also, you can stick to your brand color combination, make a vertical column, and turn every IG posts into a brainteaser.
Consider spot-removing & focus tools: To remove any distractions from your images and improve your composition, try different editing tools. Also, you can add creative icons, fonts, and others to your IG posts.
Pro Tip: To improve your Instagram marketing, try to utilize local hashtags and trendy business hashtags. Also, pay attention to your editing images and captions before uploading.
Conclusion
Photo editing apps for Instagram help you to manage your Instagram presence with effective followers. Feeling overwhelmed which one do you use? Try out a few or one from our lists and grow your follower count. Remember a consistent Instagram feed with high-quality images takes your brand to your desired level.