Last Updated on June 12, 2023 by Diana
If you're running an Instagram brand account, you must know the importance of links in your bio for driving the audience to your site. Instagram link in bio works as a mini webpage where you can add multiple service or product links, social, blogs, and others to increase engagement.
Contents
Curious to explore more? In this article, we'll cover all the important things, like:
Set up,
Link in bio tools,
Hacks of link captions,
How you measure the success, and so on.
Why does Instagram Limit Links?
Can I add multiple links to your Instagram profile bio or there is any limits? These are the most asked question from Instagram users, To fulfill your queries here we've mentioned Instagram's external link policies, how it works, and so on.
Without more talk, let's get started!
A. Instagram's policy on external links
Instagram allows creators and other users to add multiple external links to their IG profile bio, such as a blog, website, etc. However, there are some restrictions on uploading links on what types are allowed and not allowed.
Acceptable links are:
Your online portfolio site link,
Your product or service page link,
Blog (WordPress, Medium, etc.),
Coupons and other free items link,
The contest, survey, and other sale page links,
Content links from YouTube, Video, and other authorized video platforms.
Forbidden links are:
Snapchat,
Telegram,
Multiple redirection web page links,
Hidden spam links and text sites links,
Explicit content (not suitable for 16 or under children) site links.
B. How does the 'Link in Bio' feature work around this
Instagram "Link in bio" is considered CTAs (call-to-action) in the bio section. Creators, Instagram influencers, and brands use bio links on Instagram and TikTok to offer audiences more information about their brand or service. By this, viewers can explore different site links, including:
Brand or business official website,
Different social media platforms,
Blog, product page, upcoming events, or newly launched product news.
Online shops, and so on.
However, the bio link feature work to leverage more traffic and you'll find it in the profile short description. If you have a business account, you can also use it. Here are some tips for using this feature effectively:
Keep the bio link short and engaging.
Use a clear and eye-catchy CTA button by mentioning what people can explore after clicking it.
Promote bio links in your posts.
The Importance of Optimizing Your Instagram 'Link in Bio'
Link in bio is used to drive more sales, and traffic, promote your business or products, and share additional content with your followers. However, to meet your marketing strategy, it's important to optimize your bio link. Before that, let's acknowledge key roles in the next section!
A. Role of 'Link in Bio' in Instagram marketing strategy
The Instagram bio link's main role is to clearly specify what your business is, product details, and which audience is your target. How you use your Instagram bio link will also affect on across your industries and strategies.
Let's take a closer look at different business sizes and industries to identify the actual role of these links.
Consumer products and services: If it is your marketing niche, using a bio link help you to highlight your "shopping catalog", "offerings", "product variations", etc.
Retail and leisure services: These types of industries offer different products, events, or sales all at once. By using a bio link, they can provide multiple links that encourage people to visit and purchase products instantly.
Small businesses: Startups benefited most by using a bio link because they can add multiple social media platforms, site links, and other promotional links in one place.
However, after going through the role of a bio link in different industries, it's time to experience its importance in Instagram engagement.
B. Influence of 'Link in Bio' on traffic and engagement
There are several reasons to add a "link in bio" on your Instagram profile page. Here we've narrowed it down:
Drive new traffic: The first benefit you experience by using a bio link is you earn traffic outside of Instagram. Also, you can create a customized landing page with eye-catching colors, fonts, videos, and clickable buttons. All these factors encourage your audience to visit those links and make a purchase instantly.
Support your brand identity: A link in bio landing page is considered as a mini-website page for your Instagram account. You have all flexibility to customize your page to recognize your brand.
Highlight specific campaigns: When you use a link in bio, you get the opportunity to how you want to show your campaigns or videos. Some bio link tools, like Linktree allow you to get creative features, YouTube, feed posts, etc.
Drive more sales: You can turn your Instagram followers into paying ones through a bio link. However, you can tag posts with your bio link or specific product pages on your e-commerce website.
Cross-promote your other social channels: You can add your different social media channel links to your bio link landing page. By doing this, you encourage your audiences to explore more marketing platforms.
How to Make the Most Out of Your Instagram 'Link in Bio'
A. Importance of clarity and relevance in link choice
It takes lots of effort and time to achieve the crown of success in every online marketplace. With proper planning, maintaining clarity, and link relevancy, you will be able to reach your marketing targets. That's why before choosing a link, you need to consider a few things, like –
1. What's your brand/business goal?
Do you want to drive traffic to your website? Want to promote your product? Or, your ultimate goal is to connect with your followers? Before adding a link make a decision first.
2. Target audience
To fulfill your audience's requirements and needs, you need to find out your audience base. What are they looking for on Instagram or which things interest them most?
3. Brand tone
Is your brand professional or fashionable? Choose a link that suits your brand tone.
However, let's take a look at some effective CTAs for your Instagram link in bio page below:
Something new coming soon (create urgency).
Visit our most demanding product.
Get a 10% discount when you shop now!
Sales start today!
Click to know why this product is a best-seller! And so on.
B. Tips for making your 'Link in Bio' enticing
Do you want to add one compelling simple link or CTAs to turn your Instagram account into a powerful source of marketing? Let's take a closer look at the "link in bio" hacks below:
1. Highlight the most important links
To attract people to your marketing sales funnel, include every important link under the bio link landing page. For example:
Your e-commerce site link,
Latest or most demanding product link,
Sale, promotion, or giveaway links,
Best-performing blog posts, and so on.
2. Shoppable Instagram grid on your landing page
You can display your product via a high-quality image grid or videos to entice people to discover your shop and purchase one. All you need to add the right and clickable sales page links. Also, you can categorize your products which gives people more flexibility.
3. Use emojis to call out your "link in bio"
You can try emojis when add to your Instagram profile to attract new audiences. But remember don't overdo it. Use those which suit your business goals and fulfill the link meaning.
4. Match your multiple bio links to your goals
The links you add to your bio represent your marketing goal, like what you want to achieve and who are your targeted audiences. But if you plan to establish your email list, it's a wise decision to skip social media account links. However, you can focus on your online storefront and the latest product sales or launches.
C. Periodic updates and testing
Periodic updates and testing is essential for several reasons:
For ensuring the link is working or broken.
Tracking click-through rates, like how well your bio link is performing and is there are any adjustments needed or not.
For testing different link updates, like which one performs best.
Step-by-Step Guide to Setting Up Your Instagram 'Link in Bio'
A. How to add a link to your Instagram bio
Planning to add an external link to your Instagram bio? Follow our step-by-step guide below:
Step 1: At first, sign in to your Instagram account.
Step 2: Tap the "Edit Profile" button on your profile page.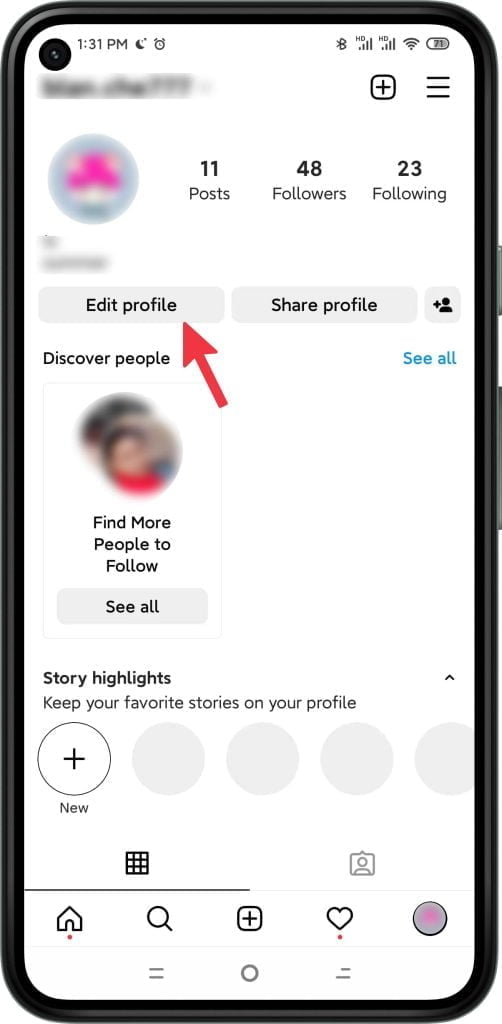 Step 3: Click the "Add Link" button.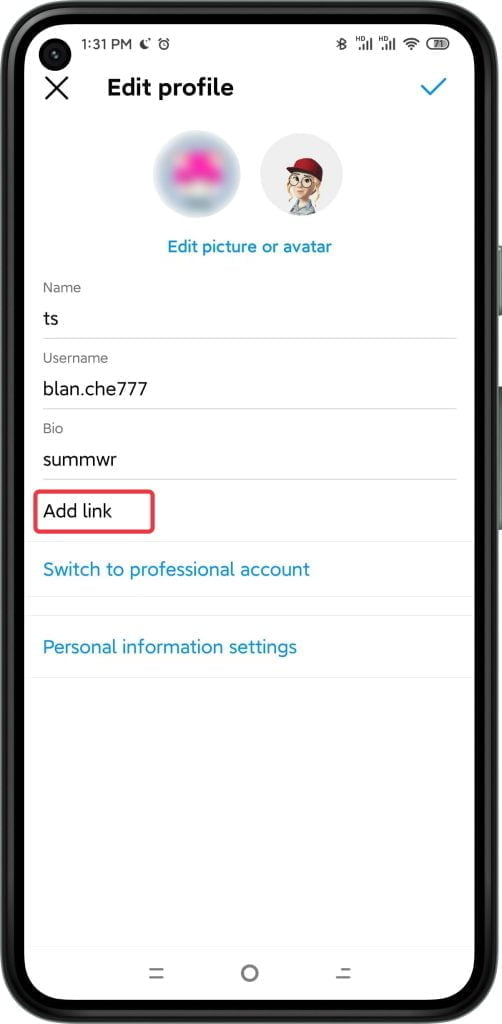 Step 4: Here you can add an external link and a Facebook link by clicking the button.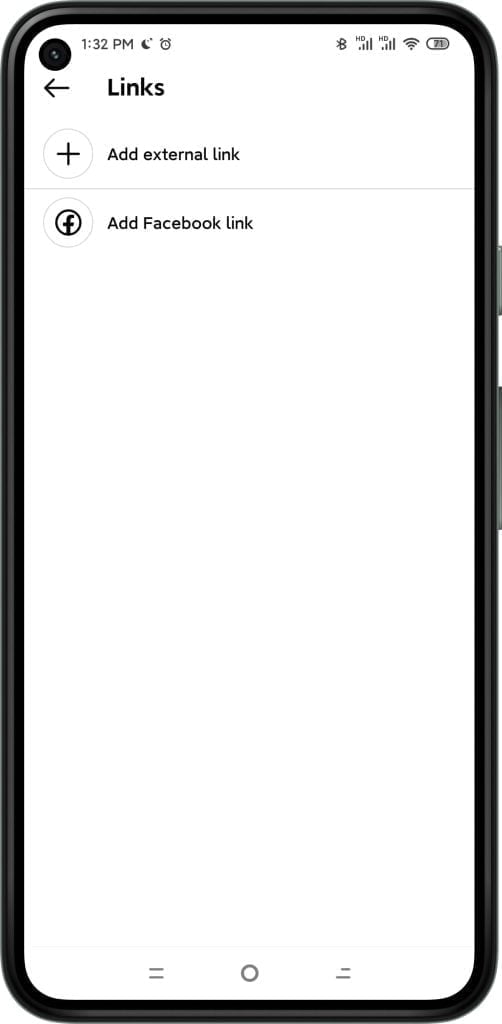 Step 5: For adding an external link place your site URL and title. After that click the right sign to complete the process.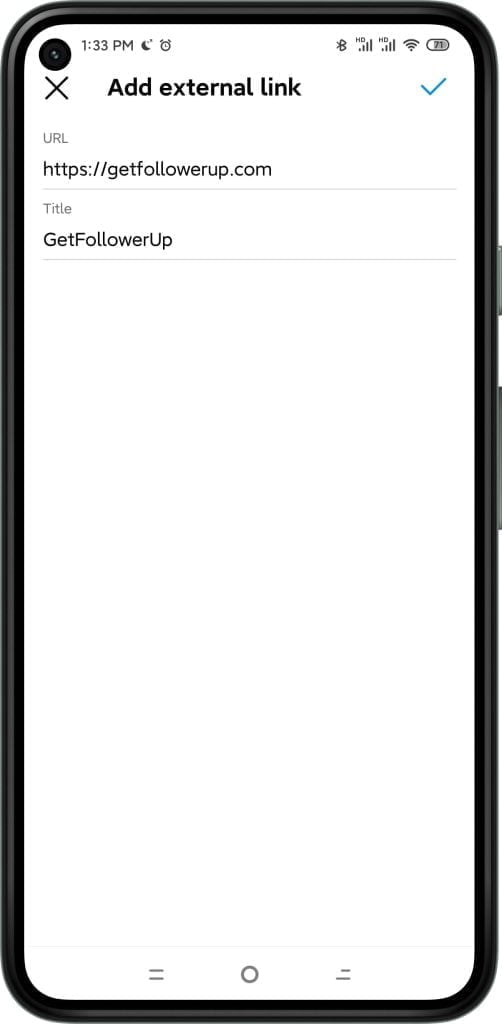 B. How to make sure your link is clickable
After successfully adding your website link to your Instagram profile, go back to your account. And then click the link you placed in the "Website" section. If you get access to your placed site link, then it indicates that your procedures are correct.
C. How to promote your 'Link in Bio'
Want to supercharge your Instagram bio link to leverage more leads and sales? Let's discover some tactics to maximize your Instagram marketing efforts with the bio links below:
Promote a current sale or upcoming discount of your brand products or services.
Hype up of your new product launch.
Create a landing page with full details about the product and a purchase link.
Share a URL that leads audiences to your social links.
Link to your multiple blog posts that they've mentioned in your Instagram posts.
Engage followers with competition or giveaway links.
Share a podcast or video link to promote your service.
You can a page link where people can get a free sample or demo of your product.
Best Practices for Instagram 'Link in Bio' Optimization
As you know that Instagram allows multiple links and bio link tools. But to get the right one you need to focus on different things that we've mentioned in the next section!
A. Utilizing link services for multiple links
Some popular link services are Shorby, Linktree, and so on. But before choosing a link service for multiple links, it's important to go through several factors, like how many likes you need, landing page variations, features flexibility, price, and others.
However, for utilizing link services, you need to –
Choose a link that suits your business targets.
Consider whether customizable options are available or not.
Tracking features options and promoting features.
B. Tracking performance of 'Link in Bio'
There are different ways to track "link in bio" performance, including:
Instagram insights: It's a free analytics tool that provides how many number of clicks your account achieves. For this, you need to go to your profile and click the "insights" tab.
Third-party tools: You can use popular third-party tools, like Later, Linktree, etc., to track the performance of your bio link.
Manually: For this, you need to add a tracking code to your website and can see the click number via your website analytics.
C. A/B testing different links
This type of testing helps you to identify which link performs better for your audiences. For this, you can –
Create two versions of your bio links and add different links in each version.
Divide your followers into two groups by using Instagram insights or a third-party tool.
Show each group a different version of your bio link.
After that, measure the results that fulfill your marketing goal.
However, you can use different product pages, blogs, websites, or other links. Also, can add different images, CTAs (shop now or learn more), colors, etc.
Tools to Supercharge Your Instagram 'Link in Bio'
"Link in bio" tools allow you to promote multiple links in one page which help creators and marketers to improve their Instagram marketing strategy. However, every third-party tool has its advantages and disadvantages. Here we've enlisted some key things so that you can decide your own.
A. Overview of popular link-in-bio tools (e.g., Linktree, Shorby)
There are different link-in-bio tools available in the marketplace. Among them here we've included the most popular ones, like –
Linktree
Price: Free but for ultimate branding you need to switch premium plan.
It is one of the most popular link-in-bio tools which allows you to share links, social sites (Facebook, Twitch, etc.), blogs, online stores, video content, and others. Also, you can optimize your landing pages and add animations to links.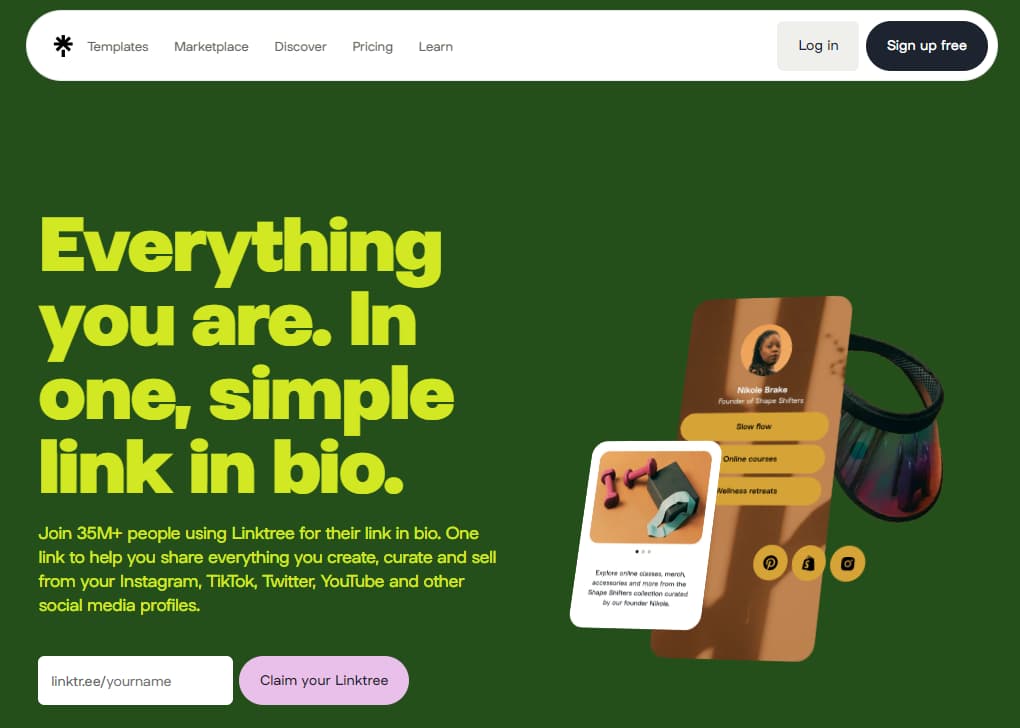 Key Features
Offer notification of link clicks,
Sends warnings on sensitive content,
Several themes, updates, and easy-to-navigate,
Allow creating QR codes,
Multiple integrations (Mailchimp, YouTube, Amazon influencer program, etc.)
Shorby
Price: 5-day free trial and pricing plan starts from 9 to 99 per month.
Shorby offers great solutions in one tool: a social media landing page, a link shortener, and a lead generation software solution. It allows integration on different social media platforms, like TikTok, Instagram, Twitter, Facebook, and others.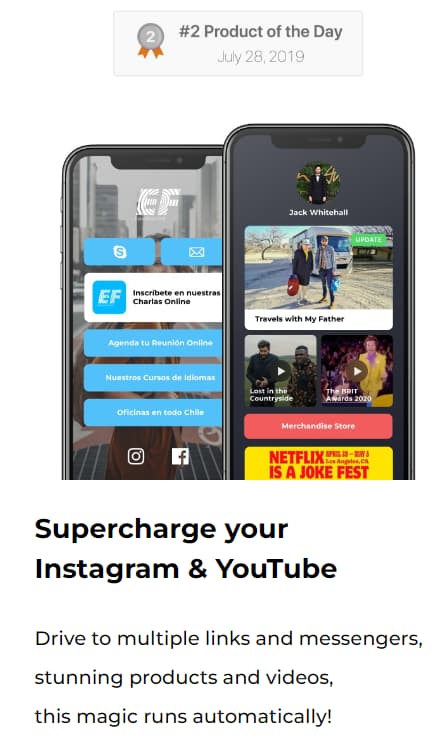 Key Features
Offer unlimited links and clicks.
Allows retargeting to boost your business sales.
Provide analytics to track your Instagram traffic.
Customizable options are available (videos, backgrounds, animated avatars, and icons).
Allow you to add rich links, text blocks, GIFs, and catchy headlines.
B. Pros and cons of each tool
Every tool has its own limitations, let's take a look at the details below:
Linktree Pros and Cons
Easy & effective solution for the Instagram "one link in bio" problem.
Allow more than one link & social sites.
Offer analytics (views, clicks) to track Instagram engagement rates.
Lack of custom domain name.
The free version has several limits.
Shorby Pros and cons
Applicable to Instagram and other social media bios.
Provide useful analytics for both smart pages and messenger links.
Help to set up content feed automatically and other updates from your RSS.
Less information about the conversion rate for links.
Measuring Success: Tracking Instagram 'Link in Bio' Performance
There is a rumor that Instagram algorithms favored fewer link-in-bio captions compared to regular ones. What are the actual scenarios about this fact? To get the answer and track your business growth via link-in-bio, you need to track its performance.
For more details, let's dive into the next section!
A. Importance of tracking and analytics
Engagement is a key thing that ensures success in the Instagram marketplace. By tracking and optimizing your bio links, you notice tremendous results in your brand growth. Below we've listed some key impotence of tracking and analytics of link-in-bio:
You get useful information like how helpful, smooth, and impressive the user experience link-in-bio offers.
Visitor's access ratio to your business and products compared to IG profile link to link-in-bio.
Is there any difference across your brand or business strategies after applying link-in-bio? This report provides effective consumer analytics through the links visits.
However, besides this, you can identify can they impact your social and business goals.
B. How to measure the effectiveness of your 'Link in Bio'
As per statistics, link-in-bio tools increase your 10-15% Instagram referral traffic. Despite this hack's engagement rate, new followers count, and sales rate also helps you to measure the effectiveness of your link-in-bio. However, you can also go through other tactics, including:
Compare your regular Instagram posts with and without link-in-bio.
Go through the analytics report to sort posts by likes and comments.
Measure sales performance from link-in-bio.
C. Making adjustments based on performance
It's important to track your visitors' engagement, sales, and from where new leads come so that you can make necessary adjustments based on your marketing plan. For this, you can –
Utilize the trackable links that give you direct audiences insights when they click those links.
You can try using contrasting colors buttons or can incorporate them with white space.
Ensure that all links work properly.
You can add short; yet engaging and informative videos and place links like Nike Sports Wear link-in-bio page.
Customized backgrounds and text colors are also useful to drive more traffic.
Case Studies: Successful Instagram 'Link in Bio' Strategies
Encouraged enough to include link-in-bio in your Instagram profile? To inspire you more here we've mentioned some brands and their key points for using bio links. Let's get started!
A. Showcase successful Instagram profiles using 'Link in Bio' effectively
Example 1: NA-KD Fashion (@nakdfashion)
It is a famous & Swedish fashion company with lots of trendy women's clothes, accessories, and beauty products. They've their own customized microsite to promote their products. Also, using Linktree they promote their different social media links, apps, NA-KD ambassador, and website link.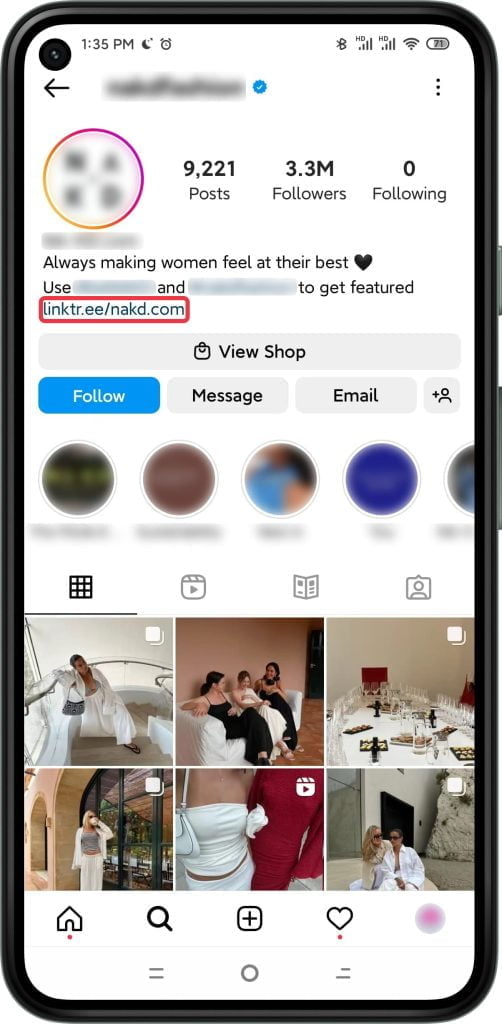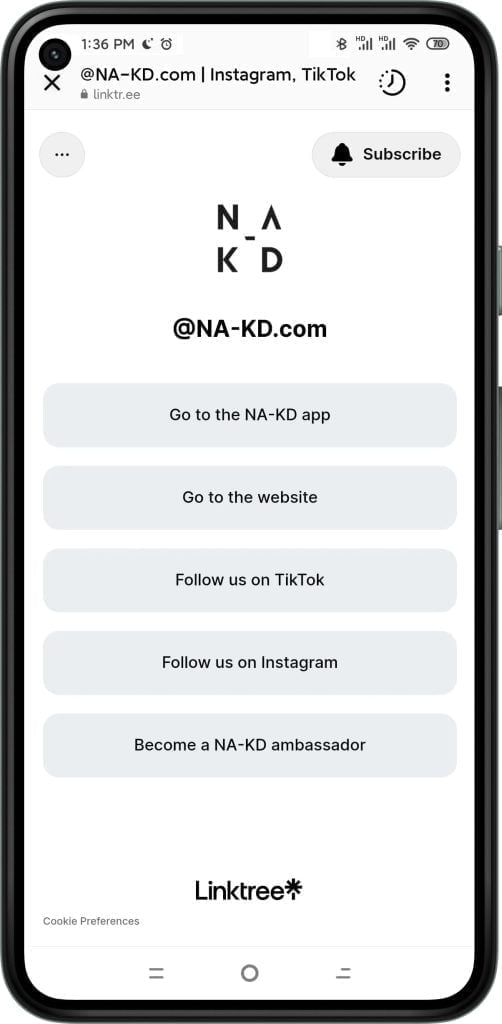 Example 2: Nike Sportswear (@nikesportwear)
Nike Sportswear is popular for its creative content and high-quality products. Their link-in-bio page is filled with clickable images that lead you to their shopping page for those products. They also add their Nike shop link at the top of the page.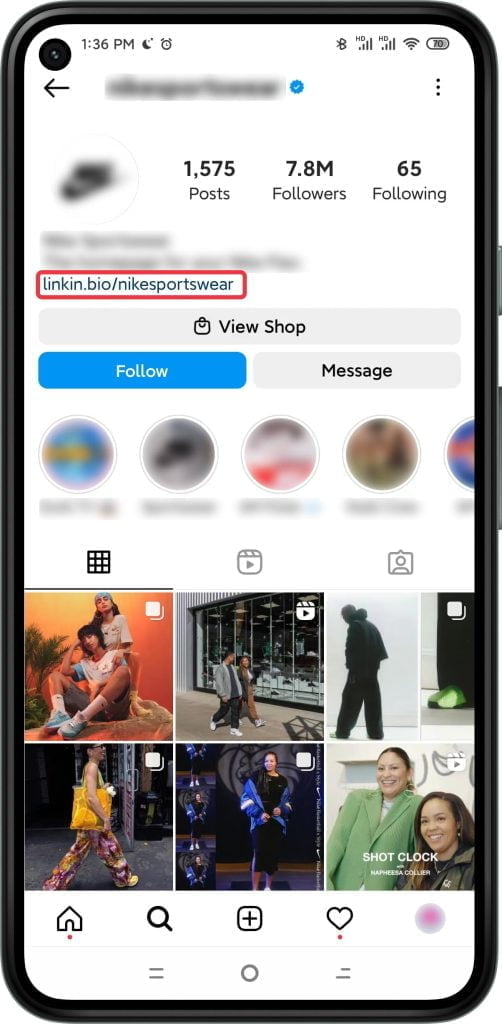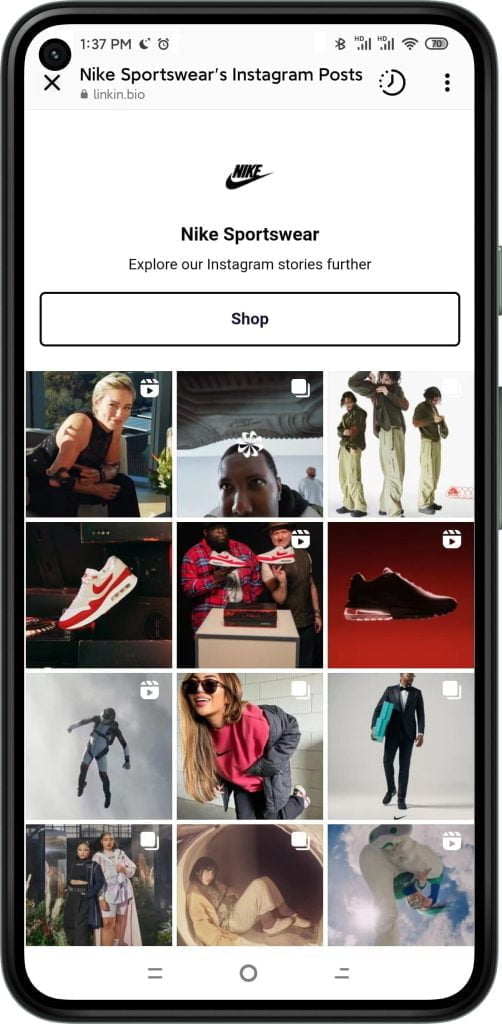 B. Lessons learned from these case studies
Lesson 1: Keep audiences engaged via different links.
NA-KD fashion "link-in-bio" links only focus on linking out to their sales channels to promote their products and share updates. All links are clickable and allow users to access each site which helps to generate new leads.
Lesson 2: Promote different products from the product catalog.
Besides promoting Nike takes visitors to other channels, like YouTube, catalog page, and so on. Also, promote different content types, like campaigns through their link-in-bio-like that boost more sales and traffics.
Conclusion: Your Instagram 'Link in Bio' Game Plan
With the Instagram link in bio feature, you can add multiple e-commerce sites or online shop links in one place which helps to drive more traffic and sales. If you haven't created one, now's the perfect time to take advantage and turn your Instagram visitors into followers.